Introduction
Home textile is one of the flourishing branches of technical textile. It can be defined as textiles used for home & office decoration, called Home Textiles. In addition to embellishments, demands & appetite has also been added to this home textile. More important than home decor, maintenance work or comfort is keeping our minds fresh and well. It provides mental relaxation to people. The Bangladesh home textiles market has a strong growth due to rising the consumers demand. Home textile is now one of the vital export sectors in Bangladesh also known as domestic textiles. There are Floor carpets, Curtains, Bed sheets, Blankets, Cushion covers, Sofa covers, Upholstery fabrics, various furniture covers, Wall mats etc. help in beautifying the house.
Why We Use Home Textiles?
Home textiles are used for a variety of purposes besides decorating or protecting the home. Some of its special purposes are mention below-
Home textile enhances the beauty of the house.
It protects the house and furniture from the sun's rays as well as UV rays.
It prevents the color of the furniture from fading.
It cools the room in summer and reduces the pressure of air conditioning.
A type of home textile helps to provide warmth in winter.
Protects the furniture of the house from dust and dirt.
It decorates the house.
Different Categories of Home Textiles
Since home textiles are made of a combination of different fibers, textures, colors, finishes and designs tailored to different countries/needs/different people's tastes. Accordingly, it is classified as follows-
Bed Linen: Bed Sheets, Cushion Covers, Pillows, Pillow Covers, Blankets, Fire Retardant Blankets etc.
Table linen: Table cover, table mats, napkins, runners, table cloth etc.
Kitchen Linen: Aprons, Gloves, Pot Holders, Lunch Box Covers, Dish Clothes etc.
Toilet and bath linen: Towels / towels, bath rugs / mats, bath carpets, bathroom curtains etc.
Others: Floor mats, floor carpets, curtains, wall mats, sofa covers, cushion covers etc.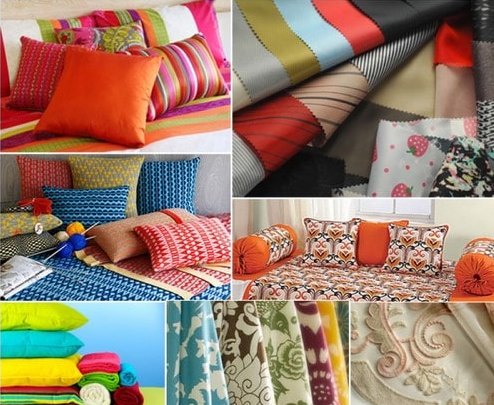 Some notable applications of home textiles are upholstery fabrics, bed textiles, textiles for seating, reflective textiles, sun filters, curtain fabrics, quilted textiles, fabrics for wall coverings, bathroom textiles, terry towels, bed spreads, table textiles, textile art (wall hangings) etc. However, in the context of Bangladesh, Bed and Bath Linen products like Bedsheets, towels, pillows, pillow covers etc. are the most popular and have high demand than other categories. In 2019, the market share of Bed & Bath linen products in the home textile sector was about 65% and Kitchen linens share was 15-20%.
Home Textiles Market Segmentation
Product Segmentation:
Bed linen
Bath linen
Kitchen linen
Upholstery
Carpets & floor coverings
Others
Distribution Channel Segmentation:
Retail Outlets
Online Market Place
Geographical Segmentation:
Asia Pacific
Europe
North America
South America
Middle East Africa
Special Features of Home Textiles
When choosing fiber for making home textiles, product usage, production cost, durability, comfort and aesthetic features should be considered. The following characteristics of the fibers must be balanced in order to achieve the above factors.
Tensile Strength – Modulus and elasticity.
Ability to absorb moisture.
Optical properties are controlled according to the reflection/absorption of light and the size of the fiber.
It will be eco-friendly
Must have the ability to resist static electricity such as electrical and thermal properties.
Fibers Used to Produce Home Textiles
Both natural and manmade fibers are used to make home textiles.  Sometimes high performance and modern fibers are used to make special textiles.
Natural Fiber: Cotton, Silk, Wool, Linen, Flax.
Manmade Fiber: Viscose, Rayon, Polyester, Nylon, Acrylic etc.
High Performance and Modern Fiber: Lintex, Modal, Sendura, Crinkle etc.
Home Textile Manufacturers and Suppliers in Bangladesh
The number of home textile factories in Bangladesh is much less than that of garment manufacturers. But now home textile is one of the first line export sectors in Bangladesh. There are 25-30 home textile factories in Bangladesh, big and small, which are exporting almost 234 products abroad to meet the demand of the country. However, Noman Group's 'Zaber & Zubair Fabrics' is leading the home textile sector in Bangladesh, the company has been successfully exporting home textiles since 1996.
Some of the famous home textile factories in Bangladesh are mentioned below-
Zaber & Zubair Fabrics
Saad Musa Group
J K Group
Classical HomeTex
J & M International
My Trade Link
AllTex Industries Ltd.
Intercorp Fashion
Raising Sun Trading
Taj Fashion
Cloth Apparels Ltd.
ACS Textiles
Global Market of Home Textiles
The world home textiles market size is predicted to succeed at $133.4 billion by 2025 registering a CAGR of 5.01%, according to a new report by Grand View Research, Inc. Additionally, quickly increasing Real Estate market is expected to improve the home textile market growth from 2019 to 2025.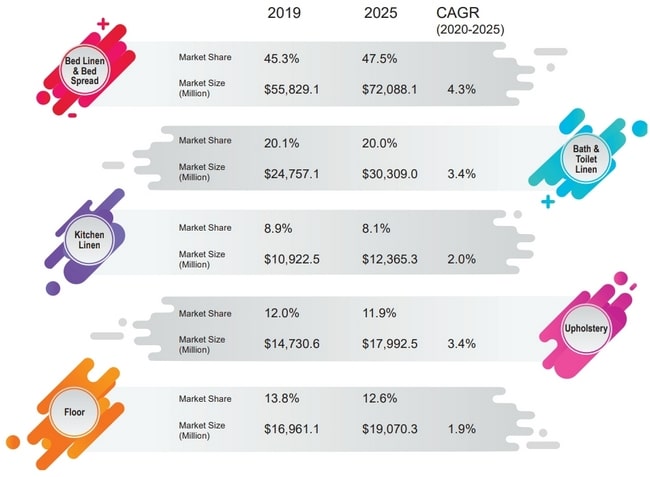 In terms of revenue, Bathroom linen is predicted to register a CAGR of 5.02 percent from 2019 to 2025 followed by carpet and floor coverings at a CAGR of 4.99 percent.
Bedroom linen driven the world market in 2018 and is projected to expand further at a healthy CAGR from 2019 to 2025.
The market is very competitive with the presence of major companies including Welspun Group, Springs Global, New Sega Home textiles, and Ralph Lauren Corporation. And most of the home textiles manufacturers concentrate on new development and capacity enlargement to estimate the present and future demand patterns.
The offline distribution channel segment driven the global market of home textiles in 2018. Whereas, the online market segment is projected to witness the quickest CAGR of 4.31% over the forecast season.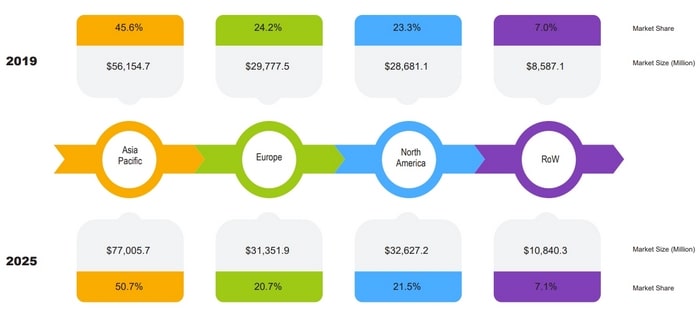 Exports Status of Home Textiles in Bangladesh
Even a decade ago, Bangladesh did not have a name in the world market in the home textile sector. At present, the name of Bangladesh has been associated with China, India and Pakistan. The home textile product has high demand, especially in the European market. Exports of home textiles are also increasing due to demand. According to the Bangladesh "Terry Towel and Linen Manufacturers and Exporters Association" and the "Export Promotion Bureau", the home textile export revenue in 2004-05 FY was only 150 million USD. In the 2010-11 FY, it increased to about 790 million USD. In the 2016-17 FY, the home textile export income came to 79 core 91 lakh 40 thousand US dollars. In 2018-19 FY, exports of home textiles goods worth 850 million USD were made in this sector. However, due to the outbreak of Corona in the outgoing fiscal year (2019-20), the export income of this sector decreased to 75 core 89 lakh USD. But, in the first three months of the current fiscal year (2020-21), home textile exports have been 25 crore 23 lakh USD, an increase of 40.74 percent.
Opportunities and Limitations of Home Textiles in Bangladesh
1. The home textile sector of Bangladesh has huge potential. However, if more and more work is done in this sector and research fields are created, there is no doubt that this sector will bring manifold growth. However, it is currently considered the most sustainable environment for product manufacturing in Bangladesh. Textile factories are working to produce good quality products through sustainable practices, which are preferred by foreign buyers.
2. Meanwhile, the entrepreneurs said that in the context of Bangladesh, the biggest problem is the price and supply of cotton for the home textile sector. In this respect, Bangladesh is lagging behind China, India and Pakistan.  Because they themselves can control 40-50 percent of the production cost, due to their own cotton supply. On the other hand, Bangladesh has to depend on price fluctuations in the world market. To meet the demand for cotton, Bangladesh has to import about 98 percent of its cotton.
3. Currently, the demand for home textiles has increased a lot. During the corona epidemic, where RMG exports have decreased, home textiles have grown by 51% as of last November (2020) and the factory owners expect further growth.
4. So, to take home textiles forward, new entrepreneurs and investors have to come forward.  There is no substitute for working with new technologies to overcome the limitations of home textiles, as well as for initiatives and government action.
Conclusion
Home textiles continues its strong growth in Bangladesh and the most emerging Bangladeshi market for home textiles are attracting a number of foreign companies. Some major importing companies of home textiles from Bangladesh are IKEA, Carrefour, Asda, Littlewood, Maurice Phillips, Wal-Mart, and Redcats. The import most of the Bed line, Bath linen & Kitchen line products from Bangladesh. However, the competitive countries of Bangladesh are China, India & Pakistan. So, Bangladesh should focus on high value items, increase the area of home textile manufacturing, where those competitive countries don't operate to stay ahead in the competition.
References:
https://www.fibre2fashion.com
https://www.mordorintelligence.com
https://www.grandviewresearch.com
https://www.rmgbd.net
https://www.businesswire.com/
https://study.com/
https://www.textiletoday.com.bd/
Author of this Article:
Md. Imran Hossain
B.Sc. in Textile Engineering
Shahid Abdur Rab Serniabat Textile Engineering College, Barisal.
Email: mdimranhossain.te@gmail.com
Articles published by same author: