Garment manufacturing is a huge process. All operations are done in different departments in garment industry. It is not possible to describe briefly about apparel production. Garment manufacturing is a sequential processes such as designing, sampling, laying, marking, cutting, stitching, checking, finishing, pressing and packaging etc. In this process, raw materials convert into finished products. I will describe all operations of garment manufacturing step by step in section wise.
Flow Chart of Garment Manufacturing Process:
Design
↓
Sample
↓
Pattern
↓
Pattern Grading
↓
Marker Making
↓
Spreading Fabric
↓
Cutting Fabric
↓
Sorting out & bundling cut fabric
↓
Print/ Embroidery
↓
Assembling the part by sewing
↓
Sewing quality inspection
↓
Ironing/ Pressing
↓
Hand Tag/Label
↓
Final Inspection
↓
Packing
↓
Size wise cartooning
↓
Cartoon Inspection
↓
Warehouse
↓
Shipment
Garment manufacturing process in different departments of garment industry are described below:
Sample Section:
There are many types sample are needed when garments are going to make a product.
Types of sample:
First pattern sample
Development sample
Second pattern sample
Counter sample
Salesman sample
Photo sample
Approval sample
Pre-production sample
Production sample
Shipment sample
Types of sampling with their details:
1. First pattern sample:
A design given by buyer and make it physical version of the garment.
Here are some criteria to develop a first sample. They maintain sequence to develop it.
Thinking of a design
↓
Draw in CAD
↓
Pattern
↓
Sample
2. Development Sample:
Which sample are developed by sample section from primary pattern sample.
3. Second Pattern Sample:
Usually designer/ developer always ask for some changes to the first pattern. Second pattern is made as per comments.
4. Counter Sample:
Where first pattern is made on designers artwork, Counter sample is to make not on designer's artwork, has to follow another sample given by the merchandiser.
5. Salesman Sample:
Salesman Sample is made when PRICE is confirmed and order are on speculation. Buyer held a meeting with its customer and record their response on order quantity per COLOR, SIZE etc. and finally plac order to their vendor.
6. Photo Sample:
Photo samples are made with actual color and material to be worn by models on the event of SHOOTING for catalog.
7. Approval Sample:
It is sent to buyer for his APPROVAL of the conformity that the revision is done correctly. If any fault found then the sample go back to garments.
8. Pre-Production Sample:
When the production accessories come to the garments for the production then garments makes a sample for a buyer. Which is called pre-production sample.
9. Production Sample:
Assurance to the buyer that the bulk is being produced as per specifications.
10. Shipping Sample:
This sample send to shipping inspector. Who give the product to the buyer. It is important sample because of shipping inspector give a note to buyer as sample base.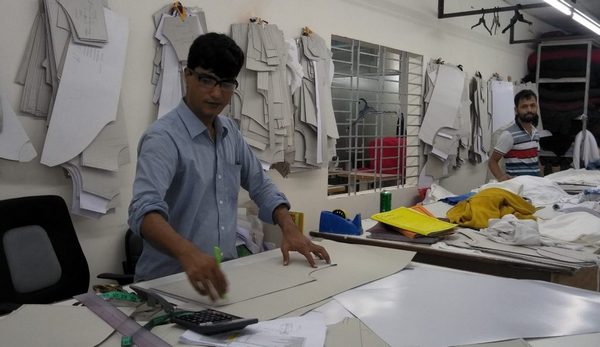 Sample making procedure:
There are many types of procedure to make sample. But in my garments, they follow this type procedure. I am giving a flow chart to making sample in my garment manufacturing industry.
Thinking and Sketch
↓
Material and 1st Pattern
↓
Photo type sample and give the sample to buyer
↓
Take the buyer comments
↓
Dummy
↓
Approval For Production
↓
Take the buyer comments
↓
Bulk production
↓
Send Photo, Sales man, shipping sample
↓
Production Sample
↓
Send to the Garments
Cutting Section:
Fabric is a single piece of sheet. When we need garments then we need to cut. Cutting is final step of sample, marker and fabric spreading. Because next process is sewing. When sewing starts then other process also starts.
There are many types of cutting process but in Bangladesh almost everyone uses a same process. And this is manually process. Cutting master cut the fabric by hand cutting machine. There is a big long table where cut the fabric.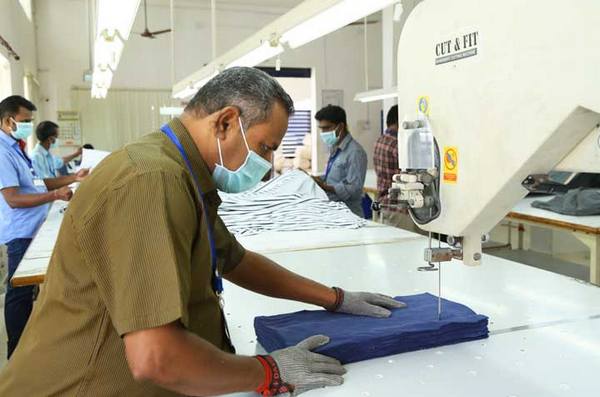 Maker paper kept up on the fabric surface, and cutting muster follow the line and cut the fabric.
Pattern Making Section:
Pattern making process is drawing or art in a flat paper of flat fabric. Basically, garment manufacturing industries make their pattern by using flat paper. Because pattern can easily removable from pattern paper. So, garments industries follow the pattern making process by using paper. In Divine Textile Ltd, they also make their pattern by using paper. And the paper name is pattern paper.
Pattern is important because, it is primary stage of a garments making. If pattern is accurate then the garments should be accurate. Buyers give the size list to the garments, then the garments follow the size and make the pattern with allowance. Pattern is the big issue for every garment.
Marker Making Section:
Marker is a process where every pattern is kept in a long fabric. And this process factory minimized the wastage of the fabric before cutting. Marker increase the efficiency of the fabric.
Types of marker making:
Manually marker making process
Computerized marker making process
1. Manually marker making process:
This is a process where a man done the maker by manually. No computer software is used them. Basically, who do this process he will be very experienced person, and he know how to do this. In my garments the maker making process is manually.
2. Computerized marker making process:
This is hundred percent done by computer, by using CAD (Computer aided design) or many others software.
Effect of Marker Making:
Increase efficiency
Minimize fabric wastage
Maximized using of fabric
Fabric Spreading Section:
In this process fabric laid on a big table which is used for cutting. Fabric spreading is important because of if fabric do not lay properly then outcome product (after cutting) was not correct. So, when the fabric go for production then its make difficulties in making garments. So proper fabric spreading is important for garment manufacturing industry.
When fabric lay properly, they used one kind of clip (Fabric attaching clip) for fixed the fabric. Marker paper also keep up on the fabric surface. Then they attach the fabric with clip.
Types of fabric spreading system:
Automatic
Manual
1. Automatic:
When fabric spread by machine on the cutting table then its called automatic fabric spreading.
2. Manual:
When fabric spread by man on the cutting table then its called manual fabric spreading. In my factory they work in manually.
Cutting Process:
Marker Making
Fabric Spreading
Marker placement
Attaching with clip
Cut the fabric
Numbering
Bundling
Heat Cutting system:
When we need to cut non-woven fabric then normal cutting machine is not suitable for cutting, because non-woven fabric is basically slippery then other fabric. So we need to heat cutting machine.
Types of cutting process
Manual Cutting
Heat Cutting
Lesser Cutting
1. Manual Cutting:
It is a process which done by man is called manual cutting process. In my garments they cut the fabric in manual process. Cutting master give the instruction to worker and worker follow the instruction.
2. Heat cutting:
Basically, a heat machine is used for this process and the machine has copper coil. And electricity passing the coil and it became hot. Then it cut the fabric. This machine is not suitable for cloth type fabric, it is used for non-woven fabric.
3. Lesser Cutting:
A lesser light is used for cutting. It is very expensive cutting method but cutting is very effective.
Sewing Section:
Sewing is big important part of a garment's product. Without good sewing we cannot introduce our products in worldwide. Sewing is a process where two pieces of fabric are join. Many factors are related with sewing. (i.e.: Needle size, Machine type, Thread count, Worker capacity, Production line etc.) So sewing section is not only fabric join, it is core part of a garment manufacturing industry.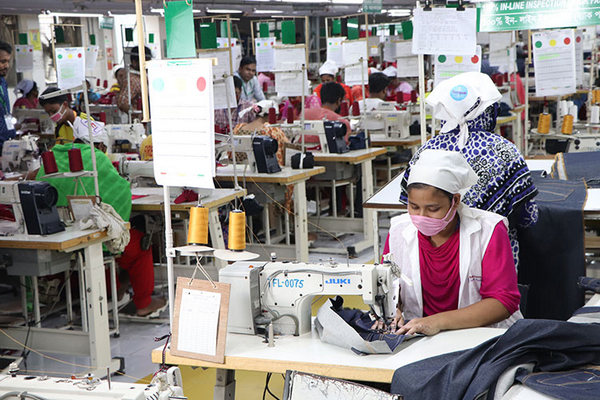 Elements of sewing:
Sewing Machine
Needle
Thread/Yarn
Sewing Machine:
There are many types of machines are used in Divine Textile Ltd. Every types of sewing machines are available here. They (my garments) produce jackets, trousers etc so they need heavy machines for sewing.
List of sewing machine:
Plain Machine
Overlock machine
Bar tack machine
Button hole machine
Button attaching machine
Feed of the arm
Kansai
Discuss About Sewing Machine:
1. Plain machine:
Plain machine is basically use for attach two fabric. For long stitch this machine is use. There are many brands in plain machine. Some is manual and some is automatic. But every machine works same thing.
Brands:
Juki
Hakkari
Brother
JUKI is a well-known brand in sewing machine. Every company used this machine. Initial power of machine is very good. This machine origin is China. This machine is manual machine. Operators need set the machine, because settings are going change when products are changed.
HIKARI is also well-known brand in sewing machine, and this machine is semi-automatic machine. If one system is input in this machine then no need gives same settings once again. Every data is stored in this machine. Production rate are automatically calculated in this machine.
BROTHER is a Chinese brand, which produce many textile and other machineries. They made manual, semi-automatic, fully automatic machines for sewing. But in my garments, they have used manual machine. This machine is manual but this machine is safe for human. Brother ensure the workers safety. They introduce many devices in this machine for workers safety.
You may also like: Sewing Machine Types, Features and Functions
Example: if any needle breakdown then machine automatically gives sound. There are many types of facility in this machine.
2. Overlock machine:
An overlock is a kind of stitch that sews over the edge of one or two pieces of cloth for edging, hemming, or seaming. It is very effective machine for garments good, because without overlocking edge finishing is not to be good. There are many brands available in market but Divine Textile Ltd. use only one brand for overlock.
3. Bartack machine:
Bartack machine specially use for lock stitch. It contains a needle and a bobbin. It produce high density lock stitch in short place. In my garments they use bartack machine to stitch the side of pocket in jacket and pants. Stitch density depends on the GSM of fabric. If the GSM is high then the stitch density is high, If GSM is low then stitch density is also low.
4. Overlock machine:
This machine basically used for protect the edge of fabric and trim the extra part of fabric. This machine used when product is done by plain stitch. Five thread are used in overlock stitch machine. A sharp blade also attaches with the machine. This sharp blade cut the extra part of the fabric and gives a plain finishing in the garment's products. This machine is very fast machine so need good experienced worker to run this machine, otherwise any types of accident can be happened.
5. Button attaching machine:
This machine basically used for attach button on the jackets or garments goods. It is very high speed machine and this machine can attach up to 60+ button in a minute. In my garments there are two types machine. One is plastic or normal button attaching machine another is steel or clip or tip button attaching machine.
6. Feed of the arm:
Feed of the arm machine is actually a chain stitch machine for chain stitch designs working with sew and stitch. It contains looper instead of bobbin. By this machine, multi thread chainstitch can be produced on garments. By this machine, stitch can be produced on heavy fabrics, like denim or jeans.
You may also like: Study on Quality Control in Sewing Section
Discuss About Needle:
Needle is an essential product for sewing. Only machine cannot sew without needle. Needle made by stainless steel with sharp head. In sewing machine, there are different types of needle is used. In my garments industry I was found three types of needle. Which is used on plain, overlock and bartack machine. Some needles are quite bigger usually it depends on fabric. If fabric is courser then need courser needle.
Needle varies machine to machine:
In JUKI sewing machine the needle name is BP. And needle size is 9,11,14,16,18,20
In Sunstar sewing machine they used, DP, and needle size is 9,11,14,16,18,20
In Overlock machine, the needle size is small then stitch machine. Needle size of overlock machine is DC, 9,11,14,16,18,20
Sewing Process:
In my industry they follow a process to maintain sewing.
↓
Collect fabric from cutting section
↓
Input the fabric into the line
↓
Set the machine settings
↓
Post production meeting
↓
Production line up set
↓
Production Starts
↓
Check goods quality by Sewing Quality Inspector
↓
Fault return to the worker
↓
Output
Quality Section:
Every garment ensures the quality first, because if garments are unable to ensure the quality then that garments cannot find good consignment in future. In Divine Textile Ltd, 60 people are worked in finishing. 20 workers are finishing quality inspector, 20 workers are sewing quality inspector, 10 workers are assistant finishing quality inspector and 10 workers are assistant sewing quality inspector. And this garments also has inspection room. They provide many high-tech machines and Quality manager for each buyer.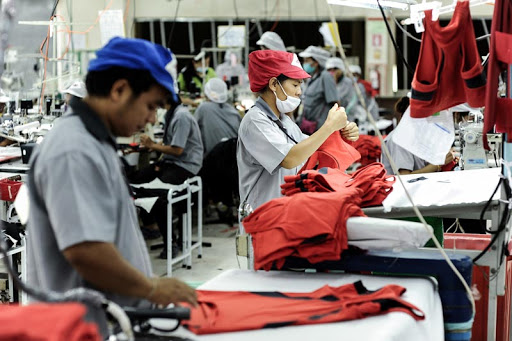 Work of Sewing Quality Inspector:
Sewing Quality Inspector is a person who check the quality of garments when production is running in the industry. He/She check the product and detect the fault of the product. If any fault was found then the inspector directly sends to the senior sewing machine operator and order to remove the fault from the product. Basically he or she is work for online quality control.
Work of Finishing Quality Inspector:
Finishing Quality Inspector is a person who check the garments products when sewing inspector transfer to the finishing line. Basically, it is offline quality control and maximum fault was removed. They check only size label and critical defects (broken needle, insects etc.). They use metal detector in every product.
Finishing Section:
Finishing department is the department which comes after all the department & it plays an equal important role in the final appearance of the garments. This department includes majorly of the following steps.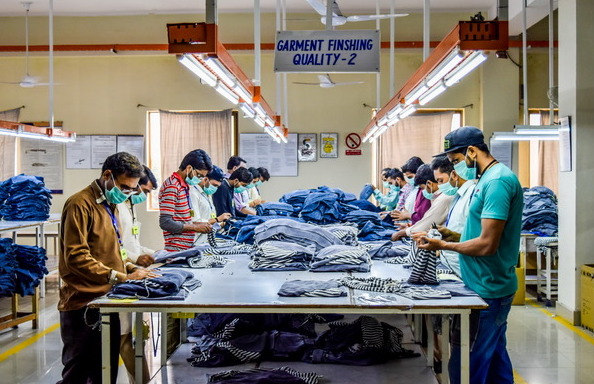 Thread Sucking
Remove the extra tread from the garments, and clean the product.
Ironing
Ironing is the use of a heated tool (an iron) to remove wrinkles from fabric. Give the good finishing in the product. They use steam iron in the jacket. Steam helps to smooth finishing. Temperature of iron is 80-90 degree Celsius.
Packing Section:
After the passing quality section, our garments are ready for shipment. Before shipment we need to pack our product. In hare 30 workers and 5 packing managers are work for packing. Packing style varies buyer to buyer. Then they follow the instructions and pack the goods for the shipment.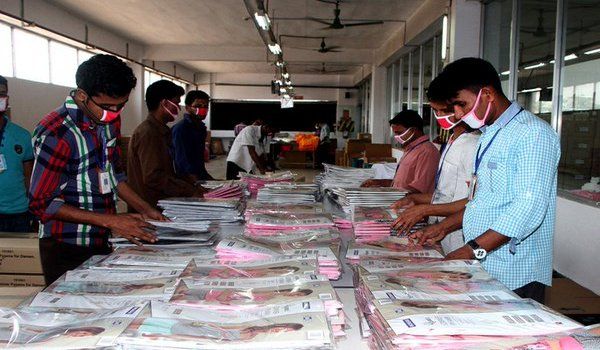 It is easy work but not so easy. First, they pack the product in poly-pack and then they put all garments in the cartoon. Cartoon size is also given by buyers. And how many pieces are kept in a one cartoon also give in the order sheet.
Store:
A place where many accessories, trims, fabric and many important elements of garments are kept. Basically, store are two types, one is normal store and another machine store.
1. Normal Store:
A place where every types of office equipment's, production tools, accessories and trims are kept. Every necessary product of garments is stored here. A data man entry the data of the product, and give the product when anyone need.
List of the product in the normal store:
Paper
Pen
Office Documents
Previous swatch card
Button (any types)
Fabric (any types)
Label
Token
Office stationery
Needle
Thread
Previous Buyers Data
Zipper
Garments Accessories
Garments trims
2. Machine Store:
A place where machine instruments are stored. Every tool of sewing machines are kept here. When any parts need to change then the mechanic come here and replace the parts from the machine.
List of the product in machine store:
Arm
Balance Wheel/Hand Wheel
Bed
Bobbin Case
Bobbin Cover
Bobbin Winder
Face Plate
Feed Dogs
Head
Needle bar
Needle Clamp
Pattern/Stitch selector
Presser Foot
Presser Foot Lever
Reverse Lever
Slide Plate
Spool Pin
Spool pin for bobbin winding
Stitch regulator
Take up Lever
Tension Disc
Thread Cutter
Thread Guide
Throat Plate or Needle Plate
Merchandising Section:
Merchandising is an important section in every garment manufacturing industry. In merchandising section, they communicate with buyers and deals with buyers, and they pricing the product also they works in shipment too.
Simply merchandiser works with the whole productions of garment manufacturing. He maintains every single section by own risk. It is very challenging department in garment manufacturing industries.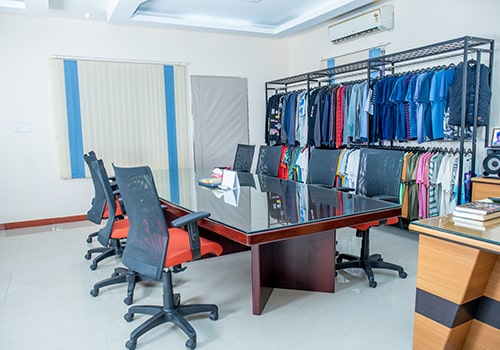 Works of a merchandiser in garment manufacturing industry:
Contact with buyers
Invite the buyers in the factory
Buyers visit the garments
Buyers gives the audit sheet to the merchandiser
Resolve the problem, if any fault found
Take the product list from the buyers
Pricing the products
Send to the buyers
Fix the pricing from the both side (factory and buyers)
Take the sample sheet from the buyer (Primary order sheet)
Send to the sample sheet to the sample section
Send the sample to the buyer
Buyers approval
Give the main order sheet to the merchandiser
Create Latter o credit (master L/C)
Merchandiser create back to back L/C, where accessories comes from.
Send a production sample and photo sample of the garments
Buyers approval
Swatch card making
Swatch card approval
Take the full production
Production follow up
Maintain TNA
Audit (when production running)
Transportation booking
Cartoon booking
Follow up finishing
Follow up packing
Shipment the garments
Take the full money from the buyers.
Send the order sheet in the store (for future)
This is the basic work which I observe in the factory, but they do also some critical works too, like fabric inspection, machine inspection, compliance inspection etc. Those works are internal, as a I'm just an intern in this garment manufacturing industry, so I have some restriction to observe those works.
They work lot in technical and official. And they work for garments and also work for country.
You may also like: How to Be a Good Merchandiser in Garments
Hierarchy of Merchandising:
In Divine Textile Ltd, they follow this type hierarchy in merchandising.
Director of Merchandiser
↓
Senior Merchandiser
↓
Merchandiser Officer
↓
Junior Merchandiser
↓
Assistant Merchandiser
↓
Trainee Merchandiser
↓
Intern
Compliance Section:
Divine Textile Ltd is a compliance factory in Gazipur, Dhaka. They ensure the worker safety and rights of the workers. They maintain the code of conduct (coc). They observe the everything in the garments manufacturing and maintain the garments.
Compliance works for workers right, so they ensure the legal rights of the worker. There are many corporations works for compliance. BSCI, WRAP, BOND etc. Compliance audit report helps in order. Basically, buyers asked for send the compliance report to them. Compliance report varies country to country. If the buyers are Europe so they want BSCI report. If the buyer are America then they asked for WRAP report. Divine Textile Ltd. target country in Europe so they only focused BSCI report.
Rules of compliance:
Compensation for holiday
Leave with wages
Health register
Time care
Accident register
Workman register
Equal remuneration
National festival holiday
Overtime register
Labor welfare
Weekly holiday fund
Sexual harassment policy
Child labor abolition policy
Anti-discrimination policy
Zero abasement policy
Working hour policy
Hiring /recruitment policy
Environment policy
Security policy
Buyers code of conduct
Health and safety committee
Canteen
You may also like: Compliance Issues and Audit Requirements of Two Different Garments Factories
Health:
Drinking water at least 4.5 L/day/employee
Cup availability
Drinking water supply
Water cooler, heater available in canteen
Drinking water signs in native language and English locate minimum 20 feet away from
Work place:
Drinking water vassal clean at once in a week
Water reserve at least once a week
Water center in charge person with cleanliness
Suggestion box register
Toilet:
Separate toilet for women and men
A seat with proper privacy and lock facility
Urinal accommodation
Effective water sewage system
Soap toilet
Water tap
Dust bins
Toilet white washed one in every four months
Daily cleaning log sheet
No-smoking signs
Ladies /gents toilet signs both in native language and English
Deposal of wastes and effluent
Fire:
Sufficient fire extinguisher and active
Access area without hindrance
Fire signs in both languages
Fire certified personal photo
Emergency exit
Safety Guard:
Metal glows on good condition.
Rubber mats & ironers
First aid box one
Ironers wearing sleepers
First trained employees
Motor/needle guard
Eye guard
Nurse
Doctor
Medicine
Medicine issuing register
Welfare officer
Others Facility:
Room temperature
Lighting facilities