What is All Over Printing?
All over printing, AOP is a term used to describe a special kind of printing that covers and repeated across the entire surface of apparel. It is a new term for textile engineering students and professionals. I think this article will be helpful to know about AOP.
Types of All Over Printing:
There are six kinds of all over print. These are:
Reactive Print
Discharge Print
Raised Print
Glitter Print
Burn Out Print
All Over Printing in Bangladesh:
All Over Printing had started in the Bangladesh garment industry in the 1980s. However, locally garments industry used AOP in many fabrics like: three-piece, Sharee, bed cover and fabrics print in local factory.
From 1980s, AOP started its excellent journey in export oriental factory in the Bangladesh. Now, AOP have been running about 85+ factories. Bangladesh has already gained the skill to compete with any country in the world with AOP and has created a strong position. But Bangladeshi apparel industry is still far behind in all-over digital printing.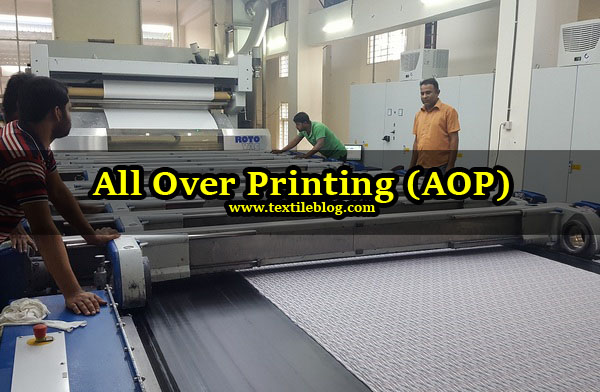 In 2014, for the first time, Beximco started all-over digital printing in the Bangladesh garments industry. In Bangladesh, most of the factories are using some common machines.
All-over digital printing machines are:
Reggiani Machine
Dust Machine
MS Machine
Zimmer Machine
Atexco Machine
Home Digital Printing Machine
Opportunities of All Over Printing:
Fashion awareness among the yougsters is increasing day by day. As a result, the demand for AOP around the world has created new dimension of opportunities.
Bangladesh is not far behind the opportunities. Approximately 85+garments factories have AOP facility.
All Over Printing Factories in Bangladesh:
Unifill Composite Dyeing Mills Ltd.
SIM Group.
HH Textile Mills Ltd.
Sanjana Fabrics Ltd.
Beximco Textile Division.
Rahim Textile Mills Ltd.
Divine Group.
Thermax Group Ltd.
Hossain Dyeing & Printing Mills.
Tania Textiles Ltd.
GMS Composite Knitting Industries Ltd.
Pakiza Knit Composite Ltd.
Knit Concern Group.
Unicon Group
DBL Group.
NR Group.
Robintex Group.
Chaity Group.
APS Group.
Comfit Composite Knit Ltd.
South China Bleaching & Dyeing Factory Ltd.
Mithela Textile Industries Ltd.
M. Knitwear Ltd.
Monno Fabrics Ltd.
Rim Dyeing Ltd.
K.N Textile Ltd.
Apex Holdings Ltd.
Four H Group.
Utah Group.
Dird Composite Textiles Ltd.
Palmal Group of Industries.
Mosharaf Composite Textile Mills Ltd.
KDS Group.
Opex& Sinha Textile Group.
Impress-Newtex Composite Ltd.
Tru Fabric Limited,
Zaber& Zubair Fabrics Ltd.
Chorka Textile Ltd.
Jamuna Group.
Satter Textile Mills Ltd.
S. Dyeing, Printing & Finishing Ltd.
Amanat Shah Fabrics Ltd.
Sawfttex Ltd.
Pride Group.
Nz group.
Intramex Textile Ltd.
RK group.
NZ group.
Metro knitting and dyeing limited.
ACS Textiles (Bangladesh) Limited.
A Concern of Micro Fibre Group.
A-One Polar Ltd.
Lithe group.
AJI group.
Mondal group.
Phonex Textile Ltd.
All Tex Group.
Infinia Group,
Silver Composite Textile Mills Ltd (Unit-3, Textile)
Croni group.
Azad rifatfibers.
Bornali fabric.
Bomby fabric.
S B style composite Ltd.
Padma Bleaching & Dyeing Mills Ltd.
Experience textile Ltd.
Tithi Textile Mills Pvt Ltd.
Antim Group.
Consumer Textile mills ltd.
Fariha knit tex ltd.
PN Composite ltd.
Nice Fabrics processing Limited.
Unity fabric Ltd.
Primer dyeing & printing Mills Ltd.
Bengal apparel Ltd.
Urmi knitwear Ltd.
Noor group.
Regent textile Ltd.
Younusco group.
Paramount Textile Ltd.
Doel group, etc
Reasons of Growing AOP Sector:
AOP technology makes possible to have faster production and reduce the water consumption. That's why, AOP is becoming very growing day by day due to the less environmental impact. There is some reason of growing AOP popular:
High print quality.
High colour yield
No limit on color
Low capital investment
Lower water and power consumption.
Less Chemical waste.
Better permeability
Reduced production space requirements.
Reduced manpower
Good definition
Better hand feel
Easy to wash and have excellent color fastness to rubbing.
High quality and save ink- save money
Stable printing
AOP combines brilliant colours, wonderful designs and production on demand with low resource utilization. As a result, the AOP sector in Bangladesh has growing fastly.
According to, a report of firm Smithers Pira on "The Future of Digital Textile Printing to 2021" describes that the future of digital printing to 2021, confirms that this segment will be continued to see double-digit strong growth across 2016 to 2021. In 2016, AOP Clothing Market Size in volume 0.87 Billion square meters and market prize 1.29 Billion US Dollar.
The exclusive data of the reports shows that, 870 million square meters of fabric were printed on digital equipment in 2016 and which worth was 1.29 billion US Dollar. This volume is expected to increase a rate of 17.5 percent CAGR across the next five years to 2021.
AOP Clothing Market consumed Size will begained 1.95billion square meters and that's market prize will turn around 2.66 Billion US Dollar. This rapid market expansion will help the growth of AOP sector in Bangladesh.
Conclusion:
All Over Printing is a fast-growing sector in Bangladesh. A number of experts had been developed in this AOP sector. As a result, Bangladesh can easily meet the increasing demand of AOP. Although, Bangladesh is behind in AOP in compared to India, China or Vietnam. If the AOP sector can get proper patronization, investment, Bangladesh will govern in the AOP sector like denim across the world.
References:
https://textilelearner.net/all-over-printing/
https://en.wikipedia.org/wiki/All_over_print
https://blog.printsome.com/all-over-print
https://www.textiletoday.com.bd/bangladesh-growing-fast-printing/
https://textilelab.blogspot.com/2020/03/all-over-printing-aop.html?m=1
https://www.textiletoday.com.bd/printing-vs-digital-printing-part-2/
https://www.fespa.com/en/news-media/features/weaving-new-business-opportunities-through-textile-printing
Special Thanks to
Shawkat Hossain Sohel
Chief Designer
Unifill Composite Dyeing Mills Ltd.
Author of this Article:
Md. Mahedi Hasan
B.Sc. in Textile Engineering
Textile Engineering College, Noakhali.
Email: mh18.bd@gmail.com