The Garment manufacturing business is one of the popular common business trends in Bangladesh. Major factors to grow up this garments sector is low labour cost, skilled educated manpower, good transportation facilities, modern port facilities, short lead time, etc. World top garments buyer and brands works in Bangladeshi apparel industries.
Bangladesh has a long tenure of apparel making experience. As a result, it easily can provide to the buyer with better quality products than any other garments manufacturing countries with a convenience price. That's why high-ranked foreign buyers and brands are always pleased to procure apparel products from Bangladesh as they got several advantages than other competitor countries. Thus, Bangladeshi garment industries have expanded rapidly in this country, and Bangladesh achieved a lot of reputation from foreign buyers and popular brands. The yearly turnover of Bangladeshi garment manufacturing business is about 30.14 billion US dollar. Bangladesh is second biggest garments manufacturing countries in the world. More than 4.1 million people are employed in this sector. Most of them are women. 84.21% of export revenue earned from this sector to Bangladesh's total exports of $40.53 billion in 2019.
Bangladesh is one of the best Ready Made Garments (RMG) manufacturing countries in the world. The latest statistics of BGMEA Trade Information, in the fiscal year 2018-19, the number of garments factory was 4621. Bangladesh has 5,271 garment factories in Bangladesh as of June 2019, according to the ILO (International Labour Organization). The Bangladeshi garments industries employ 4.1 million people who are the driving force behind Bangladesh's most important industry.
Within a short time Bangladeshi garments industry has achieved huge fame to buyers for their export quality product. Day by day Bangladeshi garments industries are improving for their low labour cost, skilled and educated worker, better transportation facilities, good port facilities, short shipment time, easy order execution, raw martial produce etc. For this reason, a lot of world-renowned buyers and brands are working with Bangladesh. As a result, high ranked buyers and brands from all over the world are so much interested in place order here throughout the recent year.
List of Top Garments Buyer in Bangladesh:
In Bangladesh most of the buyers of Garments industries comes from the USA, UK, Japan, Australia, India and other European Union countries and set up their buying office to follow up the order.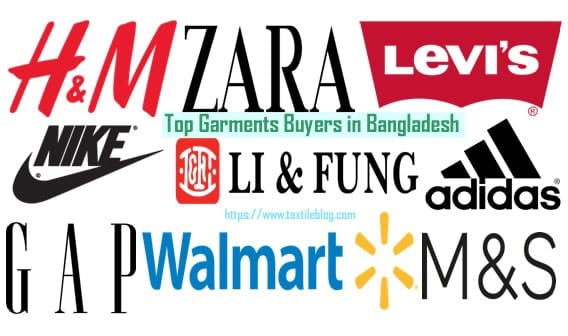 1. H&M
2. Wal-Mart
3. Li & Fung
4. Adidas
5. Levis
6. VF Asia
7. Nike
8. GAP
9. Tesco
10. C&A
11. Target
12. ASDA
13. Next
14. Zara
15. Old Navy
16. PVH
17. S. Oliver
18. Puma
19. K-mart
20. M&S
Bangladesh is a popular high-quality garment manufacturer in the world. World renowned buyers and brands works in Bangladeshi apparel industries. Those buyers and retailers basically came from USA, UK, Japan, Australia, India and other European Union countries to follow up their bulk order by setting up a regional office. Most of the developed countries become pleased to import garment products from Bangladesh. Ready Made Garments sector is a first growing mainstream business in Bangladesh. The BGMEA (Bangladesh Garment Manufacturers and Exporters Association) has fixed a target to earn about 50 billion USD by 2021. It's not very high ambitious target, cause in the fiscal year of 2019-2018, we have earned about 32.92 billion USD. We have much ability to escalate it to 50 billion USD, cause last 30 years; we have gathered huge experience in this sector garments business.