If you want to develop your career in apparel merchandising? If you have a curiosity about apparel merchandising and wish to select it as your career then you should know well, what is apparel merchandising all about? Who is a merchandiser? What is their responsibilities? Why apparel merchandising should be your dream career? What are the education requirements for the apparel merchandiser? Careers opportunity in apparel merchandising? What are the essential qualities to be a good merchandiser? I think you will get enough ideas on your dream career about apparel merchandising after reading this article.
What is apparel merchandising all about?
Apparel merchandising:
The word merchandising comes from the word merchandise. Merchandise refers to buy and sell something to someone. In the apparel industry, merchandising is the department which bridges between marketing and production departments. In brief, it is the methods, practices, and operations used to promote and sustain certain categories of commercial activity. Merchandising means to arrange all the required raw materials to produce apparel and to make the apparel goods ready to sell them to customers. So, merchandising is a very important department in the apparel industry.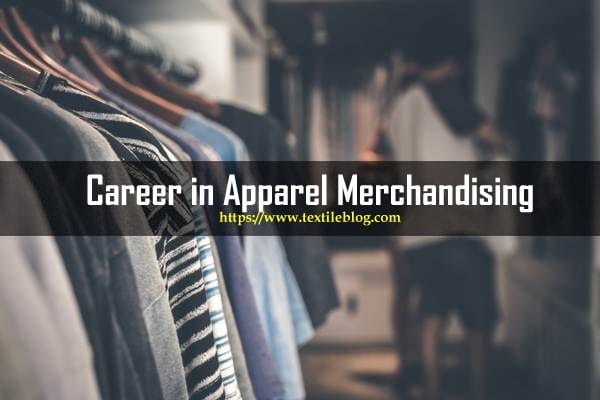 Merchandiser:
The person who is dealing with the merchandise in the apparel industry is called apparel merchandiser. He/she is the interface between Buyer and Exporter. A merchandiser is the responsible for order analysis to shipment of a garment. Merchandiser has to handle some buyers smartly to consider all of the features of a product, including design, quality, product life-cycle, and consumer's buying ability, consumer behavior and demand during his preparation.
Classification of merchandiser:
In the apparel industry, there are three kinds of merchandisers. These are:
Fashion Merchandiser
Export Merchandiser
Retail Merchandiser
Why apparel merchandising should be your dream career:
In the early days, Bangladesh famous for its agriculture industry. But day by day its apparel industry is becoming popular and currently Bangladesh is the second-largest apparel exporter country in the world after China. This is the very growing and emerging industry today for Bangladesh. In Bangladesh there are various kinds of professions. But apparel or textile merchandising is a kind of profession where hard-working, dynamic, skillful people are working.
In Bangladesh, there are more than 5000+ garments and 2,000-2,500+ buying houses are available. Merchandising is a very skillful job as the merchandiser has to convince a buyer to place an order and have to be conscious of the delivery of the order according to the given standard. This is a very tough task to convince a foreign buyer. For this, a merchandiser needs to be very hard-working, skillful, dedicated, co-operative, good learner, dynamic, and communicative, etc. In this sense, it can be said that it is not an easy profession, whereas it's a challenging profession. Though it's challenging, you can build a better career in this profession which depends on his ability to adjust to the environment of the apparel industry. This merchandising profession can give you many things only if you can love this profession from deep of heart.
You may also like: Apparel Merchandiser: A Key Person in Export Business
Not only Bangladesh apparel Merchandising is one of the top-rated career all over the world. Someone who wishes to build a career in merchandising and want to become a successful merchandiser should have to maintain some qualities.
Education requirements:
A good textile merchandiser should have required some outstanding requirements. One of the most important requirements is the educational background. If he/she has a strong educational background like textile engineering background that will be well and good, but if you come from the general line then try to get a diploma or certificate course on apparel merchandising to develop your skills as to be a good merchandiser. The academic degree will give the strong support to escalate your position. This is very important for order execution in this industry. Generally, apparel Industry prefers to hire people who have associates or bachelor's degrees in merchandising or related areas.
Careers opportunity in apparel merchandising:
A qualified apparel merchandiser has an excellent opportunity to perform some of the arenas with lucrative remuneration. These are:
Product development specialist
Sourcing and production manager
Apparel or Textile Designer
Computer-aided design specialist
Product testing specialist
Fashion illustrator/Apparel graphic designer
Quality control supervisor
Fashion forecaster/trend analyst
Essential qualities to be a good merchandiser:
A man who wishes to be a good merchandiser in the apparel industry or a buying house should acquire some particular quality to become a successful. He/she should have strong determination from early life and get prepared to obtain the goals. If you want to become an efficient merchandiser then you should prepare yourself by the appropriate guideline given below. There are some essential qualities which makes you a perfect merchandiser.
Communication skills
Textile knowledge
Computer skill
Negotiation and convince skill
Good knowledge of product and process
Problem solving & decision-making skills
Planning
Good knowledge of costing
Management skills
Consumption Knowledge
Team work
Smartness
Update present market prices
Keep learning
Maintain good relation
Conclusion:
A merchandiser is considered to be a pulse in the apparel industry. He/she has to do several tasks at a time. Thus, a merchandiser should become more diplomatic, industries and efficient. They should maintain a decent life to accomplish their assign tasks perfectly and love his task deeply. Experienced merchandiser professionals are welcomed by all over the word. At last you can find a merchandising job on Jooble.
Author of this Article:
Md. Mahedi Hasan
B.Sc. in Textile Engineering
Textile Engineering College, Noakhali.
Email: mh18.bd@gmail.com