Introduction
The automation revolution in fashion has communicated the last couple of years. Garment manufacturing by Sewing Robots has shown that the first fully automated industry is the sewing industry. Electric sewing machines are used for over 100 years; however the important issue is that skilled operators are needed to guide the textile materials during sewing. Now such Robotics or Automation has evolved and therefore the range of workers required for mass production of clothing has been well reduced. Automated and Robotic Sewing Technology has evolved by igniting a big change within the field of garment manufacturing.
Automation in Sewing
In countries like Pakistan, Vietnam, Cambodia and Laos most of the garment production process particularly the sewing process remains done by accomplished workers. Manufacturers haven't created vital progress in getting automatic sewing machines or Sewing Robots, this has helped keep their investment low. However, manufacturers who haven't invested in modern equipment and fashionable instrumentation, face extreme competition to keep labor costs low. Currently due to the automation of the sewing process, industrial robots are being built which will handle fabric pieces throughout the robotic activities, wherever no labor will be required. Automation has also additionally supplementary a brand-new dimension to several additional works as well as fabric sewing (lock stitches, chain stitches etc.), fabric gripping, label attaching, button sewing, button holes, 3D seam, pillowcase making and fabric roll joining.
Industrial Robot (SEWBO)
Sewbo is an industrial robot utilized in garment industry for fabric gripping and handling. There are some experimental trials to sew the entire garment using sewing robots. One such example is Zornow's robot "Sewbo" which can automatically handle fabric pieces during sewing. The robot "Sewbo" invented by Zornow in 2015 can sew a T-Shirt from begin to complete. This success was a milestone in achieving 100% automation to form an entire outfit. The robots are often programmed for a particular size and style. If the size or style of a garment changes, the robot needs to be re-programmed.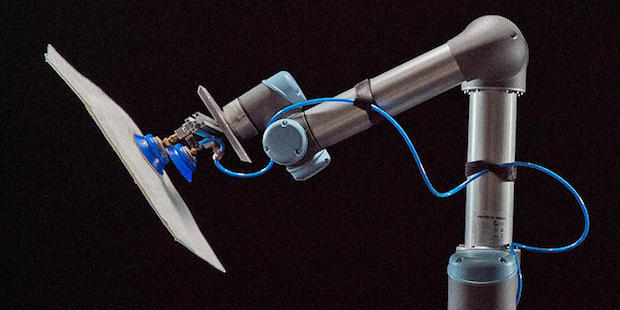 Sewing Robot (LOWRY SewBot)
LOWRY SewBot is invented in 2012 by Atlanta based company of USA "Software Automation", it's a special type of robot that is designed for the RMG industry. This automatic sewing robot has the power to supply a large variety of products regardless of size and shape of the fabric. These SewBots are built using the advanced industrial 4.0 revolution technology such as computer vision or advanced robotics and artificial intelligence, which may analyze and manipulate the fabric like human. SewBots can perform multiple garments producing tasks like Fabric Cutting, sewing, labeling, Inspection etc. but the amazing thing is all of these works are controlled with only one touch panel.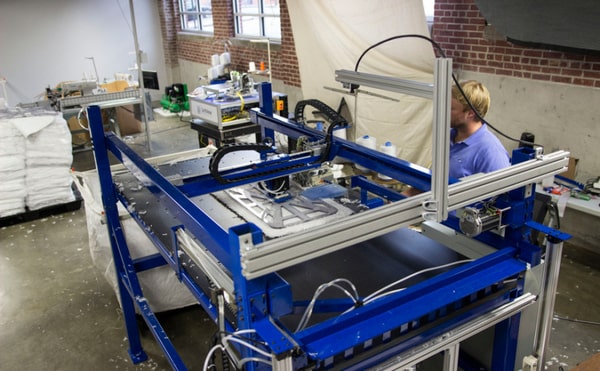 SewBot's multiple capabilities reduce the needs of garment producers by 50-70%, In the United States, where SewBot is invented, it costs $7.48 to make denim shirt in human sewing line but in robotic production line it costs only $0.33. Also, it produces an average of 669 T-shirts on human sewing line in just 8 hours. There's a robotic sewing line that has the power to supply 1142 T-shirts, which means that the production will increase by 71%.
You may also like: Applications of Artificial Intelligence in Textile Industry
According to China Daily, an experiment was conducted at Tianyuan Garments, wherever it takes almost 4 minutes from fabric cutting and sewing to finished product. Their plan is that if the set up 21 production lines and are absolutely operational, the system would turn out one T-shirt every 22 seconds. And that, they will be able to make 800,000 T-shirts every day for Adidas.
Features of Automated Lock Stitch Machine
Straight/bar tacking or constant stitching pattern choice.
Setting stop position needle up or down.
Slow start.
Presser foot goes up at machine stop.
Presser foot goes up after trimming thread.
Setting number of stitching.
Start/begin tacking.
End/finish tacking.
Automated Binding, Button & Button-hole Sewing Machine
A selecting/picking pad was displayed at ITMA 2019 through an associate project by Spain-based AB Industries. The system uses an easy gripping component and might simply scoop up work pieces with a 360 degree robotic arm. The technology is currently under development at AB Industries and isn't yet commercialized. Sewing is the most vital textile attaching & joining technology. Various semi-automatic sewing units are commercially available from several suppliers as well as Japan based mostly Juki Corporation, Italy based mostly Rimac and Germany based mostly Duerkopp Adler AG. Juki displayed some automatic sewing machine for button & buttonholes, whereas Rimac displayed an automatic binding machine for finishing spherical corners of bedding, floor carpets and several things. Also, the Duerkopp Adler sewing machine used to sew double welt pocket.
Robotic 3D Sewing Technology
The use of robotic 3D sewing technology will explore new dimensions in sewing because it will produce high quality cloths. Philipp Moll GmbH & Co. invented a 3D Sewing Technology, that might automatically form 3D Seam. 3D sewing technology can make Clothing textiles (Shirts, Jackets, Trousers etc), Mobiltech textiles (Seat covers, Air-bags etc) and so on. This 3D technology can help to getting better quality of high-efficiency sewing products. Robotic 3D sewing technology also helps to reduce the labor costs, production time and increase the efficiency &productivity.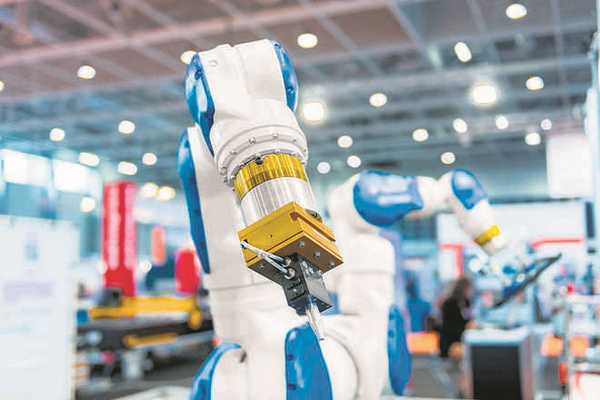 Few Additional Automated Sewing Technology
Quebec based Automax Inc. displayed an absolutely automated pillowcase production unit at ITMA 2019. Wherever Trimming, Folding, Sewing, Labeling and Packaging area unit wiped out one unit
Italy based Magetron, Germany based Texpa Maschinenbau GmbH & Co. and Carl Schmale GmbH Co. invented a technology that is invented for towel production.
Germany based Durkopp Adler introduced another standard production system, that is double welt pocket sewing machine. A Double welt pocket is formed by the help of a Two-needle Lock Stitch machine with a center knife cutter and needle feed mechanism.
Spain based Texma Machinery and Italy based Comatex Textile Machinery used to finish edges, join the fabric rolls or make a tubular structure from a fabric roll.
Uses of Different Methodologies for Sewing Automation
Different companies use several methodologies for the sewing automation. For example,
Kniterate, was founded a few years ago and they are trying to knit together ready-to-wear garments, and they perform this by the 3D printing of the cloth. And finally, they discover that it requires no fabric sewing at all.
Fabrican uses a "spray-on-fabric", where a chemical is applied directly to the body to make a garment that moulds to any individuals physical form.
Softwear Automation uses computer enabled cameras to trace the location of the cloth and determine the stitching position.
Zornow's Sewbo appears to be the only startup using a stiffener to form fabric adaptable to existing robots, a less expensive solution than building a machine that uses cameras and algorithms to manipulate fabric.
Benefits of Automated Sewing
Automated & Robotic Sewing Technology makes it possible to produce more garments in less time.
The number of human errors has been reduced and quality garments are being produced.
Labor costs will be greatly reduced; as a result overall production costs will be reduced up to 40%.
Increase the factory efficiency and productivity up to 70%.
Advanced technology made it possible for the same tasks to be performed in less working hours.
Due to the automation in sewing, gradually increase the demand of skilled workers and textile engineers.
Future Perspectives and Threats of Robotic Sewing Technology
Applications of automation & robot technology are already in place in almost every industry. And the biggest concern about the development of Sewing Robots, Automation &Artificial Intelligence is that the job loss. Consistent with the statistics on the garment & fashion industry revolution by sewing robots, the whole apparel industry employs 60 to 75 million people worldwide. In a report by the International Labor Organization (ILO) says that the automated assembly lines will most likely cost the jobs of 90% of garment workers. SewBot's multiple capabilities reduce the requirements of garment manufacturers by 50-70%. According to government's a2i project and ILO, around 60% of garment stuffs (almost 27 Lakh) in Bangladesh will become unemployment by 2041 and get replaced by Automated Sewing M/C & Sewing Robots.
References:
www.sastrarobotics.com
www.textileworld.com
www.sewbo.com
www.motif.org
www.indiantextilejournal.com
www.core77.com
Author of this Article:
Md. Imran Hossain
B.Sc. in Textile Engineering
Shahid Abdur Rab Serniabat Textile Engineering College, Barisal.
Email: mdimranhossain.te@gmail.com
Articles published by same author: