Introduction:
Electronic interlock circular knitting machine had needles of two different lengths, long needles knitting in one cam-track and short needles knitting in a track nearer to the needle heads. All types of fabrics produced by the machine are widely used in producing underwear, varied sportswear and fashion fabrics and industrial fabrics etc. Interlock structure are required two sets of needles arranged in horizontally and vertically. The horizontal needles places on the groove of dial and the vertical needles grooved on the cylinder. Both cylinder and dial needles circulated around the stationary cam. Interlock structure is a double faced. Interlock structure which consists of two 1×1 Interlock structures. These two 1×1 Interlock structures are joined by interlocking sinker loops and thus produce interlock structure. Interlock structure is produce by special cylinder dial circular machines. Double system V-bed flat knitting machine also used to produce interlock structure.
Machine specification:
Brand: FUKUHARA
Model: V8ME42
Origin: Japan
Manufacturing Company: Precision Fukuhara Works. Ltd.
Serial: 1352761
Dia of cylinder: 30 inch
Machine description:
The machine has two sets of needles on two different beds, one set on cylinder one in the dial bed. These two sets of needles must be exactly opposite to each other.
The machine has two separate cam system in each bed needles of different length called short needles and long needles. Each cam system controls half of the needles in alternate sequences. One cam system controls knitting at one feeder and other ca, system controls at the next feeders. T ale down mechanism is the same as the other Interlock and plain machines mechanism.
Machine parts:
Batch rollers
Belts
Break stop motion
Clutches
Cylinder
Cylinder cams
Cylinder needles
Dial
Dial cams
Dial needles
Machine parts:
Motor
Oiling and air following devices
Pulleys and gears
Sensors
Take up rollers
Yarn career
Yarn guides
Interlock cam system:
In the below figure the cylinder and dial cam to produce one course of ordinary interlock fabric which is actually work of two knitting feeders.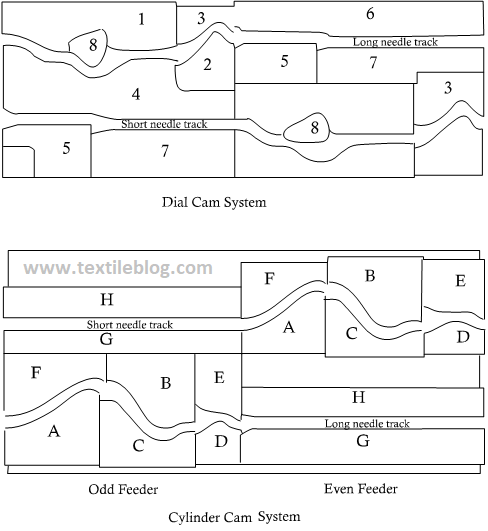 The dial cam system:
1 → Raising cam for tuck position only
2, 3 → Dial knock over cam
4 → Guard cam to compete the truck
5 → Auxiliary knock over cam to prevent the dial needle reentering the old loop
6, 7 → Guide cams provides the tracks for idling needles
8 → Sewing type clearing cam which may occupy the knitting position as shown in feeder 1 or in tuck position at feeder 2.
The cylinder cam:
A → clearing cam which lifts the needles to clear the old loop
B, C → stitch cam and guard cams respectively both vertically adjustable to control the stitch length.
D → up through to rise the needle whilst dial needle knock over
E, F → guard cam to complete the truck
G, H → guide cam to provide the track for idling needles
Knitting action:
The knitting cycle of a interlock machine can be divided in to eight headings. They are discussed below,
Position – 1: rest position
Position – 2: tucking position of dial needle
Position – 3: tucking position
Position – 4: clearing position of dial needle
Position – 5: clearing position
Position – 6: yarn presenting position
Position – 7: cast on position
Position – 8: knock over position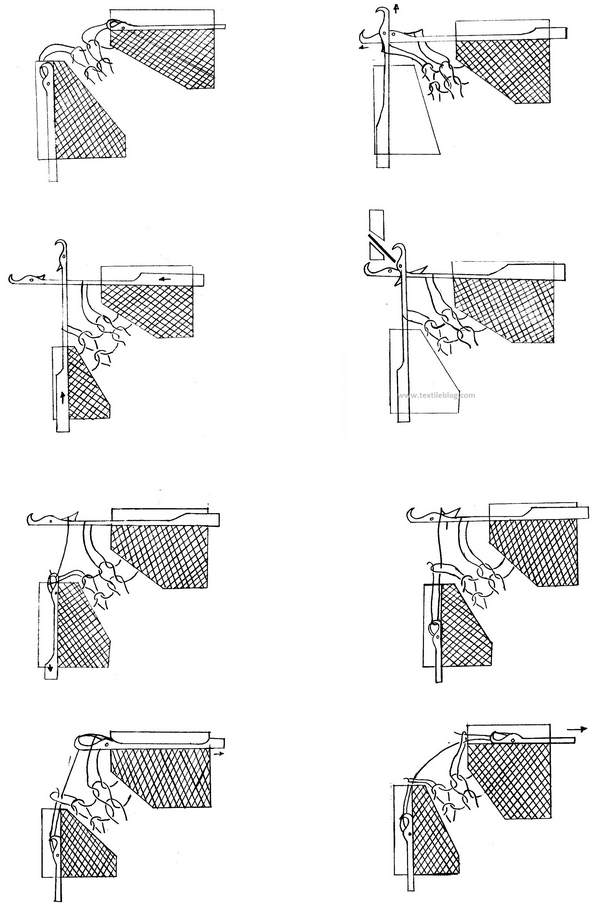 Conclusion:
The electronic circular interlock machine is a very commonly used machine in country to make Interlock knitted fabric. So this experiment has significance in our study life. In this experiment we have learnt about parts, knitting action, cam system of electronic interlock circular machine. We point out the various specification of the machine. So the experiment helps us to know more. Above all the experiment is a successful one.