What is Garment Merchandiser?
The term "merchandiser" was derived from the word "Merchandise". Merchandiser in a garment industry is the person who is responsible in managing the buyers and their orders by taking care of the garment business in his concern. He follow-ups the garment manufacturing activities of the company to ensure timely delivery of right quality and quantity. So we can say that a garment merchandiser is a person who buys raw materials, accessories for producing required garments and exports them to the buyers in different countries within the stipulated time period. In this article I will discuss functions of different types of garment merchandiser.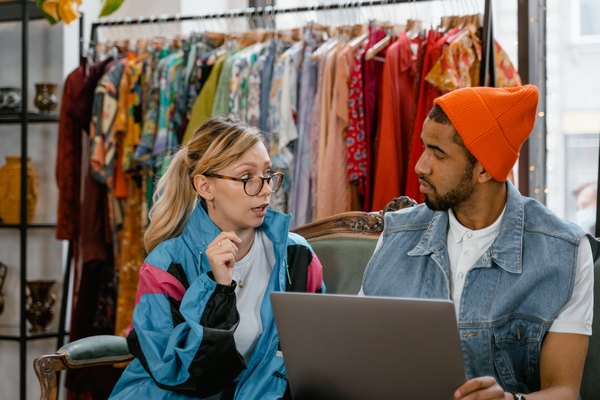 Types of Merchandiser in Garment Industry:
There are different types of merchandiser in the garment industry, each with a specific role and responsibility. Here are some of the most common types of garment merchandisers:
Production merchandiser
Garment export merchandiser
Fashion merchandiser
Visual merchandiser
Retail merchandiser
Explain above different types of merchandiser in the garment industry.
A. Production merchandiser:
A Production Merchandiser in the garment industry is responsible for coordinating and follow-up the production process of a garment order. Production Merchandiser plays a crucial role in ensuring the successful production of garments and the timely delivery of orders to the buyer. The role of a Production Merchandiser starts after the order is received from the buyer and ends when the order is completed and shipped to the buyer.
You may also like: How to Be a Good Merchandiser in Garments
The key responsibilities of a Production Merchandiser include:
Coordinating and managing garment production
Conducting quality control checks
Liaising with buyers
Ensuring timely delivery of orders
Tracking production progress and updating buyers
Monitoring and controlling production costs
Managing production documentation
Handling production-related issues and disputes
Coordinating with suppliers and vendors
Maintaining production records and reports.
B. Garment export merchandiser:
Garment Export Merchandiser has to coordinate and manage the export of garments from the manufacturer to the buyer. They work closely with the production, quality control, design, and shipping teams to ensure that the garments are produced and shipped as per the buyer's requirements and within the specified timelines.
Functions of Garment export merchandiser:
Sourcing materials and suppliers
Managing the production process
Quality control
Communication with buyers
Logistics and shipping coordination
Compliance with international trade regulations and standards
C. Fashion merchandiser:
Fashion merchandising process involves in the design creation and product development process. A Fashion Merchandiser is responsible for developing and executing a merchandising strategy to promote and sell the company's fashion products. They analyze market trends and consumer behavior, work with the design team to create new products, and collaborate with the marketing and sales teams to promote the products.
You may also like: Role of Fashion Merchandising in Apparel Industry
Functions of a fashion merchandiser:
Communicate with buyer regarding orders
Develop samples/counter-sample as per requirements
Quote – cost/price
Get sample approvals – regarding fabrics / fittings / shade / trim / accessories and so forth
Prepare a schedule for order execution
Sourcing fabric / trim / accessories and so forth
Production interface
Perform lab tests and quality checks
Documentation
Dispatch and delivery
D. Visual merchandiser:
A visual merchandiser is responsible for creating attractive and visually appealing displays of products in retail stores or showrooms. They use their creativity and design skills to showcase products in a way that attracts and engages customers and promotes sales.
You may also like: What is Visual Merchandising | Importance of Visual Merchandising
Functions of a visual merchandiser:
Planning and designing store displays
Creating brand awareness
Enhancing the customer experience
Managing product inventory
Following current fashion and design trends
Analyzing sales data
Training store staff
E. Retail merchandiser:
Retail merchandising is another type of merchandising activity, which happens at the end of the hierarchy. Here the retail merchandiser sells products in less quantities and he act as an intermediary between the ultimate consumers and wholesalers. A retailer merchandiser is both a marketer and a customer handler. He creates the place, time and facilities to sell the goods. Retail merchandiser plays a critical role in managing the store's product selection, pricing, and placement to maximize sales and revenue.
You may also like: Fashion Retail Merchandiser: Functions and Responsibilities
Functions of a retail merchandiser:
To estimate sales and plan stock levels
Plan and execute merchandise presentation with the available selling space
Maintaining stock, replenishing it at the correct time
Respond immediately to customer needs and explore seasonal selling opportunities.
Provide direct feedback to the manufacturer
To perform regular sales analysis and report progress to the management
To achieve sales targets and profi t margins
Provide sales training
Handle complaints
References:
Apparel Merchandising by R. Rathinamoorthy and R. Surjit
Fashion Marketing Management by A. Arunraj and V. Ramesh Babu
Apparel Manufacturing Technology By T. Karthik, P. Ganesan and D. Gopalakrishnan
Garments Merchandising by M. A. Kashem.
You may also like: