What is Visual Merchandising?
Visual merchandising is coined as the art of retailing aimed at establishing linkage between fashion, product design, and marketing with merchandise the focal point. Visual merchandising has often been used as a synonym for display in retailing, but in today's retail industry the term incorporates a much wider brief. It can simply be defined as the physical presentation of latest merchandise in aesthetically appealing mode to capture the attention of the customers by all means from the facade of the store to the location of each product inside the store. Narrating a visual story and creating fascinating ambiance goes a long way in awakening the senses, providing the customers a wonderful buying experience prompting them to be back to stores for the next time and become a loyal customer. Merchandise, materials and props, manikins / mannequins, lighting, color, signage, and graphics are important elements of visual merchandising which together coordinate to create visual delight and make shopping a pleasurable experience for the shoppers. In this article I will discuss importance of visual merchandising in fashion retailing.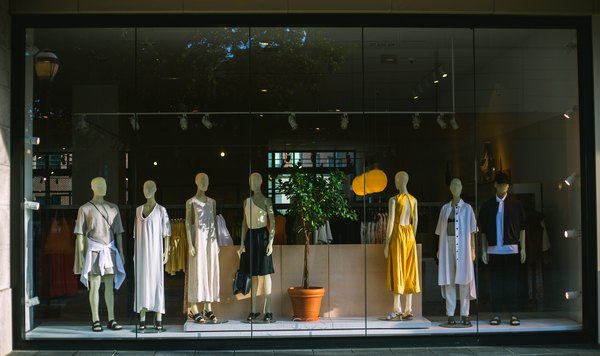 Importance of Visual Merchandising:
In the present scenario, competition is increasing and becoming more complex. Therefore, keeping in view the nature of competition, it is necessary to display the products in such a manner that they look attractive and appealing to the minds of customers. It is the art of displaying merchandise in a store, in a manner that is appealing to the eyes of the customer.
The importance of visual merchandising has been discussed as below:
1. Understand the importance of visual merchandising: The first step to good visual merchandising is to understand how it is important. It will definitely be an asset to your store and business. With good visual merchandising, you will be able to accomplish your store's objectives easily.
2. Tell your store's story through visual merchandising: Visual merchandising gives you the chance to convey to your customers what your store is about and how you can satisfy their needs without being too intrusive. If you are running a high end fashion store your VM strategy will be different than other economical fashion stores. For example, if the store has a new fall collection, the visual merchandising should portray that to the customers.
3. Keep your visual merchandising dynamic: The human mind gets bored easily, hence, if the display of the store is constant without any novelty, it will not attract enough customers. Keep changing your displays daily or at least once in 3 days – the more dynamic your visual merchandising, the more it attracts the customer. It also increases the awareness of your products by giving you the chance to display more products.
4. Attract customers by being different: Just using visual merchandising is not enough. You have to invest time and effort on it. The same old tricks do not work anymore, so attract your customers by being different. For example, instead of hanging garments on hangers or keeping them in racks, hang some of them on hooks from the ceilings.
5. Tailor your displays to correspond with the kind of customers you attract: A good visual merchandising is the one that has been done keeping in mind the objective of the store along with the needs of the customers. You should keep in mind that your VM strategy should give your customers ample opportunity to browse through your products and convert them into sales. For example, a toy store which gives a chance to the kids to touch and feel the products/play with them will always do better than a store which keeps it products in closed boxes, out of the kid's reach.
6. Use it to fulfill the stores objectives: It is important to understand the power of visual merchandising. You can use it to your advantage in achieving the store's objectives. For example, if your objective is just to get more footfalls other than coveting sales, make use of displays. Put up eye-catching displays which say 'Walk in to get free vouchers' and so forth. These are just a few of the various elements that you can use to increase your store's awareness and sales through visual merchandising. Passion for creativity and design along with coming up with new ideas, are essential to ensure a good VM strategy.
References:
Fashion Marketing Management by A. Arunraj and V. Ramesh Babu
Manikins for Textile Evaluation Edited by Rajkishore Nayak and Rajiv Padhye
Fashion Marketing, 3rd Edition Edited by Mike Easey
Mastering Fashion Buying and Merchandising Management By Tim Jackson and David Shaw

Retail Product Management: Buying and Merchandising, Second edition By Rosemary Varley
You may also like: