Introduction:
There are four basic structure of knitted fabric; plain structure, rib structure, interlock structure and purl structure. Different types of knitting machine required to produce these knitted fabrics. The plain structure can be produce by single jersey circular knitting machine, where the cylinder with needle revolves on the stationary cam. The interlock structure are required two sets of needles arranged in horizontally and vertically. In this article I will differentiate single jersey and interlock circular knitting machine.
Single Jersey Circular Knitting Machine:
Single jersey circular knitting machine is the most used knitting machine in textile knitting industry. Latch needle, cylinder and sinker ring revolve through the stationary knitting cam systems. In these types of knitting machine, knitted fabric is in tubular form which is drawn downwards from inside the needle cylinder by tension rollers and is wound onto the fabric batching roller of the winding down frame.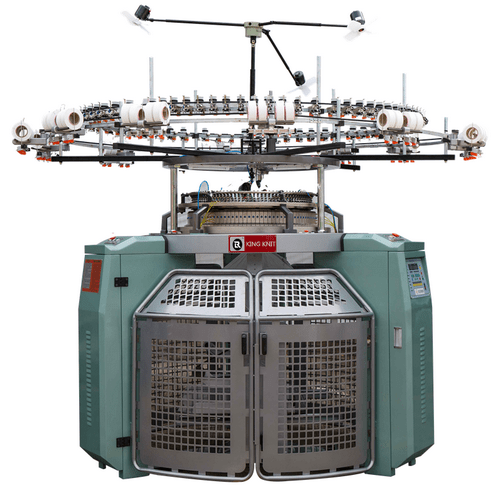 Application Area: Vest, T-shirt, Polo shirts, functional sportswear and underwear or seamless clothes (small size).
Applicable Yarn Materials: Cotton, synthetic fiber, silk, artificial wool, mesh or elastic cloth.
Interlock Circular Knitting Machine:
Interlock circular knitting machine is also a very commonly used machine in country to make interlock knitted fabric. The machine has two sets of needles on two different beds, one set on cylinder one in the dial bed. These two sets of needles must be exactly opposite to each other.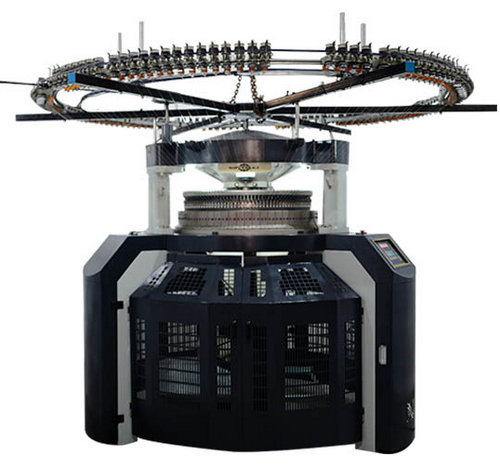 The machine has two separate cam system in each bed needles of different length called short needles and long needles. Each cam system controls half of the needles in alternate sequences. One cam system controls knitting at one feeder and other cam, system controls at the next feeders.
Difference between Single Jersey and Interlock Circular Knitting Machine:
| | | |
| --- | --- | --- |
| S/L | Single jersey circular knitting machine | Interlock circular knitting machine |
| 1 | Top side is open. | Top side is closed. |
| 2 | One set latch needle is used in the cylinder truck. | Two set latch needle are used. One set for cylinder needle which are used vertically and other for dial needle which are used horizontally. |
| 3 | One set sinker is used in the sinker plate. | Sinker plate is not used. |
| 4 | Looping diagram is likely | Looping diagram is likely |
| 5 | Needles getting are parallel. | Needles getting are face to face. |
| 6 | Synchronized timing are used. | Delay timing are used. |
| 7 | Machine dia is 23 inch | Machine dia is 20 inch |
| 8 | Machine gauge is 24 | Machine gauge is 25 |
| 9 | No of needle 1733 | No of needle 3141 |
| 10 | No of feeder 36 | No of feeder 24 |
| 11 | Model no TS | Model no SSMW |
| 12 | Manufacturer: TS mechanical works PVT Ltd | Manufacturer: Shoal sons machinery works. |
You may also like: