Are you new in the clothing business or fashion industry? You might have an innovative idea, excellent taste in fashion, or a passion for clothing that brings you here. Don't you lack the right way that leads to a successful business?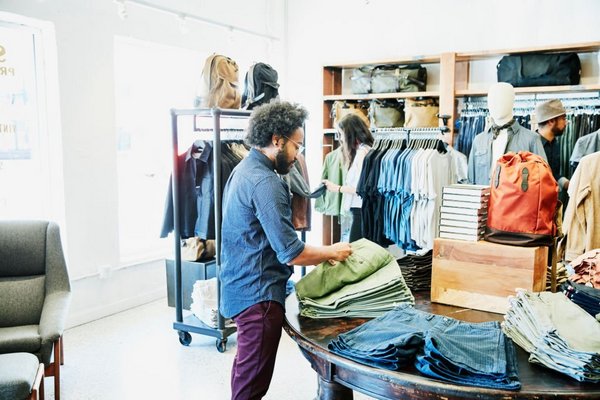 We understand opening your fashion business and making it successful compromises on several combinations of steps, work, passion, patience, and a mind full of creative ideas. The fashion industry is widespread, where the fashion designers' dreams come true. We understand the urge of fashion designers and clothing brand owners to see their fashion line featured in the fashion shows or being completely sold in the market.
With cutthroat competition in the market, it's not an easy business idea to start, but it got a successful clothing business can be an extremely rewarding business. It sounds exciting to have a fashion boutique filled with your clothing line. Your design can build your audience and help you connect with the new audience looking for a similar product.
Designers and clothing line
Designers are skilled at creating artistic and eye-catching designs, which gives them a competitive edge over others. But it's not the only skill needed to do the clothing business. The most important thing is the passion for what it takes to do any business. When starting a business, you will see a lot of challenges and problems, but it's worth it.
If you are opting to work with a clothing manufacturer for your clothing line, then you need to make sure that they are professional and they understand your requirements properly so that your production line comes right according to your expectations.
There are countless brands and clothing fashion line, but still you can distinguish between the high quality clothes providers with high rated durable material and excellence. Customer loves the brand who provides them high quality products with reasonable prices.
Mentioning that, there are several factors by which you can make your clothing business successful. You can learn more about quality control in the apparel industry.
Tips for How to Be Successful In Clothing Business
This blog aims to point out some of the important points and tips that make the clothing business successful. So let's get started without any further delay.
Master entrepreneurship and designing or creativity is the only thing that will make your business successful. Creativity can help sustain your passion and work only, but you have to think, plan, explore, and implement like an entrepreneur.
A good entrepreneur has the knowledge and understanding of the market in which they are operating. The very basic thing is to plan. Having a business goal or clear vision and mission will effectively help you to grow in the market. A goal of your business will help you recognize the steps you need to take to outgrow your business.
A proper plan for your business that reflect your short and long terms goals will decrease your chances of losing the way, in fact, it will go towards success in the long run. The best practice and trait of the good entrepreneur is to have a desire, determination and giving your best.
Building your connection 
It would be best if you created a marketing plan. This marketing plan should help target your audience to who you will be selling your products and expecting them to buy your product. Start implementing the marketing plan.
And work on your building your connections by making initial connections and contracts. By using the proper communication and strategies, you can build relationships with designers. It will assist the designer in bringing innovations to their work that will attract a diverse audience to your brand.
Building connections and networks with competitors and other important figures will raise your brand awareness as these connection helps your business grow.
Continuously bringing enhancement to your product 
Another important thing you need to ensure when starting a clothing brand is having a brand label over your product. You won't be very popular initially, but proper marketing strategies will probably help you reach there.
Be sure to craft your clothing label uniquely to convey the whole story of your business and designs. Ensure that your business name or clothing brand name is visible and easy to read. It helps in brand recognition of your brand.
Learn more about: "Fashion Product Life Cycle Stages"
No need to hurry and panic. You can start just with the product line, and then you can step on the roads towards success by increasing your brand lines. But initially, it's the best idea to start with one product line and focus on it. Also, pay attention to the areas where improvement is needed.
See your competition 
It would be best if you kept an eye on your competition, as you will be learning a lot from them. If you are selling hoodies, look over your competitors and what type of hoodies they are selling. Analyze them from every point of view, such as pricing, promotion strategies, designing, styling, variety, etc.
Ask for reviews/ critiques for your business
Reviews from the customers are the best way to know your drawbacks in your business. Customers who are shopping from them can help you spot the shortcomings you need to improve. They are not pushing you down, and instead, in this way, they are helping you grow and reach success.
After stepping into the market, the business owners still need continuous research development and improvement in the required areas. Critiques are the best learning tool by which you can modify and bring innovation to your clothing line.
Accept the challenges 
The common startups seem to struggle while producing the product because they try to go thoroughly. Good knowledge is important, but it's also important to understand how to bargain and deal with creditors, suppliers, and customers.
For example, you must pay them first if you owe money to retailers and suppliers. Delaying their payments will delay the production procedures. In this way, the relationship between you, retailers, and suppliers might be affected.
It's important to transact with suppliers, manufacturers, retailers, and customers professionally. You might find it difficult in the initial stages of your business, but following this method is good and professional practice.
Develop a financing plan and a good cash flow 
Whenever you are starting a business, you'll have to make financial decisions, and to be taken take firm financial choices, you must understand handling the cash flow. You will have to set to budget for your business. You will allow the money to the retailers, suppliers, and manufacturers to produce the product.
So, therefore having a strong financial plan is a must for you to keep your finances under control.
Conclusion
Not to scare you, but we want to mention that there are a number of startup brands in the market that started things very well, in a professional way, but they ended very badly, just because they lacked at some point. In some cases, it was not competing with the market, or it was because they didn't set their financial budgets.
These brands and startups were just attracted to the fashion industry's fun, style, and trends, didn't have much knowledge and understanding of the market and didn't have many marketing strategies to target the consumer. With the right strategy to grow, professional attitude, passion, dedication, desire, and commitment, you will achieve the success that you are seeking, it might take some time, but you will find it.
You may also like: Top 10 Clothing Brands in Bangladesh