The first things you consider for buying underwear, it's probably most of your attention go to the cut, colour and style. But there are the most important things that it is for your Health!
According to Lauren Streicher,
"Buy underwear that makes you feels good & that's comfortable"
Wearing sexiest unhealthy types of underwear may set you up for itching, skin irritation, as well as make develop a yeast infection or other vaginal infection.
What is the healthiest material should my underwear be made of?
Cotton: Cotton is the best choice. Because it's a natural fibre that's breathable and soft. It also feels great against the skin. In general, synthetic fibre like nylon, polyester, and spandex trap heat and moisture. While cotton is breathable and wicks away moisture. Cotton feels comfortable, but excess heat and moisture are the conditions yeast thrives in. To make sure your thongs are vagina-friendly, buy the best underwear for you that make the thong part 100% cotton, if not the entire apparel.
There are also some other options like the below:
Plant-based fabrics: Rayon and modal is made from plants, though it's chemically processed so it's not technically natural. Plant-based fabrics are super soft and drapey, and often have moisture-wicking benefits so it's dry faster than cotton.
Performance fibres: Man-made Synthetics fibre like polyester and nylon are common in active wear because it wicks moisture and dry quickly. That's why, these performance fibres are ideal for underwear, especially if you're working out.
Silk: Silk is an animal fibre that not as common and it's also expensive. Besides, silk is a natural fibre, feels luxurious, and has inherent temperature-regulating and moisture-management properties.
What is Best Type of Underwear for Women's Health?
Firstly, it's important that the underwear fits you properly. If it's too tight, there's potential for chaffing, rashes and irritation. According to the women's health expert Jennifer Wider, "If your underwear is too tight, you can cause vaginal and vulva irritation".
Every woman's body is different and they want panties that work with your anatomy. According to the outfit and activity level, these are the best underwear styles you can choose from:
Brief:
Brief is a basic style that gives women's good coverage in both the front and back. In a nutshell, it designed to be comfortable There are many variations within this style, like a high-rise waist or a high-cut leg opening. Basically brief's rise to the waist, or just below the navel, and have total coverage in the rear.
Fig: Women's brief
There are mainly three types of brief:
Classic briefs: Classic Brief is known as "granny panties" because they were all some older women had ever known, or wanted, have a higher waist and sides that extend below the hip.
Control briefs: Control Briefs are designed to offer support while giving a slimmer appearance.
High-cut briefs: High Cut Briefs are designed with sides that are somewhat narrower.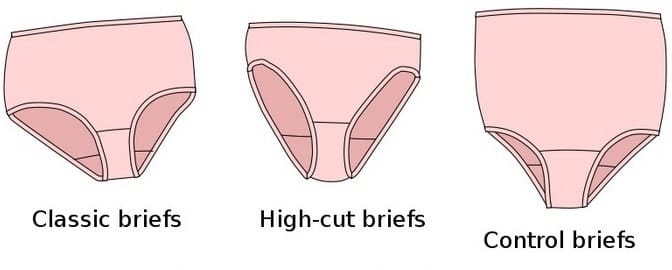 Bikini:
Bikini looks like to a brief, but there's less coverage the fabric of the side sections is narrower. Similarly, to the style of string bikini type, the side sections disappear altogether and the waistband consists of only string-like material. It's generally a lower rise and has higher leg openings. In Bikini, the waistband sits three inches below the waist and has high-cut leg holes. It's come in string bikini form, in which the leg holes constructs with a thin string of fabric.
You may also like: Different Types of Lingerie with Pictures
Hipster:
Hipster is similar to the bikini, this is a low-rise style that sits on the hips. Basically, it's worn lower down on the body, with the waistband around the hips. It gives more coverage around the hips with wider panels of fabric. The waistband on hipster underwear sits on the hips, a couple of inches below the waist, and have low-cut leg holes.

Boyshort:
Boyshort offers the most coverage and looks like a cross between underwear and shorts. Boyshorts looks like to be styled after men's boxer briefs and have short legs extending below the crotch. Boyshorts are known as boy-short panties, boys' cut, booty shorts, shorties, or boyleg briefs are a kind of women's undergarment that covers the hips, named for their similarity to boxer briefs, a variation on boxer shorts.
Thong:
Thongs are made for super minimal coverage with a T-shape string in the back. It just a strip of cotton fabric in the back to prevent panty lines from showing through clothes. Thong sits 3 inches below the waist with the sides usually hitting right at or above the hip bone, like the Bikini. It's come in a variety of fabrics, from cotton to lace. As a result, you can wear them every day. Thong is totally safe as long as they're not too tight.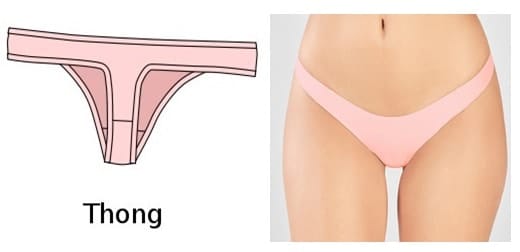 Author of this Article:
Md. Mahedi Hasan
B.Sc. in Textile Engineering
Textile Engineering College, Noakhali.
Email: mh18.bd@gmail.com