Are you a textile engineer? Are you looking for textile jobs in government sector? Then this article is for you. There are few sectors in Bangladesh that needs a lot of freshers and textile is of them. Because this sector needs a lot of skilled person. But number of skill persons in Bangladesh are very less. As a result, career opportunity for textile engineer in government sectors as well as in private sectors is very high for a skill fresher. Many people think that getting government job is impossible because there is huge competition. But what it really takes is a lot of hard work and patience. Student from private university fells that government job is not for them as they are student of "privet university". Let me tell you this is a wrong idea. Student from public and private have equal opportunities in government sector.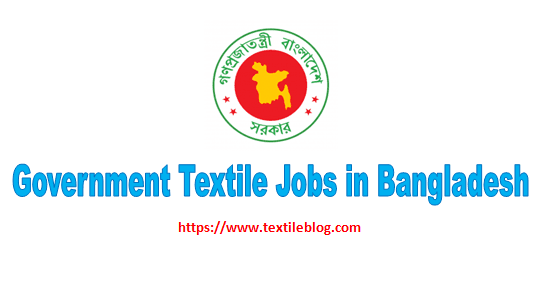 Job Scope for Textile Engineers in Government Sector:
Government job is the most desired place for youth in this era. Now you are thinking that there is less opportunity in government job as textile engineer than you are wrong. After research I found a plenty of opportunity and scope for a textile engineer in government sector. Not only engineering student, student from vocational also can get into government job.
Here are some govt. textile jobs sector:
Bangladesh University of Textiles (BUTex), DUET/KUET/MBSTU/JUST
Bangladesh Jute Research Institute
Army (Education Core), Air Force Cypher Assistant – (9th Grade)
BUTex affiliated textile colleges
Jute Diversification and Promotion Centre
The Department of Inspection for Factories and Establishment
Directorate General of Jute
Ministry of Textiles and Jute
Cotton Development Board
Bangladesh Textile Mills Corporation (BTMC)
Bangladesh Sericulture Development Board (BSDB)
Bangladesh Standard and Testing Institution (BSTI)
Bangladesh Jute Mills Corporation (BJMC)
Assistant Director (Department of Textiles)
Instructor (Textile Institute)
Different government banks etc.
This is not end. There are many sectors that are not in my knowledge. All it takes few research and right preparation to get into the most prestigious job sector in Bangladesh. Anyone can join as an assistant director in DOT (Department of Textile). One can also become instructor in both technical and vocational sector. There is also scope as superintendent in vocational education. Textile cadre is proposed in BCS, but one can became non cadre in Public Service Commission (PSC). Teaching is another way to become a government employee. Students with higher grade and marks can join in BUTex as lecturer which is the only public university in Bangladesh on textile. Other can join in private university and BUTEX affiliated colleges. Now it is your decision if you want to this sector. This sector is as important as other sector.
You may also like: List of Textile Colleges and Universities in Bangladesh
Private sector:
There more than 5000 textile industry in Bangladesh. Bangladesh total export value is about 40 billion $ and textile more than 80% comes from textile. That means there is a huge need of skilled person in this sector. A textile engineer can work in this factory at a high scale salary. Many textile engineering wants to work in private company because of high scale salary and other facilities. Though you must have some skill such as: good command over English, presentation skill etc. to get those jobs. But once you get the job you will have the test of corporate life. There are many scopes for textile engineer.
Some are the sectors are:
Spinning
Fabric
Lab
Dying
Planning
Garments product
Washing
Industrial engineering
Compliance
Human resource
Development etc.
Salary of Textile Engineers in Bangladesh:
The starting salary of a textile engineer in Bangladesh per month is around 20-25 thousand. But after 6 or 7 years the amount raise to at least 70-80 thousand per month. In textile industry technical knowledge is as important as academic education. That's why experience is very much appreciated in this sector. The amount of salary mainly depends of how much hard work you do and the level of technical knowledge you gain. A textile engineer also gets facilities provided by company. In government sector textile jobs salary is given by government salary scale.
You may also like: BCS in Textile: Logical or Excess for Bangladesh
Conclusion:
Bangladesh is one of the biggest players in Ready-made Garment sector (RMG). This sector is the most important part of Bangladesh economy. That is the reason many students in Bangladesh want to study in textile related subject. Because no matter if you are a public or private university student you can get job. If you want to get a job in government sector you have lot of scope as I mentioned. If you want to get a job in private sector at an attractive salary and different facilities, you have that option too. On the other hand, private company hire manpower from abroad at high cost because shortage of skilled manpower.  In a word if a fresher has good result and have the skill, he or she can manage a job easily.
Author of this Article:
Md. Sadman Nafe
B.Sc. in Textile Engineering
Textile Engineering College, Noakhali.
Email: nafe2290@gmail.com