Once upon a time agriculture was known as the backbone of our economy. Nowadays our government is much concerned about the growth of export rate. We are improving ourselves in the sector of textile. In during this time textile sector is considered as the backbone of our economy. Because it is the main source of foreign currency for the last 25 years of our country. Garments industry is the key of export division of Bangladesh. At present, by exporting garments products our country generates more than 5 billion worth of products each year. There are a huge number of employment facilities sourcing by this sector. More than 4 million workers are working in this sector where 90% are women. In this article I will express why BCS in textile is essential for shake of our country.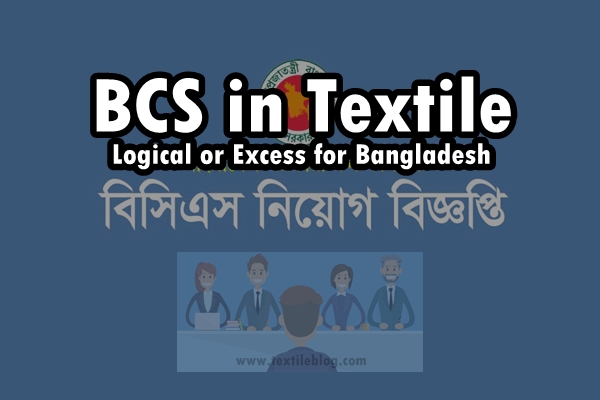 Current situation of Textile studies and career:
We have a broad field of textile sector in our country. The contribution rate of textile in our economy is about 83% that is really amazing to share. Bangladesh textile sector is now in a very suitable situation all over the world. At present, there are near about 7000 garments & 4000 backward linkage factories are going on in Bangladesh. A lot of professional textile expert who they are engineers are trying to develop this sector day by day. From the factory to buying house an engineer is essential to maintain the quality product to achieve the excellence of the vision of this sector. Noted that we need different types of fabric by requirements. In our country needed 90% of knit & about 40% of knit fabric are possible to manage and all the credit goes to our engineers.
Government Job facilities for Textile Engineering students:
Though textile sector is one of the leading sector in our country. Scope of gaining technical knowledge of textile studies like B.Sc. in textile engineering and diploma in textile is increasing day by day. Because textile sector need much skilled person to move this sector smoothly. Many technically known foreign employees are working in our sector that is why we need more Bangladeshi employees in this sector. Sorrow to say that textile sector mostly known as private sector.  All the job facilities are provided by private company. But there are also some government job facilities in this sector.
These are:
Bangladesh Jute Research Institute
Bangladesh Textile Mills Corporation (BTMC)
Bangladesh Sericulture Development Board
Bangladesh Standard and Testing Institution (BSTI)
Bangladesh Jute Mills Corporation (BJMC)
Directorate General of Jute
Cotton Development Board
Ministry of Textiles and Jute
Different government banks etc
BCS in Textile:
Bangladesh Civil Service (BCS) is known as the most respected job sector in Bangladesh. There are two general types of BCS in Bangladesh, General cadre & Professional/ Technical cadre. Among them right now 23 different cadres are offered by BCS in Bangladesh. Textile study is one of the growing and promising aspects of the education system of Bangladesh. Every year more than 5000 students achieved their engineering degree from different public and private institutions. After that they are starting their career in different private sector. Some of them works as government employee but there is not much promising government job sector for textile engineer where they can implement their educational knowledge. In Bangladesh BCS is the most reliable and promising job sector but for the textile engineers there have no independent cadre category.
BCS opportunities for textile engineering students:
Ready made garments and textile sector of Bangladesh has played an extensive role in national economy system. About 83% of the country's total export income comes from textile and apparel sector which is 20% of total GDP. There are many textile expert who works in different private job sector but they need to work more efficient position in government sector where they can implement their knowledge properly to grow the textile sector in a model way. If they can play the role with our country policy maker that will be great for our textile industry. Although there are many expert textile engineers in non cadre basis or they have to change their track to achieve the impendent cadre position. For the well being of textile engineer's expertness they will deserve independent cadre category as our textile sector is the leading economical site of our country.
BCS in textile: Is it logical or excess for Bangladesh?
Textile sector is the leading economic site of our Bangladesh. More than 5 million people have been employed in this sector. About 20% of total GDP comes from this sector and it is increasing day by day. Take this success to forward we need our own policy maker who can really knowledgeable about textile sector. So, at this moment we can clearly say that BCS in textile is very logical for Bangladesh.
You may also like: Government Textile Jobs in Bangladesh
Importance of BCS in Textile:
Textile is the most growing sector in Bangladesh. To make it forward textile engineers are working hard unconditionally. BCS in textile is very important because:
About 83% Total export earnings come from this sector.
About 5 million people directly work in this sector.
About 20% of total GDP comes from this sector.
Government job facilities are very poor for textile exerts.
To take the right decision for the betterment of the textile sector.
Conclusion:
Textile sector is the backbone of our economy. The scope of getting job is very high that is the reason many student are interested to study in this subject. But there have no direct scope to join the BCS in Bangladesh to implement the textile knowledge directly. The estimated earning is 50 billion dollar by the year of 2021. To achieve this textile engineers are working very hard. Though it is the top sector but there is no policy maker who is textile engineer. This sector needs right people in right place to implement the right decision for the betterment of this sector. That is the reason BCS in textile is highly logical for Bangladesh. We hope authorities will take proper action and give authentic declaration to announce the textile cadre in BCS.
References:
https://www.jugantor.com
https://www.banglanews24.com
https://www.textileblog.com
https://www.texpedi.com
https://textilelab.blogspot.com
Author of this Article:
Asif Hasan Mim
Dept. of Textile Engineering
Daffodil International University
Email: asifhasanmim16@gmail.com