Women Workers in RMG Industry:
The Ready-made Garment (RMG) industry in Bangladesh plays a significant role in creating employment opportunity for women and accelerating economic growth as well. Women workers play significantly role in Bangladeshi ready-made garment (RMG) Industry. Women can ensure sustainable livelihood, after getting employment in the garment industry. It can be mentioned that, sustainable livelihood is the combination of concept of capabilities, equity and sustainability.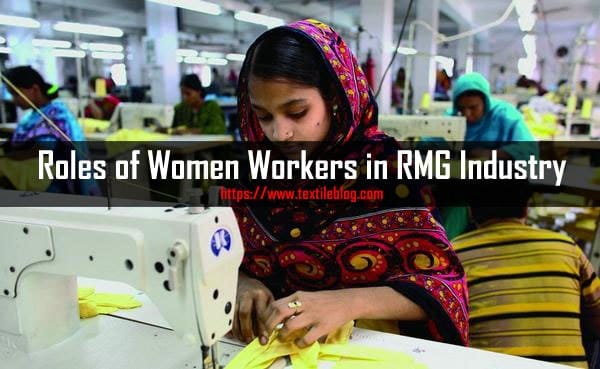 Statistics:
According BGMEA Trade Information, in FY 2018-19 numbers of garments factories are 4621. The Bangladeshi apparel industries employ above 4 million people of whom 85% are women. About, 40 years on the job, women are the driving force behind Bangladesh's most important industry.
Contribution:
From 1980s, RMG is the first industry which provides the large-scale employment opportunities to women in Bangladesh, in a country where women traditionally did not work outside their home.
A job in the garment's sector has therefore contributed to the empowerment of women who had previously been bound to work in their household, empowerment often stops when it comes to the equality of opportunities within garment's factories in Bangladesh. Four out of every five production line workers are female, though just over one in twenty supervisors is a woman. Gender discrimination effects on the lives of the female operators and the potential repercussions on the efficiency in the sector.
The apparel trade of Bangladesh has put money in women's purses and challenged a patriarchal society to evolve, economic empowerment has not greatly improved gender equality and female well being. On the other hand, women with jobs in Bangladesh's largest garments industry are now imperiled on two fronts-at home and at work.
Challenges:
Most of the women workers are married and also poorly educated. They migrated to cities from poverty-stricken households in Bangladesh to work and support their families. Most of the workers working at least 10 hours per day, every day. Many workers do overtime to meet their daily production quota of 100 shirts per hour. According to their position, women workers spend the entirety of their shifts either standing, if they are quality inspectors. Otherwise sitting, if they are machine operators, or moving, if they are factory-floor helpers.
Female worker back at home, they are expected to cook, clean, and perform other household chores-work on top of work that leaves them exhausted and prone to illness.
Specially pregnant women suffer significant health problems, such as hypertension, owing to their brutal schedules. Even most women worker, needing the income, continues working and hides their pregnancies as long as possible, out of fear that supervisors will fire them when they find out from the job.
Working mothers have to high levels of guilt, anxiety, and stress caused by being away from the children whom they often have to leave in their home village, because they cannot afford in terms of time or money to care for them in the city.
Two out of five garments workers show suicidal tendencies. But factory health-care systems do not treat mental illness as a serious problem. Actually, most of the factories do not have any mental-health-care provisions at all for their workers. As a result, most women workers suffer in silence.
43% Garment's women worker had been sexually assaulted by a spouse during the previous year 2018. But the national average for this form of violence is 13 percent. Huge numbers of women in garment's field are somehow associated with sexually harassed.
There is no doubt that, women workers in Bangladesh have earned a degree of autonomy and financial independence from their participation in the garment industry of Bangladesh.
Suggestions:
Woodruff & Macchiavello explored suggested that after being trained, female trainees are as much or even more effective than male supervisors, that there are no differences between male and female trainees with regards to line-level efficiency, quality.
One third of the workforce will remain unskilled without adequate training, further perpetuating a vicious cycle within factories. Due to the gender bias within factories, women do not invest in the skills required to become supervisors, as they do not expect to have opportunities for career progress. Male employees on the other hand, enter factories with a significantly higher expectation of becoming supervisors.
It is also a huge responsibility of government, factory owners and international brands to do everything in their power to guarantee decent and safe working conditions within the factories, more actions can be taken.
Conclusion:
It is time to change that, make the garment's industrialist to start would be by pushing multinational firms to make gender equality a high priority. Many of the international brands that rely on Bangladeshi garment's factories have committed to gender parity in their corporate offices. They should do the same things on the production side, where managerial positions are occupied almost exclusively by men. Actually, local & international brands can get benefit from encouraging garment business associations to invest in their female operators. So, the garment industry and men more broadly must commit to the goal of women's empowerment.
References:
The Daily Star, https://www.thedailystar.net/
Project Syndicate, 2018. www.project-syndicate.org
https://www.theigc.org/blog/female-empowerment-in-the-bangladeshi-garment-industry/
BGMEA Trade Information http://www.bgmea.com.bd/home/pages/TradeInformation