Introduction:
Fashion show is one of the most important parts of development, promotion and promotion of fashion industry. Along with selling products, textile companies and bands organize fashion shows to increase the recognition and popularity of their bands. Usually through this, designers give their ideas to companies about upcoming fashion apparel. Besides, it plays an important role in increasing the popularity of clothes. The role of fashion shows is immense in the development of clothing and textile industry.
What is Fashion Show?
A fashion show is a display of clothing by a textile company or band to showcase their upcoming clothing line. They usually have their clothes displayed by models. It can also be called an event which is aimed at fashion designers. There are many ways in which fashion shows are conducted, one of which is where the models stand while the audience or other people around them walk around and watch, and the other is where the audience sits and the models walk and show off their clothes. Earlier fashion shows had specific locations but now they can be held anywhere. It is organized from any venue to Sea Beach, Forest side too.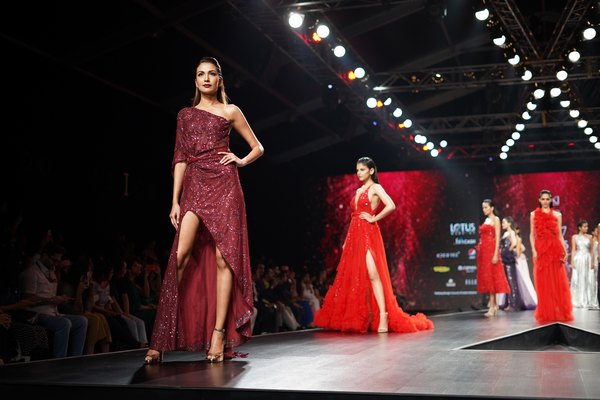 Types of Fashion Show:
Fashion shows are usually held in two seasons. One of which is Summer – Spring and the other is Autumn – Winter. Fashion shows began as fashion parades in the 1800s. At that time there were private shops called salons where clothes were displayed or demonstrated through mannequins. Different models also wore clothes on rent. Later in 1910, fashion shows gained popularity. And in 1993, due to lack of space in salons, it was decided to organize fashion shows in big cities, which is still going on today. Usually fashion shows are organized in different vans at different places.
Importance of Fashion Show:
A fashion show is a platform where designers can showcase their designs. It has been playing an important role as an area of ​​promotion of design in general. It is one of the most trusted points of designers. Any designer can express his designs very easily through fashion shows.
Fashion shows play an important role in increasing the demand for any fiber as well as highlighting it in front of everyone. It also has many effects in restoring lost fiber. Any fiber such as silk can also be said in this case. Fashion shows are often organized to showcase the historical value and economic potential of silk and to save it from extinction. It is thought that there is a need to modernize the silk products by connecting them with the international market by incorporating modern designs. Yarn is made from fiber and cloth is made from yarn. And that's why the quality of the fabric depends on the fiber. To increase the demand for a fiber, its demand can be increased through the display of fashionable clothes made of that fiber. And in this fashion show is playing an important role.
Fashion shows have a great impact on a person's mental side. Fashion conscious people are attracted by different designs of clothes and want to change their mental and personality. And later they get used to those fashions. A garment tells the story of a person's personality. Through clothes, the stories of each of us youth are highlighted more clearly through fashion shows. Lifestyle needs to reflect native culture in all fashions which enriches its own national identity. And it can be done easily through fashion show.
A clothing brand designs clothing that captures the heritage of a country. And she showcases her designed clothes through fashion shows. As a result, a country's geographical situation, history, and traditions are known through it. Fashion shows play an important role in highlighting the history and traditions of a country.
Many new designers also get ideas about design and learn more through fashion shows. It has a similar effect to formal education for them. They create new designs with fashion ideas from these shows. Through fashion shows, young fashion designers can experience first-hand the essence of fashion design, as well as the brutal competition and hurdles involved, at the very beginning of their fashion career.
From manufacturing companies to any textile company, bands benefit from this. They create clothes based on the concept of upcoming clothes. In addition to fulfilling the customer needs, their demand increases. As a result, many financial conditions improved along with promotion and expansion of those companies. Producers will take a look at the fashion show and any designs they like will be sent to manufacturing and then mass produced.
Conclusion:
From fashion designers to manufacturing companies, textile companies, any band and even buyers, the role of fashion shows is immense. Through this new class of buyers can easily enter the fashion world. As a result, the demand for new designs increases easily. New companies also take ideas from fashion shows and bring their products to the market. Fabric collection, yarn, color, raw material etc. are involved in fashion show.
References:
https://fashion2apparel.com/effects-of-fashion-show-in-textile-and-apparel-industry/
https://textilelearner.net/fashion-show-types/
https://en.m.wikipedia.org/wiki/Fashion_show
https://www.fibre2fashion.com/industry-article/7935/influence-of-fashion-shows-on-the-fashion-market-and-on-society
https://www.onlineclothingstudy.com/2017/08/the-role-of-fashion-shows-in-fashion.html
Author of This Article:
Nazifa Tabassum
Clothing and Textile
Govt. College of Applied Human Science, Dhaka
Email: nazifa.099@gmail.com