Introduction
Nowadays it's not enough to focus on one subject and devote your whole life to studying it. Interdisciplinary connections are extremely strict these days. Thus, if you want to become a successful programmer, it's necessary to know the basics of web design or digital marketing. If you want to conduct scientific research, you should know where to find the needed data and how to compute equations or prove theorems.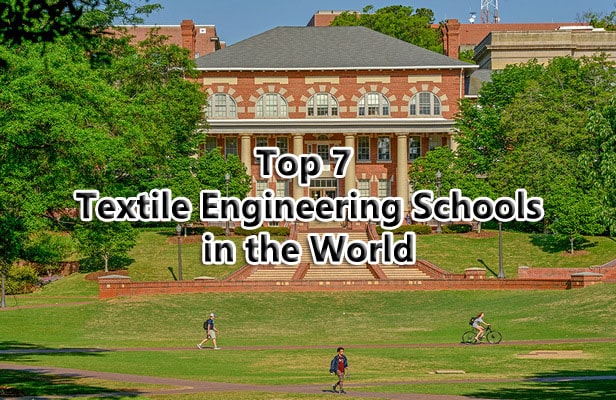 No wonder, the popularity of textile engineering schools and programs is increasing every year. Students who are able to pursue undergraduate research and design versatile projects have all the chances to achieve great results and build a brilliant career. It goes without saying that Textile Engineering majors have a wide spectrum of options into which they are able to plug themselves.
So, if you decide to explore this sphere, it's of prime importance to choose the right program or school. Below you find the most winning solution both within the USA and abroad. In this article I will discuss top 7 textile engineering schools in the world.
Top 7 Textile Engineering Schools in the World
1. Georgia Institute of Technology
If you want to obtain profound knowledge, this School of Polymer, Textile, and Fiber Engineering is the best solution for you. There are lots of programs available. It's up to you to pick up the one that meets your needs and expectations. Moreover, you can't help but appreciate the fact that the Institute provides its students with the services of a career center. Its aim is to set up job interviews. This option is very convenient and beneficial.
2. University of California-Davis
The staff of the university does everything possible to create as friendly an atmosphere for students as possible. Thus, students have a perfect opportunity to visit various labs if they want to obtain new experiences or if they have a desire to enter the science field.
Moreover, students may count on solid engineering fundamentals. It's possible to combine work and study. Moreover, all the students have a perfect chance to work with the best specialists in their fields.
3. North Carolina State University
This school is located in Raleigh. The city is large enough to meet the needs of those who are fond of active social life and versatile activities. Almost all the graduates become leaders in chemistry, color science, or engineering of polymers. The staff of the university pays attention to the development of such skills as academic excellence, creativity, educational and professional ethics.
Moreover, the priorities of the university should be indicated. They include sustainability in all of the work, cooperative culture, and enhance the quality of life for all.
4. Thomas Jefferson University
This university prepares students for leading roles in the textile industry from year to year. The main focus is on the use of innovative technologies. Students deepen their knowledge in such issues as fabric formation, weaving, knitting, product development, etc.
Students who have graduated from the university show good results in collaboration with colleagues from textile engineering. They are able to make essential contributions to different cutting-edge manufacturing technologies.
5. Clemson University College of Engineering & Science
Students who decide to enter this university may count on a safe and healthy campus environment. If you are fond of textile and engineering, you can't help but appreciate the possibilities the CECAS college courses give to you. You can develop excellent technical skills. The university prepares leaders who are able to tackle some of society's most urgent and complicated problems.
6. De Montfort University
If you are looking for cool schools beyond the USA, this variant is one of the best solutions.  The courses of the university are able to provide students with the essential training for innovative markets. With the help of skills and knowledge students receive at the university, they are able to improve and aid the diversification of the thematic businesses.
7. Heriot-Watt University
There are lots of programs and disciplines you can explore. Students gain an awesome opportunity to cooperate with other students on different topics. You are to receive profound knowledge and rich experience. Moreover, the campuses are very attractive and well-equipped.
If you think that studying at textile engineering schools is a rather complicated and complex process, you are right. It's necessary to be able to cope with all the assignments if you want to receive good results. At the same time, it's necessary to communicate with other students and develop your creativity or broaden your knowledge on other topics. You do not need to fall into despair if something goes wrong. The only thing you should do is to find a credible helper.
Thus, My Assignment Lab is a perfect expert service where you can get engineering assignment help of any level of complexity. Experienced and trained specialists provide you with the best solution as soon as possible. Your homework is to get the maximum amount of useful information from it and enjoy the trouble-free studying process.
So, it's up to you to choose the most appropriate textile engineering school that meets your needs, desires, and expectations. Knowledge and skills you get allow you to achieve good results in your future (or present) career and earn your living. Moreover, nowadays it's possible to cope with various studying difficulties with the help of qualified and competent experts.
You may also like: