Introduction:
Production planning software is a program that helps to plan and track production schedule. It allows to create a production schedule for garment factory and then track the progress of each garment as it moves through the production process. Production planning software plays a crucial role in the garment manufacturing industry for several reasons such as optimizing operations, reducing costs, enhancing quality etc. These software for the factory level management is very essential to manage production to deliver shipment on time.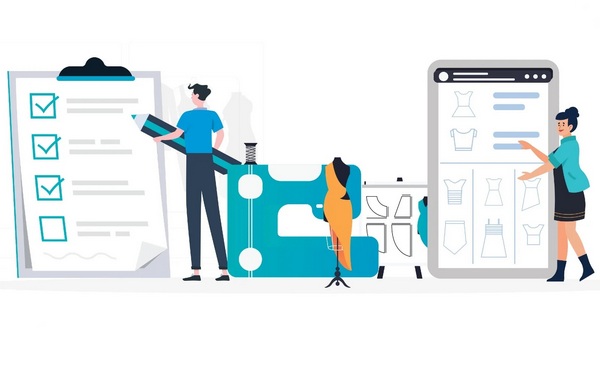 List of Production Planning Software for Garment Industry:
A PPC (Production Planning and Control) tool for the industry level management is vital for timely delivery of an order. There are various types of production planning software are available for garments manufacturing that can help streamline operations and improve efficiency.
Some of the software solutions existing for the garment industry are given below.
Evolve by Fast React:
Evolve is a vibrant solution that gives highlights of important activities related to production planning, reveals up-to-date performance of an industry and offers a prompt cautionary alert of any critical actions required. It is the market-leading garment production planning software solution, supporting a faster, more reliable order confirmation process and production plan which is optimized for delivery, speed and efficiency.
The main features of Evolve stated by Fast React comprises:
Multilevel planning in an industry as well as at the machine level.
During product changeover, it offers efficiency profiles of various operations and start-up allowances.
It provides management of high-quality machines, WIP and auxiliary operations.
Due to better production management aspects in the software, it provides better production scheduling and communication with subcontractors.
The production planning offered by this software is more dynamic, which reflects the up-to-date condition about the progress of the order.
Materials and critical path priorities are actively 'driven' to support the latest plan.
Plan-IT by GemsERP:
Plan-IT is specially made for garment production planning. It is similar to Fastreact of UK. It facilitates merchandisers and production departments for decision making. Hence, it reduces last minute urgency in order processing. PlaniT is a complete planning and management tool for the garment industry.
PPC Module by APPS:
The significant characteristics of APPS PPC module are as follows:
Efficient production line planning
Production monitoring of vendor
Provides details about consumption of raw material and critical path monitoring of the same
Easy analysis of production in an industry by providing quality control reports
Offers comprehensive summary reports
MAE by Parellax:
Parellax Ltd. is a Hong Kong company with offices and support in China and other Asia Pacific Countries that develops and implements enterprise software for the garment and textile industry. Its MAE ERP products have been a leading solution for garment and textile companies since 1998. Parellax is also an Oracle strategic business partner. Parellax's products run on Oracle and Parellax sells and supports Oracle's products.
MAE determines the number of orders that could be taken by the production line at one time. The aim is to load plan; hence, the production line will not be idle at any time. It also has an option for semiautomated line planning capabilities.
STAGE Production Planning Management:
The significant characteristics of this software are:
The planning department could plan merchant's orders, cut and paste orders from one production line to another one easily.
No data entry is necessary on the planning board since all data are extracted from ERP software and outcomes are showed automatically on the planning board.
Additional features of this software are automatic mailing, integration with T&A and expected completion report.
SAP Modules for PPC:
SAP stands for System Applications and Products in Data Processing. It is one of the world's leading providers of enterprise resource planning (ERP) software. SAP has lots of modules. Some modules for garments industry. By these SAP modules, garment manufacturers can streamline their production planning processes, improve operational efficiency, enhance visibility across the supply chain, and ultimately deliver high-quality garments to customers on time.
Pro-Plan by Methods Apparel:
Pro-Plan aids to set up capacity for each production department, remove holidays, add overtime, use of current efficiencies and absentee levels and the capacity is instantly available.
Here is the other important production planning software used in garment manufacturing industry:
Vietsoft ERP—apparel and footwear MIS (management information system) for windows, MRP (material requirements planning), purchasing, PPC, inventory, payroll, etc.
Simparel—offers the quickest, most flexible, and affordable global supply chain management solution available today.
AentezVogue—enables apparel firms to follow-up on the whole manufacturing processes from order to shipment.
OnePlace PLM (product lifecycle management) and Workflow—a suite of business solutions for any organization involved in the production and development of retail/FMCG (fast-moving consumer goods).
World on a hanger—provides easy to use Web-based product data, production, stock, and order management software priced on a monthly basis.
N41—apparel management solutions, sales, planning, production.
MerchanNet—garment software. Manage sampling, costing, orders, purchasing, production, warehouse, shipping, and accounts.
Apparel+—integrated apparel management, planning, and inventory management.
ApparelMagic—sales, purchasing and production, accounting.
AGMS—centralized control to production flow from sales order entry to shipping.
Zedonk—affordable apparel and production management software.
AIMS—order and production processing system for apparel manufacturers.
Millennium—control production, efficiency, fabric, and raw materials.
GCS—sewing and production data.
Conclusion:
The most crucial function of production planning software is help to optimize production schedule. Production scheduling software solutions offer features tailored to the needs of garment manufacturers, such as material allocation, capacity planning, order tracking, and supply chain management. These software help to monitor inventory levels and make sure that you have enough materials on hand to meet your production goals. Garment production planning software can also help optimize production processes, improve efficiency, reduce costs, and enhance overall productivity in garment production planning.
References:
Websites of each software company.
Apparel Manufacturing Technology by T. Karthik, P. Ganesan, and D. Gopalakrishnan
Garment Manufacturing Technology Edited by Rajkishore Nayak and Rajiv Padhye
Practice of Garments Merchandising and Management by Engr. Md. Faruk Hosen
Garments and Technology by M. A. Kashem
You may also like: