What is ERP Software System?
ERP is the acronym for enterprise resource planning and it refers to a type of software system that helps businesses manage their core processes in a more efficient and integrated manner. It is a set of customizable and highly integrative real-time business application software modules sharing a common database, which support core business, production and administrative functions, such as logistics, manufacturing, sales, distribution, finance and accounting. In the garment industry, ERP software system is designed to help manage the various aspects of the manufacturing process, from sourcing raw materials to delivering finished products.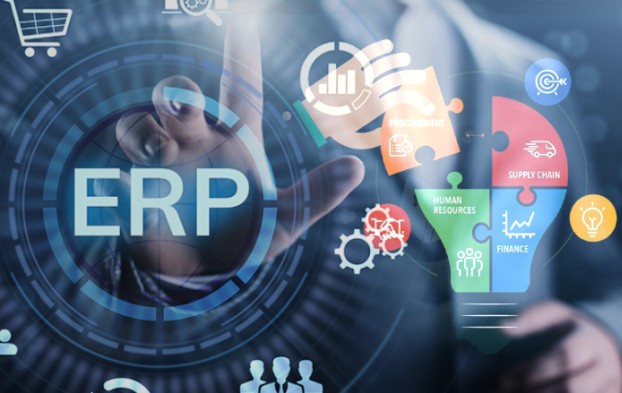 The textile and garment industry is one of the oldest industries that fulfills the basic needs of mankind. Garment manufacturing industry is labor intensive, raw material intensive, capital intensive, product intensive, and inventory intensive. New globalization policies have removed all economic barriers and have also created fierce competition with many challenges between industrialized nations. In a progressively information technology (IT)-driven global economic environment, it is indeed very important to promote and facilitate adoption of IT in the apparel manufacturing industry to help this industry to remain in the national/international competitive market.
The application of IT has increased efficiency at all stages, starting from trend forecasting, designing, manufacturing, supply chain, and logistics to planning and replenishment at the retail stores. One innovation has been the enterprise resource planning (ERP) application, which is a tool that brings about effective coordination between the departments of an organization to direct the process by providing comparative information and analysis regarding trends and forecasts. It assists in effective management of the supply chain, just-in-time inventory, and information as well as enterprise logistics management, effective monitoring and control, accurate planning and scheduling of orders, better data predictions, quick response to queries, and online detailed information of orders.
ERP software is for running a business. ERP was coined as an extension of the concept of manufacturing resource planning software, which automated the process of keeping a manufacturing line supplied with materials to meet incoming orders. An ERP software system is a suite of applications including financials, manufacturing, human resources, and other modules that together automate the back-office business administration functions of an enterprise. Leading ERP vendors include SAP, Oracle, People soft, and JD Edwards.
ERP software system refers to the integration and extension of a business's operational IT systems, with the end goals of making information flow within (and beyond) a company more immediate and dynamic; increasing the usefulness and shelf life of information; eliminating redundancy and automating routine processes; and making information system components more flexible. Departmental boundaries generally become softer, accessibility of data is increased for partner companies and customers, and the company's ability to respond to the marketplace is generally enhanced.
The ERP software system is the latest high-end solution that IT has lent to business applications. The ERP system solutions seek to streamline and integrate operation processes and information flows in the company to synergize the resources of an organization, namely men, material, money, and machine, through information. Initially implementation of an ERP package had been possible only for very large multinational companies and infrastructure companies due to high cost involved.
Why ERP is Essential for Garment Manufacturing Industry?
In the absence of an ERP software system, a large industry may find itself with many software applications that cannot communicate or interface effectively with one another (see Fig-1).
An ERP system helps business processes flow more smoothly and improves the efficiency of the fulfillment process. It leads to reduced inventory. Eventually, it decreases the overall business cost.
Literarily, an ERP system refers to enterprise resource planning software. In general, an ERP system is an industry term for the broad set of activities supported by multimodule application software that help a manufacturer or other business manage the important parts of its business, including product planning, parts purchasing, maintaining inventories, interacting with suppliers, providing customer service, and tracking orders. Typically, an ERP system uses or is integrated with a relational database system. In practice, an ERP system does not live up to its acronym. It does not do much planning or resource planning.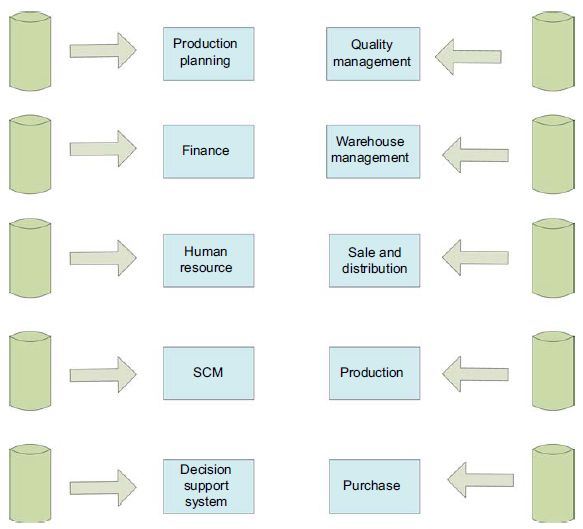 Remember the word "E" for enterprise. This is the true ambition of the ERP system. It attempts to integrate all departments and functions across a company into a single computer system that can serve all those departments' particular needs. The integration streamlines internal business processes and improves productivity of a company.
To be concise, ERP system software offers the following benefits:
It integrates all aspects of the business processes including manufacturing, design, customer services, financial, sales, and distribution (see Fig-2.) By integrating business processes and people anywhere in your company, you can enjoy more efficient workflow and improved productivity.
At its simplest level, the system provides a way to integrate all your business process. To get the most from the software, you have to get people inside your company to adopt the work methods outlined in the software. If the people do not agree with the method and the system has no flexibility to be customized, ERP system projects may fail. Therefore, you should choose ERP system software wisely.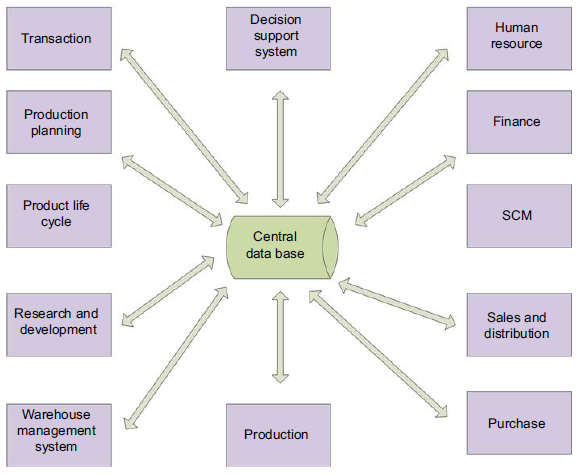 Benefits and efficiency of ERP systems in garment industry:
The textile industry generally concentrates on designing or manufacturing of clothes and also the task of distribution and use of the manufactured product. The textile industry has changed continuously in the past few years. There is a demand to plan out the resources and keep proper data.
An ERP system is software for business that can be customized according to the needs of the enterprise. The ERP system software is the latest high-end solution for performing the business efficiently. The software aims at keeping track of data and making work, processes, and information flow smoothly. An ERP system integrates all aspects of business processes including manufacturing, design, customer services, financial, sales, and distribution. By integrating business processes and people anywhere in the company, they can enjoy more efficient workflow and improved productivity.
In 2015, retailers and consumers push for lower prices, better quality, and quicker delivery. An ERP system provides the right information to the right people at the right time anywhere in the world, enabling you to improve productivity, enhance decision-making, and promote communication between coworkers, customers, and vendors. It helps to reduce or eliminate duplicate work, and it automates operational tasks and provides easy access to information. ERP systems, therefore, can deliver significant time savings.
ERP software systems have helped to increase the quality and efficiency of the manufacturing process. The manufacturing process experiences certain problems often because of miscommunication and lack of communication. It provides a solution by enhancing coordination by keeping an eye on the supply chain, warehouse, and logistics. It also helps greatly in the function of tracking the progress made in the manufacturing of the product. If any technical problem occurs, it can be tracked down easily. The customer can be answered easily with the statistics in hand, and his or her queries can be easily answered with the details of the status of the product. Long chains of communication are shortened, and the details can be shared through internet, thus avoiding any miscommunication. Textile manufacturing companies often find that multiple business units across the company make the same widget using different methods and computer systems. ERP systems standardize the manufacturing processes and improve quality.
An ERP software system integrates the processes of the business across departments into a single information system, resulting in reduced operating cost. The problem of low inventory or reduced operating cost is ruled out. Whenever a resource is needed, it is available on time because everything has already been planned. The day-to-day management becomes easy because it keeps track of the warehouse also. Everything going into the data warehouse is recorded, thus planning for a specific day can be easily done.
Due to the fact that every activity is recorded, the actual cost can be calculated easily. The unwanted ambiguity is ruled out, which makes the database user friendly. Since the product is being managed so well, its quality remains intact: what the world gets is a reliable product. Every small detail can be easily taken care of and smooth flow of activity takes place.
For both textiles and the garment sector, strategic planning is important, and an ERP system is designed to support this through resource planning. It facilitates report generation, which has to be updated every time a progress takes place. This report can be distributed among employees so that they also know which area has to be given more attention for the completion of the task. The textile and garment industry is ever changing, and thus it is important to know what the customers need and record it.
Advanced ERP systems software has the ability to be customized to the extent that screens can be remodeled, fields can be edited, and the architecture modified through progressive installation processes. In addition, these can be operated in a secured, Internet-based environment. These features provide flexibility and convenience in implementation and operation. Some multilingual ERP systems can perform automatic translation that enables almost every style detail to be viewed in several languages, such as English and Chinese. It improves the effectiveness of communication.
A few advantages and disadvantages of the ERP software system in the garment manufacturing company are outlined in the following points:
ERP systems connect the necessary software for accurate forecasting to be done; this allows inventory levels to be kept at maximum efficiency for the company to be more profitable,
Integration among different functional areas to ensure proper communication, productivity, and efficiency,
Design engineering (how to best make the product),
Order tracking, from acceptance through fulfillment,
The revenue cycle, from invoice through cash receipt,
Managing inter dependencies of complex processes bill of materials (BOMs),
Tracking the three-way match between purchase orders (what was ordered), inventory receipts (what arrived), and costing (what the vendor invoiced),
The accounting for all of these tasks: tracking the revenue, cost, and profit at a granular level.
ERP systems centralize the data in one place. Here are some benefits of an ERP software system:
Eliminates the problem of synchronizing changes between multiple systems consolidation of finance, marketing and sales, human resource, and manufacturing applications
Permits control of business processes that cross functional boundaries
Provides top-down view of the enterprise; real-time information is available to management anywhere, anytime to make proper decisions
Reduces the risk of loss of sensitive data by consolidating multiple permissions and security models into a single structure
Shorten production lead time and delivery time
Facilitating business learning, empowering, and building common visions
Some security features are included within an ERP system to protect against both outsider crimes, such as industrial espionage, and insider crimes. A data tampering scenario, for example, might involve a disgruntled employee intentionally modifying prices to below the breakeven point in an attempt to interfere with the company's profit. ERP systems typically provide functionality for implementing internal controls to prevent actions of this kind. ERP system vendors are also moving toward better integration with other kinds of information security tools.
Problems with ERP systems are mainly due to the implementation issues and the inadequate investment in ongoing training for the involved IT personnel, including those implementing and testing changes, as well as a lack of corporate policy protecting the integrity of the data in the ERP systems and the ways in which it is used.
Some of the major points on the disadvantages are mentioned in the following:
Customization of the system is limited.
Reengineering of business processes to fit the industry standard prescribed by the ERP system may lead to a loss of competitive advantage.
ERP systems can be very expensive.
ERP systems are often seen as too rigid and too difficult to adapt to the specific workflow and business process of some companies; this is cited as one of the main causes of their failure.
Many of the integrated links need high accuracy in other applications to work effectively; a company can achieve minimum standards, then over time, "dirty data" will reduce the reliability of some applications.
Once a system is established, switching costs are very high for any one of the partners (reducing flexibility and strategic control at the corporate level).
The blurring of company boundaries can cause problems in accountability, lines of responsibility, and employee morale.
Resistance in sharing sensitive internal information between departments can reduce the effectiveness of the software.
Some large organizations may have multiple departments with separate, independent resources, missions, chain of command, etc., and consolidation into a single enterprise may yield limited benefits.
Conclusion:
ERP software system is playing a significant role in the field of fashion and the apparel industry. They give companies a clear advantage over others in the global competitive market. There are many benefits and advantages involving the use of ERP systems. ERP system can help garment industry businesses streamline their operations, reduce waste and inefficiencies, and improve overall profitability. Finally, we believe that the integration of ERP systems in the fashion and apparel sectors will enable them to lead in the future.
References:
Information Systems for the Fashion and Apparel Industry by Tsan-Ming Choi
ERP for Textiles and Apparel Industry by R. Surjit, R. Rathinamoorthy and K. J. Vishnu Vardhini
ERP Tools, Techniques, and Applications for Integrating the Supply Chain by Carol A. Ptak
Garment Manufacturing Technology, Edited by Rajkishore Nayak and Rajiv Padhye
You may also like: Functions of Different ERP Modules in Textile and Apparel Industry