All spinners wish that the spinning productivity of their mill (ring frame production in grams/spindle shift) has the optimum level of efficiency. Though there are many aspects that limit the actual production like ring diameter and its life, lift, life and make of the ring frame, its maximum mechanical speed, type of spindle drive, lot size, fluctuating production program, poor control on RH, lower HP of main driving motor, greater percentage of untrained workers, impoverished technical knowledge of subordinates, etc.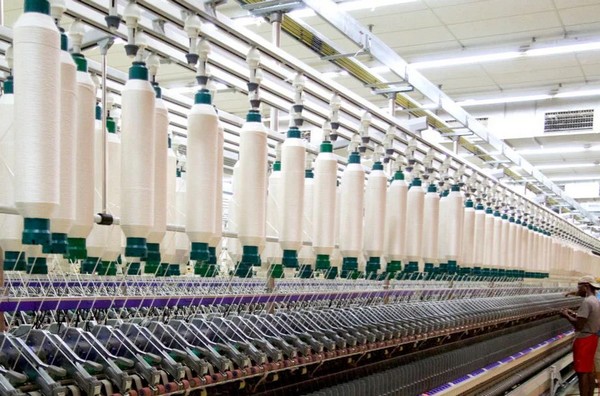 Productivity is simply the output expressed as the ratio of the input. In other words, productivity is defined as the efficient use of resources such as labor, capital, land, materials, and energy in the production of goods and services. Productivity is, therefore, key to the survival of a manufacturing enterprise in business. Higher productivity means accomplishing more with the same amount of resources or achieving higher output in terms of volume and quality for the same input.
Productivity in a spinning mill could be taken as an indication of the mill performance level. As the productivity increases, product cost reduces, which in turn raises the standard contribution. Productivity of spinning mill is related to total operative hours necessary to produce 100 kg of yarn. Production is affected by spindle speed, yarn twist per meter, end break rate, out of production hours, ring diameter, doffing time and type (auto-doffing or manual), and personnel organization. Productivity reduces with decrease in mill efficiency. Hence, mill performance is closely related to the total operative hours worked to produce a constant amount of production. Productivity is a comparative tool for managers, industrial engineers, and management people.
Productivity could be considered as a comprehensive measure of how organizations satisfy the following criteria:
Objectives: the degree to which they are achieved
Efficiency: how effectively the resources are used to generate useful output
Effectiveness: what is achieved compared with what is possible
Comparability: how productivity performance is recorded over time
Factors Influencing Productivity of a Spinning Mill:
The productivity of a spinning mill is influenced by factors such as raw material, labor, machinery, maintenance, and energy consumption.
1. Raw material: It has an important influence on production and quality. Longer fibers require less twist per inch to give enough strength, which results in high production. Higher percentage of short fibers will result in the form of production losses due to more end breakage and higher twist per inch. Immature fibers results in production loss because the yarn made from these types of fibers has poor strength and also it produces breakage in spinning process.
2. Labor: Optimum number of labor employment in various departments of a spinning mill plays a crucial role in deciding the productivity. The efficiency of the labor in any department of spinning mill is of paramount importance in influencing the productivity. The right selection of labor for particular work profile requires the application of psychometric tests. The efficiency of the labor should be checked at the end of the training period. The inefficient labor allotted to any work in the spinning mill reduces the productivity. The allotment of higher work force than recommendation in a department affects the productivity of the spinning mill.
Sometimes productivity is viewed as a more intensive use of labor, which should reliably indicate performance or efficiency if measured accurately. It is important to separate productivity from intensity of labor, because while labor productivity reflects the beneficial results of labor, its intensity means excess effort and is no more than work "speed-up." The essence of productivity improvement is working more intelligently, not harder.
3. Machinery: Productivity of any manufacturing industry relies mostly on the machines installed for manufacturing products. In the short staple spinning process, a series of machineries are employed to manufacture yarn. The speed of the machine greatly influences the productivity of the process. The selection of very high speed may affect the quality of the product delivered and running performance of the process. The right selection of machine speed and settings optimizes the productivity, quality, and running performance. The selection of machinery type such as manual or semiautomatic and automatic also has a significant effect on productivity. If the process is highly automatic, then the labor allotted should be less in order to attain higher productivity.
4. Maintenance: The proper maintenance of the spinning machines predominantly lowers the machine downtime so that the productivity substantially improves. The important maintenance activities such as cleaning schedules and replacement of worn-out parts should be implemented effectively to enhance the productivity by reducing the unnecessary machine break downs. The deviation in the replacement of worn-out machine parts such as carding wire points, top roller cot, aprons, spindle tapes, roller bearing, and spindle may significantly affect the quality and process performance so that productivity gets dropped.
5. Energy consumption: The energy consumption in units by the spinning machines for a particular process should be closer to or less than the norms. The energy consumed for producing 1 kg of yarn is normally taken and compared with industry norms. The various factors influencing the energy consumption of the machines are machine load, process type, motor specifications, and motor maintenance. Units per kilogram (UKG) is a parameter used in the spinning mill to measure the energy consumption level.
Significant machine developments in short staple spinning process that improved productivity of spinning mill:
Bale plucker instead of manual mixing operation
Chute feed system instead of lap feed system
Automatic waste evacuation system instead of manual waste collection
Automatic doffing of cans in carding and draw frame machines
Usage of bigger diameter cans in carding and draw frame departments
Automatic lap changing system in comber machine
Automatic roving bobbin transport system
Automatic spinning bobbin transport system
Automatic doffing in ring frame department
Automatic winding machine
Improved machine design that facilitates higher machine speed, user-friendly operations
Measures to Improve Productivity in the Spinning Mill:
Selecting appropriate raw material
Correct balancing of machineries
Selection of optimum spindle speed
Selection of optimum twist
Reducing end breakage rate in ring spinning
Reducing soft waste generation
Reduce the machine efficiency loss during doffing and maintenance
Correct follow-up of HOK and OHS as per recommendations
Energy-efficient motor and spindles usage
Correct maintenance of R.H%
Minimize the dust accumulation and fly liberation
Conduct energy audit to avoid unnecessary energy losses
Use of automated machines
Linking systems for transporting roving bobbin and ring bobbin
Conclusion:
Spinning is getting more competitive and the market is also expanding. Spinning mills are required to produce more products with less cost which is only possible if these are run efficiently. The entrepreneurs, workers and professionals would hopefully be able to meet the challenge with their collective efforts.
References:
Process Management in Spinning by R. Senthil Kumar
Process Control and Yarn Quality in Spinning By G. Thilagavathi, and T. Karthik
Abdul Wadud "How to improve productivity and quality in spinning mills" https://thefinancialexpress.com.bd Retrived: 23yh July, 2022.
You may also like: