What is functional clothing?
Functional clothing ­is a very exciting segment of the technical textiles. It may be defined as a generic term that includes all such types of apparels that are specifically designed and engineered to deliver a pre-defined performance or functionality to the user, over its normal functions.
Functional clothing items such as clothing of firemen, medical staff, sports-person, auto-mobile mechanics and workers in the oil and gas industry had always been given a stain repellent or stain release finish. This functional clothing includes protection under harsh environmental conditions during work or sporting activities or protection against extreme hazards and environments.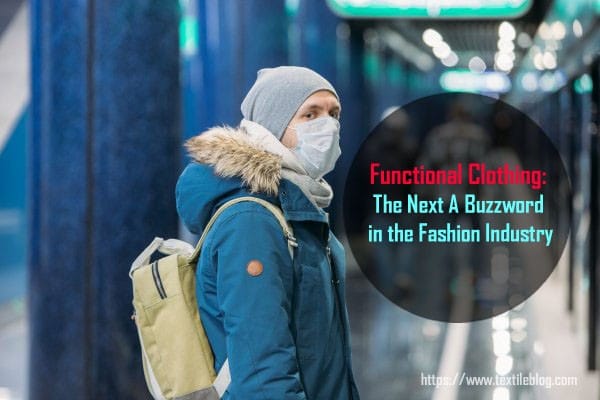 Here, we first discuss some key decision points in functional clothing.
Classification of functional clothing:
Protective clothing (Protech).
Sports clothing (Sporttech).
Medical clothing (Medtech).
Clothing for special needs.
1. Protective clothing: Protective clothing may be defined as clothing including those protectors which cover or replace our personal clothing and which are designed to provide protection against hazards.
Protective clothing provide protection against: physical injury, drowning, against mechanical impact, against heat and/or fire, cold, rain, electric shock, radiation, dangerous substances and infective agents, protection against invisibility, etc.
2. Sports clothing: Functional clothing in this section are used to enhance the functionality of sports-persons by providing a high level of breathability, moisture/vapor transfer, heat insulation, wind-proofing, water-proofing, and UV protection depending upon the sport and environment requirements.
Sports clothing is a general term and it is very important for apparel to meet specific functional requirements, which will depend on the sport and its environment. The required functionality may thus differ greatly, and it may be based on the application of compression or the principles of aerodynamics to reduce wind or air-drag during high speed sports.
Sport functional clothing provide protection at: Golf, Tennis, Soccer, Basketball, Baseball, Football, Swimming, Diving, Running, Skiing, Ice, skating, Cycling, Motocross/motorcycle riding, Aeronautics, Fencing, Karate, Fitness clothing, Mountaineering/airplane climbing etc.
3. Medical clothing: This category especially refers to the healthcare sector. This section includes functionalities like absorbency, air permeability, and durability based on clothing and intelligent functional apparels. Characteristics of this, typically include surgeons' gowns, staff uniforms. These types of functional apparels may be categorized as the areas of application, as follows:
Surgical clothing.
Therapeutic clothing.
Intelligent functional apparel.
Healthcare/hygiene and surgical clothing are the most important sectors in the fields of medicine and also surgery. They always are used in operating theatres and so on.
4. Clothing for special needs: This category of clothing for special needs is concerned with improving the quality of life for people with special needs or disabilities. These functional apparels are used to improve the quality or ease of life for people with disabilities or special needs, like wheelchair users, paraplegics, arthritis sufferers, people with restricted movement, or stroke victims. These apparels are mostly made to measure to ensure individuals need fulfillment and comfort for the wearer.
Why functional clothing is to be the next a buzzword in the fashion industry?
In the current situation of Covid-19, Corona pandemic the world is changing rapidly. Industries, businesses, social dynamics, national and international dynamics are also changing very fast. As a result, it seems the dominating concept of 'Functional Clothing' is going to be affected by the need for function, protection, and serviceability.
Now 'protective clothing' not only be sought by frontline workers (like medical professionals, law enforcement force, etc), but this would be required in the daily use of clothing and fashion accessories. The functional clothing fashion is to be more sustainable for the effect of Covid-19.
Today not only the sports-men, travellers of adverse weather or especially vulnerable persons or the children need protection and special functions on their clothing,
It is going to be feature asked by everybody on their fashion products. Functional apparel is a critical industrial trend which affects the fashion and textiles industry, and the respective supply chains. Function apparel in fashion is going to give critical market advantages to the fashion brands and retailers.
Actually 'Functional Clothing' is the term that binds our fashion awareness, style and design distinguishing with necessary function of protection and also product life cycle.
Undoubtedly, information systems are critically important in functional apparel supply chains as they are essential for many crucial business operations.
However, in the current situation of COVID-19, demand has been increasing with more and more categories of technical textiles requiring these finishes. So, the word 'Functional Clothing' is to become the next a buzz word in the fashion industry.
Author of this Article:
Md. Mahedi Hasan
B.Sc. in Textile Engineering
Textile Engineering College, Noakhali.
Email: mh18.bd@gmail.com