Medical textiles are one of the most important branches of Technical Textiles. The Combination of textile technology and Medical sciences have created a new field called Medical Textiles. Medical textiles are also called as Healthcare Textiles. Textiles always been a part of the health industry. Basically, Medical textiles are used for first aid, clinical or hygienic purposes and rehabilitation.
What is the infection?
The invasion & multiplication of micro-organisms like bacteria, viruses, parasites that are not generally present within the body. An infection may be caused no symptoms and be sub-clinical, or it can cause symptoms and be clinically apparent. Infection can remain localized, or it can spread through the blood or lymphatic vessels to become systemic. Micro-organisms which live in the body are not considered infections. For example, bacteria that live within the mouth & intestine are not infections.
Importance of medical textiles to prevent and control infection?
Medical textiles are important for preventing infection and control. Healthcare textile gives us cost-effective ways to protect both hospital staff and their patients from virus, bacteria and other micro-organism.
The medical textile made from high performance fibers which are developed which prevent hazardous bacteria from build-up. And it will find applications in the fields of personal hygiene where build-up of dangerous bacteria can be hazardous for health. The Medical Textile fibre has the combination of antimicrobial compounds, based on metallic salts which ultimately control bacteria and fungi. The compounds of fibres are embedded in the matrix of fibres which can give it impervious to washing & wear.
A common problem in hospitals and healthcare institutions are microbial contamination  of  surfaces which can  lead  to  infections  and  consequently  to cross infections.  Therefore, it is essential to cut the transmission of harmful micro-organisms and spreading of the secondary infections within a curative environment.
It is extremely important that protective clothing like surgical masks, caps, gowns, etc. & hospital linen meet the demands for anti-microbial protection. Thus, materials for use in surgery have to ensure adequate protection against micro-organisms, bio logical fluids & aerosols. Disease transmission prevention is a very important consideration for incorporeal or implantable devices within the human & for extracorporeal devices. That's why controlling the undesirable effects of micro-organisms on textiles are becoming an important issue, especially within the medical textile industry.
Medical textile products:
The disposable apparel is the main product of medical textiles. The apparel which is used and trashed after the one-time use is called disposable apparel. The most medical textile is used for one time, because of infection they cannot be used more than once.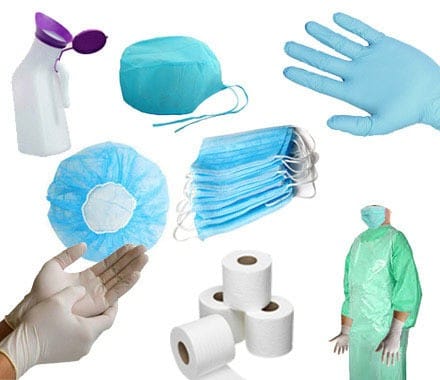 Gowns and Caps: The Medical Gowns and caps come in a variety of designs such as unenforced & reinforced. They have features are tear resistance, abrasion resistance, fluid barrier and breath-ability.
Medical and Pharmacy division:  Adult Incontinence pads, feminine maternity pad, cotton mesh maternity pads, urine collector and bag, nursing wipes, gauze, wound dressing, surgical drapes, gowns, plaster, face mask table and tray covers, X-ray gowns, scrub suits, barrier, and isolation gowns, patient exam gowns, etc.
Medical Cloths and wipes:  Medical Cloths and wipes are made from non-woven bonded fabrics which consisting of the spun lace and maybe soaked with the antiseptic finish. The cloth or wipe uses to clean the wounds or the skin prior to wound dressing application, or to treat rashes or burns also. There are different types of wipes are: baby wipes, moist toilet tissues, skin cleaning wipes, nursing wipes, dry wipes (anti-microbial), hard surface disinfectant wipes, hand cleaning wipes, etc.
Bandages:  There are many kinds of Bandages. Bandages are the protector of elbow/ ankle bandages for tracheotomy patients, etc.
Masks: Mask is used to prevent micro-organism to enter the body.
Sterilization wrap: Single room sterilization wraps known as wraps are sold as flat sheets made to specific sizes. The uses of sterilization wrap are basically for wrapping trays and large instruments in the hospital supply room.
Properties of medical textiles:
Health textile materials should have some specific properties to be useful as medical textiles. Cause, all the textile fibres cannot be used here, because their performances depend upon interaction with the properties of the cell of textile material for medical applications are the following: Bio-compatible, Good resistance to alkalis, acids & also micro-organisms, good dimensional stability, Elasticity Free from micro  impurities, Absorption & Air permeability. The Fibres used in medical textile must fulfill the following criterion: The fibber's must be nontoxic, non-allergenic, non-carcinogenic, sterilized without impacting any change in their physical or chemical characteristics, biodegradable and also eco-friendly.
The medical textiles are classified as Healthcare and Hygiene products, Extracorporeal devices, Implantable materials and Non-implantable materials according to the usages. Surgeons wear, bandages, sanitary towels, wound dressings, artificial joints/bones, eye contact lenses, artificial cornea, etc are some of the examples of medical textiles.
The range of products is huge. But they are used in the Hospital's operation theater or in the hospital ward for the hygiene, care, and safety of hospital staff and patients.
Conclusion:
Finally, it can be said that medical textile has a very important role to protect and prevent and control the infection. That's why medical textile continuing well into the future. Significant amounts of developments in medical textile product are gained or maintained in the competitive edge and to make products more efficiently and at a lower cost.
References:
Handbook of Medical Textiles by V Bartels
Medical and healthcare textiles Edited by S. C. hand, J. F. Kennedy, M. Miraftab and S. Rajendran
https://www.fibre2fashion.com/industry-article/1704/medical-textiles-healthcare-and-hygiene
https://textilestudycenter.com/medical-textile/