Effect of Pretreatment Process on Dyeing of Viscose Fabric with Reactive Dyestuff
Mohammod Habibur Rahman & Ataur Rahman
Department of Textile Engineering
Dhaka University of Engineering & Technology (DUET)
Gazipur-1700, Bangladesh
Objects:
To increase quality of dyed fabric.
Cost minimization
Best process selection
Observation of different pretreatment process
Compare various pretreatment process
Operational activities:
1. Scouring & bleaching:
Different amount of wetting agent use.
Different amount of detergent use.
Different types of detergent use.
Different amount of caustic soda (NaOH) and soda ash (Na2CO3) apply.
Different amount of Hydrogen peroxide (H2O2) use.
Various liquor ratio use.
Note: When one parameter change then others parameter will remain constant.
2. Dyeing:
Our main object is to observation of different pretreatment process effect for same dyeing recipe. Which process gives us better result.
3. Finishing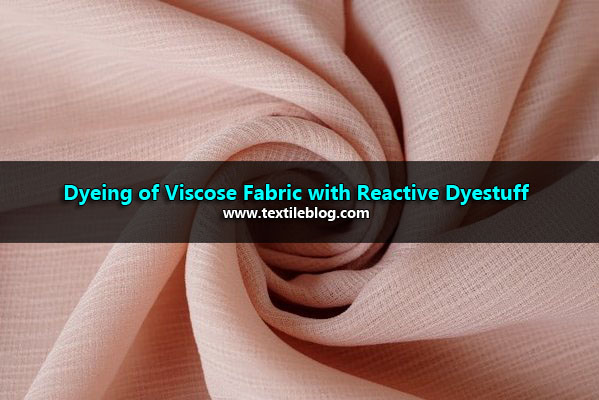 Methodology:
The methodology is as follows-
Planning & budgeting
↓
Collection of viscose fabric
↓
Collection of chemicals & dyes
↓
Various pretreatment & dyeing procedure
↓
Observation of results
↓
Compare of results
↓
Select best alternative
Chemicals and Dyes:
1.Wetting agent
Detergent
Caustic soda (NaOH)
Soda ash (Na2CO3)
Stabilizer
Anti creasing agent
Antifoaming agent
Salt
Hydrogen per oxide (H2O2)
Acetic acid
Leveling agent
Softener
Enzyme
Peroxide killer
Lubricant
Dyes
Bicromate or fitcary
Copper sulphate
Modal fabric dyeing (Deep Shade):
Fabric construction: 40/s Modal cotton S/J & 20D Lycra, GSM =150, 3424, SL = 2.9 mm Dia = 75″ (open)
Chemicals/ mlt
Recipe
Process
Dozing /inject
Running & pH
Materials
Batch
Heat setting
190°c to 200°c through stentering
Material
Batch
Loading
Take water before start m/c at 1:10
Detergent  (NOPS)
1  g/l
Cold wash
Normal temp.
40˚C – 10´
Stabilizer & sequestering (CONL)
0.5  g/l
Anti creasing (NC)
0.5 g/l
Anti forming
0.5 g / l
Viscose color
3 g/l
Scouring & bleaching
Dozing  40˚C – 7´
70˚C – 60´
BD
Before BD absorbency check
Per oxide killer (Biokil)
0.3 g/l
Inject
40˚C – 10´
Hot
–
Washing
–
80˚C -10´
Acetic acid
0.5 g/l
Neutralization
Inject
50˚C – 10´ for pH = 6.00 ~ 7.00
Wash
–
Leveling ( REB)
1 g/l
Leveling
Temperature Increase at 60˚c
60°C – 10 ´
Sequestering (CONL)
0.5 g/l
Anti creasing ( NC )
0.5 g/l
Salt
80 g/l
Migration
5 % dozing 60˚c – 10´95% doz. 10´
60˚C – 10´ 60˚C – 10´ pH below 7
Salt
R/T orange ME – 2RL
3.46%
Color
Dozing 60˚C – 20´
60˚C – 10´
EVR. Red 3BS
2.76  %
Cotton blue
0.0044%
Soda ash
20 g/l
Fixation
1% dozing 60˚C – 20´5% – 20´94% – 20´
60˚C – 10´ 60˚C – 10´ pH 10.5 60˚C – 10´
Soda ash
Soda ash
BD
Before BD sample check  (Shade)
Acetic acid
0.5 g/l
Neutralization
Inject
40˚C – 10´
BD
Before BD/rinse sample check (Shade)
RSK
1 g/l
Soaping
Inject
80˚C – 10´
BD
Before BD /rinse sample check (Shade & soft)
Fixer
1 g/l
Fixing
Inject
40˚C -10´
Materials
Unloading
Table: Modal fabric dyeing process with Reactive dye
N.B: Viscose fabric dyeing process is same as to Model fabric dyeing process. Do not use caustic & peroxide, viscose color is a multifunctional chemical which perform scouring & bleaching. Viscose fiber has more absorbency than cotton so liquor ratio uses 1:10. So possibility to uneven dye to prevent it used high liquor ratio & carefully dozing salt and soda.
Where,
A= Cold water loading
B= Fabric, Detergent, Stabilizer, sequestering, Anti creasing, Anti forming Inject.
C= Viscose color (Scouring & Bleaching Agent) dozing then temperature increase at 3ºc/min.
D= Scouring and bleaching running
E = Scouring and bleaching bath drain
F= Peroxide killer Inject
G= Temperature Increase 3ºc/min
H= Hot wash
J= Neutralization to remove residual alkali
K= Fresh water taken for dyeing then temperature Increase
L= Leveling, Sequestering, Anti creasing, dozing.
I= Salt dozing,
V= Color dozing
W= Soda ash dozing
M= Color bath drain
N= Fresh water taken and Neutralization
O= Acid Bath drain
P= Fresh water taken for soaping
Q= Soaping agent Inject then temperature increase 3ºc/min
R= RSK (soaping) running
S= Soap bath drain
T= Fixer Inject
U= Fabric Unloading
You may also like: General Dyeing Procedure of Cotton Fabric with Recipe