What is Phase Change Materials?
Phase change materials (PCM) is a special kind of substance which releases or, absorbs sufficient energy at the phase transition to provide useful heat or, cooling. In the 'Phase Change' processes, the materials going from one stage to another [For example: from solid to liquid]. Any material which experiences this process of phase change is Called Phase Change Materials or, PCM.
PCM in Smart Textile:
Textiles containing with 'phase change materials' are considered smart textile. Because PCMs react to changes in environmental temperature absorbing and releasing latent heat and provide a thermo-regulating effect.
In smart textile industry, protection from extreme environmental conditions is very important requirement. Clothing that protects us from water, extreme cold or hot, intensive heat, open fire, high voltage, propelled bullets, toxic chemicals, nuclear radiations, etc are some of the illustrations.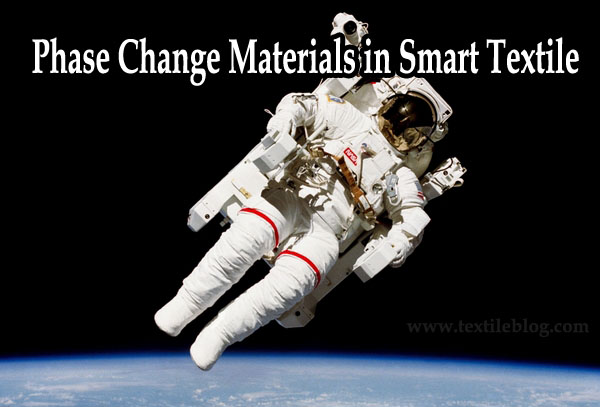 Smart textile products can be made more comfortable when the properties of the textile materials can adjust with all types of environments. At present, to fulfil the above requirement PCMs are such intelligent material in smart textile industry. PCM absorbs, stores and discharges heat in accordance with the various changes in temperature. It is more often applied to manufacture in the smart textile industry.
Application of Phase Change Materials in Smart Textile:
Application of PCMs had initially developed by NASA. It was building space suits for astronauts in the US Space Program. These suits helped the astronauts to keep warm in space.
PCMs insulation material has appeared in the market since the late 1980s. Integrated into clothing, PCMs can improve its thermal behaviour, regardless of its thickness, guaranteeing a greater freedom of movement for the wearer. Phase change materials had been used for various applications in thermal energy storage since the 18th century.
Now, smart textile industries are involved in maintaining the thermal balance between the heats produced by the body which can be given to the external environment. When PCMs adequately adapted in smart textile industry, it protects the human body from hyper and also the hypothermia.
The possibility of keeping the wearer as long as possible in his thermal comfort zone, and at the same time to reduce the thickness of the clothing, is smart textile supported by containing PCMs.
Due to the thermal properties of PCMs, such textiles have become important for use in many applications such as: aerospace textile, medical applications, sport, automotive, building materials, automobiles, agrotextiles, geotextiles etc.
Here is some application of phase change materials in Smart Textile:
1. Aerospace textiles: Phase Change Materials used in current smart textile consumer's product. Butinitially PCMs were made for application in space suits to keep warm and gloves to protect astronauts from higher temperature fluctuations in space. The usefulness of the insulation stems from micro-PCMs initially created to make warm the gloved hands of space-strolling astronauts. The material was accepted ideal as a glove liner, to support during temperature extremes in the space environment.
2. Medical textiles: PCMs can easily find uses in the medical sector. The demand of the thermo-physical comfort of surgical clothing like: gowns, caps and gloves are rising day by day. PCMs interact with the micro-climate around the human body. Therefore, the smart textiles treated with phase change materials microcapsules has the potential applications in the surgical apparel, patient bedding materials such as mattress covers, blankets, bandages and products help the effort to stay the patient warm in intensive care units.
3. Sport wear: From original applications in space suits and gloves, PCMs are nowadays using in smart consumer products as well. The thermo-regulating effect provided by these smart textiles are based on the application of phase change materials. In a sportwear needs to provide a thermal balance between the heat generated by the body and the heat released into the environment. During the sports, heat generated by the body activity may not release which is increasing thermal stress. When PCMs comes in sportswear, the wearer's excessive body heat increases and is absorbed by the encapsulated PCMs and released temperature when necessary. Snowboard gloves, underwear, active wear, ice climbing underwear, motorcycling and running sportwear are the applications of PCMs in sportswear.
4. Combat Wear: Defence personnel undergo harsh changes in temperature during war related operations whether on ground, air and sea. Soldiers have to conduct operations in and out of bunkers on high altitudes, while in air impervious anti-gravity suits worn by pilots produce intense thermal stress on alertness of the pilots during a flight. Application of phase change materials that have great potential in making smart textile which can self-regulate sudden changes in temperature of the environment.
5. Automotive Industry: In summer, the temperature inside the passenger compartment of an automobile can be increased significantly when the car is parked outside. Automobiles like car may be equipped with air conditioning systems but adequate cooling capacity needs a lot of energy. That's why the application of PCMs technology in automotive interior could offer energy savings, as well as giving the comfort of the car interior.
6. Bedding and accessories: Embedded micro-capsules into quilts, pillows and mattress covers ensure active temperature control in bed. When the human body temperature rises, the additional heat energy is absorbed and the body cools down. When the human body temperature drops, its stored energy is released and the body is kept warm.
7. Shoes and accessories: Now, phase change materials are also used in footwear such as: ski boots, mountaineering boots, race car drivers boot, military boot etc. For example, in ski boots, the PCMs absorbs the heat when the feet generate excess heat, and send the stored heat back to the cold spots if the feet get chilly.
8. Lifestyle apparel: The PCM technology reacts to changes in temperature of apparel and body. Heat-storage and thermo-regulated smart textiles can absorb, store, redistribute and release heat to prevent harsh changes in the human body. As a result, in daily lifestyle, more and more PCMs applications contributing in smart textile industry, from apparel, underwear, rainwear, gloves socks, accessories or shoes to bedding and sleeping bags.
Conclusion:
Many companies, like USA are now producing smart textile products, such as: thermal underwear and socks for inner layer, knit shirt or coated fleece for insulating layer; and a jacket with PCM interlines for outer layer, PCMs helmets and gloves, etc. Since huge amount had been invested in research and development in these areas in the developed counties, it can expect that very soon all-season outfits apparel will be mass-produced. There is no doubt that smart textile which integrate phase change materials will find their way into several uses in the near future.
References:
Phase Change Materials for Textile Application By Fabien Salaün
Textiles Integrating PCMs – A Review by Elena Onofrei, Ana Maria Rocha And André Catarino
Phase change materials for smart textiles – An overview S. Mondal * Department of Chemical and Biological Engineering, Colorado State University, Fort Collins
https://www.intechopen.com/books/textile-industry-and-environment/phase-change-materials-for-textile-application
https://en.wikipedia.org/wiki/Phase-change_material
https://www.fibre2fashion.com/industry-article/3139/phase-change-materials-overview
https://indiantextilejournal.com/articles/FAdetails.asp?id=293
https://www.textileworld.com/textile-world/features/2004/03/phase-change-materials/
https://www.pcm-ral.org/pcm/en/pcm/pcm-application-areas/textiles/
Author of this Article:
Md. Mahedi Hasan
B.Sc. in Textile Engineering
Textile Engineering College, Noakhali.
Email: mh18.bd@gmail.com