What is Textile?
Food, shelter and clothing are the basic needs for the survival of humans. As clothing is one of the essential needs of mankind, textiles play an important role in the making cloths. Textile find application in all walks of life we come across, from morning to till we go to bed. We find them in the tooth brush bristles, the carpet we step on, the sofa we sit, the dress we wear and the bed we sleep.
Textiles are not just apparel and home furnishing, but finds huge presence in high end applications like firefighting suits, sutures, conveyor belts, sports, packing, etc.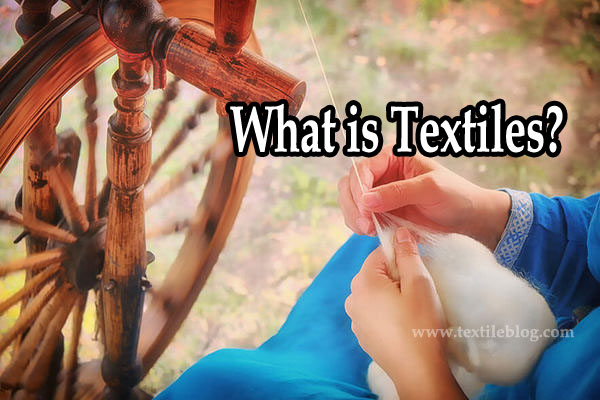 The textiles are products which are formed by interlacing, interloping, etc. of fibers/yarns. A textile is a material of natural or synthetic fiber. A textile product passes through several processes in its manufacturing before it becomes wearable. These processes include spinning, weaving, knitting to garments manufacturing.
They also have an assortment of other uses like bags and baskets, in carpeting, upholstered furnishing, window shades, towels, covering for tables, beds, art pieces. They are used in industrial and scientific processes such as filtering, as belts, etc. Miscellaneous used include flags, backpacks, tents, nets, handkerchiefs, cleaning rags, transportation devices such as balloons, sails, parachutes etc.
History of Textile:
Early humans, who lived years ago used to cover their bodies by wrapping tree leaves, woven grass or three barks, bones, skull and the skin of dead animals, to protect themselves from cold weather, rain and other natural disasters.
Spinning and weaving are among the earliest arts. In the twisting of fibers, hairs and grasses by sinews, rolling them between the thumb and fingers, palms of the hands, we have the original of the spinning wheel. The hand-operated spindle and the loom were the most important tools for the production of textiles. The material used was wool.
The very primitive types of spinning, where no spindle was used, was to fasten the stands of goat's hair or wool to a stone which was twirled round until the yarn was sufficiently twisted when it was wound upon the stone and the process repeated over and over. The need of securing things or otherwise strengthening them then led to binding, fastening and sewing.
You may also like: Basics of Textile Fibers
The post-industrial era witnessed continuous improvement and innovation in textile raw materials, machinery and processes. Around the middle of the 20th century, significant developments in raw materials like manufacturing of polyamides, polyester, polyacronitrile and machinery like water-jet weaving looms and open-end spinning machines took place and this process of innovation and improvement is still in continuation. In the area of weaving, the speed of weft insertion was increated further. A new technology is open-shed weaving, which allows one to add additional patterns or to reinforce a woven fabric in certain spots for technical applications.
Different Types of Textile:
When one hears the word textiles, the first word that flashes in one's mind is "clothing". Textiles are divided into clothing, household fabrics and technical textiles. Clothing and household fabrics (curtains, carpet) seem to be easily defined. Certain properties, for example drape, fine look, texture, color, luster, design, etc. are required to be for good clothing that is called aesthetics. It could therefore be concluded that all other textile products constitute the group of technical textile. In other words, it can be defined as "the textiles in which the performance properties are of greater importance than the aesthetics". Technical textiles already account for 4% of the overall textile production. Even in many growing countries, the proportion is well above 10%. For example, the pressure suits for the astronauts, the cold and water-resistant suits for divers and the protective apparel of steel workers do not belong to the group of clothing; they are technical textiles.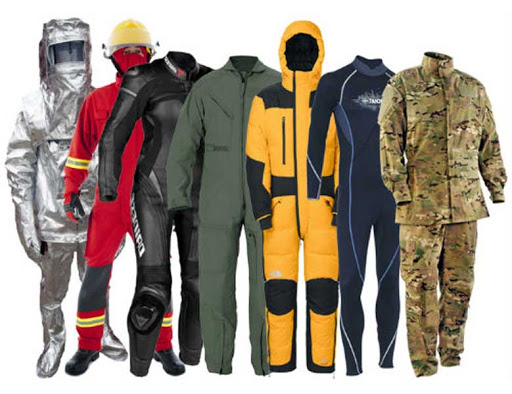 The use of fibers, yarns and fabrics for applications other than clothing and furnishing is not a new phenomenon. Different natural fibers such as cotton, linen, flax, etc. were used for tents, roping and sacking etc. Silk was used in surgical sutures.
Classifications of technical textiles:
Agrotech: Textiles utilized in agriculture, horticulture and forestry
Buildtech: Textiles utilized in building and construction
Clothtech: Textiles utilized in technical components of footwear and clothing
Geotech: Textiles utilized in geotextiles and engineering
Hometech: Textiles utilized in furniture, household textiles and floorcoverings
Indutech: Textiles utilized infiltration, conveying, cleaning and other industrial uses
Medtech: Medical textile or medtech also is known as bio-medical textiles. Major functions of medical textiles are health care, hygiene, new fiber technology and artificial medical textile products.
Mobiltech: Textiles utilized in automobiles, shipping, railways as well as aerospace
Oekotech: Textiles utilized in environmental protection
Packtech: Textiles utilized in packaging
Safety Textile: Textiles utilized in general protection
Sport-tech: Textiles utilized in sport and leisure.
References:
Textiles and Clothing by Kate Heintz Watson
Textile Engineering – An Introduction Edited by Yasir Nawab
Textile Technology: An Introduction by Thomas Gries, Dieter Veit, Burkhard Wulfhorst
Handbook of Technical Textiles Edited by A R Horrocks and S C Anand