Study on Quality Issues in Denim Production
Authors:
Md. Tanvir Islam1
Md. Mojaffour Rahman
Syed Abdullah Al Masud
Dept. of Textile Engineering
Daffodil International University, Dhaka, Bangladesh
Email: tanvir23-4537@diu.edu.bd1
ABSTRACT
The project is on the "Quality Issues in Denim Production". In nowadays quality has turned into an incredible issue in each perspective. Individuals are presently progressively worried about the quality. They are happy to pay more for the great quality item. So the produces must be progressively worried about the quality. As our nation is a famous provider of readymade woven articles of clothing so the makers have keep up the quality through the procedures. Our denim industry is an incorporated industry so it is compulsory to check the procedures from the earliest starting point. It moves toward becoming from the yarn to the completed item. We are here attempted to represent the quality parameter in the Denim division.
This paper contains the information about the issues emerge during denim production, their amendments and the cures. Here we attempted to demonstrate every one of the parameters taken to determine the quality issues in an industry. Ordinarily in denim the quality is checked in three unique stages. First preventive estimation this incorporate; yarn quality checking, machine quality, the strain checking finding the flaws and correcting them. At that point comes the process control. Here the procedure is checked and confirmed on-line and off-line. This incorporates the checking of GSM, the fasten length of the texture, the speed of the machine. At long last comes the item control. Here the texture is checked through 4-point fabric inspection system, 10-point system and so on. So we can say that a texture needs to pass such a large number of levels to be on the following stage.
In the market of providing the challenge is expanding step by step. A solitary and senseless mix-up in quality controlling can be valid justification for the dismissal of the item. So it ends up important to keep up all the quality prerequisites of the customer.
INTRODUCTION 
1.1 Denim Fabrics:
Denim is a twill weave woven and 100% cotton texture which is comprises of various color of twist and weft yarn. In denim texture, one shading is prevalent on the fabric surface. Denim is a typical crude material for pieces of clothing producing. Typically denim texture is created by utilizing cotton however here and there hemp denim is likewise accessible.
A mainstream origination of the historical background of the word denim is that it is a withdrawal or subsidiary of the French expression, serge de Nîmes. Denim was generally hued blue with indigo color to make blue "pants," however "jean" at that point signified an alternate, lighter cotton material; the contemporary utilization of jean originates from the French word for Genoa, Italy (Gênes), from which the main denim pants were made.
Denim is a kind of cotton material known for its utilization in pants and other attire. It utilizes a tough twill weave with a trademark corner to corner ribbing. Initially utilized for laborers' garments, denim is currently omnipresent and has even entered the universe of high design. Almost everybody has at any rate one article of clothing made of this texture in the wardrobe nowadays.
Design is today fragmented without denim. Denim comes in all structures, looks and washes to coordinate with each dress. It is hard to accept that a similar denim was initially utilized in attire for the jeans and overalls worn by diggers on the west coast (US). Various innovative variables have added to making denim the design symbol that it is today – incorporating immense upgrades in turning, weaving, completing and so on.
An exceptional normal for denim is that the there is a corner to corner ribbing unmistakable on the essence of the texture, which separates it from other cotton texture. It is a unique twill weaving that makes this inclining design. Filaments are weaved on a loom in a twill weave design.
1.2 Quality Issues:
In the cutting edge period of exchange and business, rivalry is getting to be stiffer constantly. Around 20-25 years prior, minor texture deformities like the beginning imprint and little length of missing closures and so on were neglected by the clients. Yet, at once, when the WTO understanding is thumping at our entryway and globalization of the market has been presented in national and universal arrangements, a textile producer will undoubtedly contrast his item and his Bangladeshi partners as well as with that delivered in different nations. In the event that one neglects to coordinate the quality with the universal gauges, one will need toj either sell his texture with the end goal of floor cleaning and so on or simply stop creation or make departure from the market.
You can't separate the procedure and the human factor, in this way I accept that Quality, when incorporated with an item, produces feelings and sentiments inside the individuals who have participated in it's creation. When you have made something that you are glad for, when you have delivered an item that carries grins to your clients, at that point you have accomplished Quality. You'll know it, they'll know it, and every one of you will thrive from it.
Quality is the most variable things which are thoroughly rely upon the customers demand. Similar properties in a material could be the most attractive quality for a customer however it not for the other shopper. It has an incredible connection with the style of time. For instance the blurring impact in the pants jeans is the most alluring quality for youthful age individuals and additionally it is conceded as a most in vogue texture however then again it isn't the quality for the old age individuals. In the feeling of texture qualities it is a deficiency because of loss of the quality.
1.3 Denim fabric production sections:
Yarn store section.
↓
Warping section.
↓
Preparatorysection
↓
Weaving section.
↓
Finishing section
↓
Inspection and Fabric store.
I) Warping section:
Cone from winding.
↓
Creeling.
↓
Control system
↓
Reed
↓
Measuring device
↓
Winding (rope/sheet) on beam.
II) Preparatory section:
Scouring.
↓
Bleaching.
↓
Dyeing (indigo, black, bottoming, topping, ash etc.)
↓
LCB (Only for rope denim)
↓
Sizing
↓
Weavers beam
III) Weaving section
IV) Finishing section
Singeing.
↓
Softening.
↓
Skewing.
↓
Sanforizing.
↓
Calendaring.
↓
Stentering.
↓
Desizing
↓
Mercerization.
↓
Inspection and folding  
LITERATURE SURVEY
2.1 Quality:
Quality methods client needs is to be fulfilled. Inability to keep up a sufficient quality standard can consequently be ineffective. Be that as it may, keeping up a satisfactory standard of quality likewise costs exertion. From the primary examination to discover what the potential client for another item truly needs, through the procedures of structure, particular, controlled assembling and deal.
There are various factors on which quality wellness of article of clothing industry is based, for example, – execution, unwavering quality, sturdiness, visual and saw quality of the piece of clothing. Quality should be characterized as far as a specific system of expense.
2.2 Quality Control:
Quality is of prime significance in any part of business. Clients request and anticipate an incentive for cash. As makers of attire there must be a consistent undertaking to create work of good quality.
"The frameworks required for programming and planning the endeavors of the different gatherings in an association to keep up the imperative quality". Thusly Quality Control is viewed as the operator of Quality Assurance or Total Quality Control.
In the piece of clothing industry quality control is polished appropriate from the underlying phase of sourcing crude materials to the phase of last completed article of clothing. For material and clothing industry item quality is determined regarding quality and standard of strands, yarns, texture development, shading speed, surface plans and the last completed article of clothing items. Anyway quality desires for fare are identified with the kind of client fragments and the retail outlets.
Quality control and norms are one of the most significant parts of the substance of any activity and in this manner a central point in preparing.
2.3 Total Quality Control:
"To guarantee that the essential quality of item is accomplished". This guarantees consumer loyalty, however it leaves quality control as an essential yet costly insidious.
To guarantee, at least practicable cost, that the essential quality of item is being accomplished at each phase of assembling from crude materials to boxed stock
Objectives:
To maximize the production of goods within the specified tolerances correctly the first time.
To achieve a satisfactory design of the fabric or garment in relation to the level of choice in design, styles, colors, suitability of components and fitness of product for the market.
2.4 Quality Assurance:
Quality affirmation alludes to the designing exercises executed in a quality framework with the goal that necessities for an item or administration will be satisfied. It is the deliberate estimation, correlation with a standard, checking of procedures and a related criticism circle that gives blunder counteractive action. This can be appeared differently in relation to quality control, which is centered on procedure yields.
2.5 Quality assurance steps:
Quality assurance system can be divided into following steps:
On line Quality assurance system and
Off line Quality assurance system.
Again on line Quality affirmation framework can be separated into the accompanying advances:
Raw material control.
Process control.
2.6 Preventive Measures:
It is the pre-quality controlling. In this stage the crude materials and the stuffs which are identified with weaving is checked and the mistakes are fixed. This stage incorporates the yarn quality necessity and support of the machine. It limits the issues emerge during sewing. In the event that the issues are redressed before generation the measure of the deficiencies will decrease in the creation.
Preventive measure incorporates,
Yarn quality Requirements
Well maintained knitting machine.
2.7 What is denim:
Denim is a firm solid twill cotton fabric which woven with shaded twist and white filling threads. In fact talking, denim is a twist confronted twill weave fabric. Here coarse and lower yarn check is utilized. So it is substantial fabric.
2.8 Different types of denim fabric used in apparel manufacturing:
Dry denim
Selvedge denim
Stretch denim
Color denim
Reverse denim
Vintage denim
Ecro denim
Marble denim
Crushed denim etc
2.9 Yarn for denim:
Lower check and coarse yarn is utilized for denim making. Fiber quality isn't great. Denim yarn created from open end turning framework. Likely the most significant attributes of the bit is its tidiness with specific consideration to be given to residue expel.
In ring spun yarn, a high occurrence of nep in the yarn will cause uneven color take-up during the twist yarn readiness. It is seen that cutting edge blow room line make neps. Up to an expansion of 100% over neps in crude cotton that will even now permit the checking machine to have the option to evacuate the greater part of these offensive shortcomings.
Coarse include yarn in denim alludes to under 8s Ne and fine check is 9s to 16s. Blending necessities for rope colored twist open end yarns are higher.
2.10 Yarn quality requirements:
For the best sewing we need to pick the best yarn or perfect yarn for weaving to blame free texture or quality full texture. So we need to cautious about the yarn properties or for perfect yarn. The accompanying yarn properties ought to must be said material yarn as a perfect yarn-
The yarn in round in cross-area and is uniform along its length.
Yarn is made out of concentric layers of various outspread.
Every fiber pursues a uniform helical way around one of the concentric chamber with the goal that its good ways from yarn pivot stays consistent.
A fiber at the middle will pursue a straight line of the hub.
The hub of roundabout chambers coir sides with yarn hub.
The quantity of fibers or fibers crossing the unit region is consistent; that is the thickness of pressing. Fibers in the yarn are consistent all through the model.
Each fiber in the yarn will have a similar measure of turn per unit length.
The yarn comprises of exceptionally enormous number of fibers.
In the event that the previously mentioned yarn properties is missing on any yarn than the yarn ought not be permitted on weaving to make texture. Since it won't almost certainly give you immaculate sewing where the yarn's parameter is obligatory to be kept up.
Yarn quality parameters, for example,
Evenness,
Count
Breaking strength,
Elongation,
Twist,
Moisture contents,
Yarn winding,
Yarn lubrication,
Yarn hairiness.
i. Yarn counts (tex) and twist (turns/cm):
The obligation regarding the precision of the yarn check and the resistance levels for variety in yarn tally and curve (turns/cm), just as the sort and level of grease/complete, lie with the spinner and are typically pronounced in the terms and states of offer. For exceptionally basic end-uses, for example, military things and specialized materials, extraordinary yarn quality particulars and inconstancy points of confinement will be required and should be consulted with the spinner.
ii. Yarn evenness:
Yarn uniformity is a proportion of the degree of variety in yarn direct thickness or mass per unit length of yarn. At the end of the day, it alludes to the variety in yarn tally along its length. It is the uniformity of staple spun yarn that is of worry here. Consistently fiber yarns have basically no variety in straight thickness so equity isn't an issue for those yarns. A yarn with poor uniformity will have thick and meager places along yarn length, while an even yarn will have little variety in mass or thickness along length. While a yarn may change in numerous properties, equity is the most significant quality part of a yarn, since varieties in other yarn properties are regularly an immediate aftereffect of yarn tally anomaly. We definitely realize that bend will in general collect in the slight places in yarn, so anomaly in yarn straight thickness will cause varieties in turn along yarn length. This particular centralization of turn in slender places along a yarn likewise compounds the varieties in yarn distance across or thickness, which regularly unfavorably influences the presence of the resultant textures. A sporadic yarn will likewise change in quality along the yarn.
iii. Breaking strength & Elongation of yarn:
Elastic property of material yarns is a prime significant parameter in deciding the reasonableness for a specific application. It is hence of most extreme significance to decide this trademark precisely. There are three fundamental standards for estimating yarn elasticity. Be that as it may, for estimating single yarn elasticity for the most part consistent pace of expansion (CRE) and steady pace of stacking (CRL) standards are utilized. A solitary yarn indicates two distinct consequences of breaking burden and stretching an incentive in these two strategies because of the distinction in estimating framework.
2.11 Winding:
Winding, which is the exchange of the yarn from the essential or 'spinners' bundle to an auxiliary tapered bundle (cone) more appropriate for weft weaving, gives an opportunity to monitor the yarn electronically for various deficiencies, including:
Knots
Thin places
Slubs or thick places
Weak places
The strain utilized in winding makes frail places break and results in knots. Slubs and meager places are removed by the electronic more clear and furthermore supplanted by knots. All knots, including those created by the clearing procedure, are put on the nose of the cone where they might be tallied prior to pressing. A concurred greatest cutoff of knots per cone will be set and any cone that surpasses this utmost will be rejected.
2.12 Warping:
In textile segment, weaving is the main procedure of texture producing. Here, warping is characterized as the parallel twisting of twist yarn or twist closes from cone, cheddar twisting bundles on to a twist shaft. As per required nature of texture, warping ought to be finished by utilizing required nature of yarn bundles. Something else, texture quality will be hampered. In weaving segment of textile processing plant, low quality twist bar is one of the principle reasons of texture wastage.
The fundamental objects of warping have brought up in the underneath:
It makes dynamic subsequent stage of texture fabricating.
It likewise used to make reusable little winding bundles.
It is utilized to grow the required nature of twist yarn.
It is utilized to grow the weave-capacity of twist yarn during texture producing.
It is utilized to make reasonable twist yarn sheet for the following procedure named estimating.
It is utilized to wind distinct length of twist yarn in the twist bar.
It expands texture fabricating generation.
Significant prerequisites of warping:
The strain of every single injury end must be uniform and perhaps steady during all the season of with drawl from the supply bundle.
Warping shouldnot disable the physical and mechanical properties of yarn.
The pressure ought to be moderate to permit the yarn total hold its versatile properties.
Foreordained length ought to be watched.
Creation rate ought to be high as could be expected under the circumstances.
The outside of warping bundle must be barrel shaped.
2.13 Ball Warping:
In ball warping 250 to 400 yarn finishes are pulled from the creel. The yarns at that point go through a brush like gadget (now and again called a hack or reed), which keeps each twist yarn discrete and parallel to its neighboring closures. At interims of each 1000 or 2000 yards (or meters), a rent string is put over the sheet of twist yarns to help yarn partition for the re-radiating activity, which will happen later. The yarns at that point experience a channel molded gadget called a trumpet or condenser, which crumples and consolidates the sheet of yarn into rope structure. This gadget is situated at the base of the warper head and crosses forward and backward, managing the recently framed rope of yarn onto a log. The rope must be twisted at a consistent strain to shield the yarns from tangling.
Faults of Ball Warping:
Spinning faults-
Weak places
Soft end
Slub
Weak piecing
Packing fault-
Bad winding
Slough off
Extra yarn
Cut yarn
Entanglement
2.14 Dyeing and sizing procedure of denim yarn:
In denim fabric, twist yarns are indigo colored. There are different kinds of dyeing and sizing process which can be grouped into four sorts. For example,
Constant indigo rope dyeing and sizing
Persistent indigo dyeing and sizing
Indigo back shaft dyeing and sizing
2.14.1. Persistent indigo rope dyeing and sizing:
The yarn which we get from ring edge is twisted into cheeses or cones and afterward put on the ball warper on which 350-400 threads are framed into a rope. During this procedure, 12-24 ropes are colored at a time dependent on the size of the rope dyeing plant.
2.14.2. Ceaseless indigo dyeing and sizing:
During this procedure, back pillars are handled on the dyeing and sizing machine rather than ropes. The twist are colored, oxidized, dried and measured at a once.
2.14.3. Indigo back pillar dyeing and sizing:
As indicated by this procedure dyeing and sizing is done in two phases. In the first arrange, back shafts are colored, oxidized, dried and twisted on a clump roll. The cluster roll is then estimated, dried and twisted on a weaver's bar.
2.15 Rope Dyeing:
Rope Dyeing Machine shapes a basic procedure in the denim plant. It deals with the rule of the type of rope (from the ball warping m/c). In MIL, for the most part 32ropes are all the while sustained to the rope dyeing machine through different aides and tensioning course of action at the creel zone to bring right off the bat into the scouring box. The degree of this shower is constrained by a leveler which on bringing up down to a specific level (physically present) alongside fluid level opens an incentive for expansion of the scathing alcohol from the principle tank. At that point come the two wash boxes, hot wash box pursued by the chilly one.
The ropes currently prepared to dye enters the primary dye shower. There are eight dye showers and number of them utilized depends as per the kind of dye to be done .The expansion of dye alcohol and other aux are brought out through various metering siphons like DYSTAR .The mixers coursed between the utilized dyes showers to another circled siphons, as they are entomb associated .Formula use for assessing the sustaining rate:
Feeding (lt/min) = (total no. of ends *machine speed*shade%)/ (Count *length of yarn)
In the wake of leaving the each dye box yarns are cushioned, the weight being most elevated at the first and last dye box, which is 55psi and the middle of the road 40-50psi.The ropes go in the wake of cushioning around a no. of sky roller to give sufficient time of oxidation. After this the ropes goes through the five wash box, where hot wash, cold wash and balance is done.
At some point conditioner treatment is additionally given in one of the wash box .The temperature of the whole wash box is controlled through the control board by methods for indoor regulator.
Limit of the scouring/mercerization and wash box=1300 liters
Limit of the dye box =2500 liters
There are three sections of the vertical drying chambers extend each having twelve chamber following washing. Every section is furnishing with the steam trap .The temperature is control from the electronic control board .The ropes are guided out of the m/c the particular aides ,conveyance rollers and the guide funnels which loops the ropes in the enormous can .
The element of the can :height = 64in & diameter = 68inch
The limit of the can is around 22000 m rope
Colors Processed In Plant
Pure 100% indigo dyed
Midnight indigo
Deep blue
Light blue
Sulphur black
Drying:
There are 36 drying cylinders utilized for drying is finished with the assistance of dry steam which is sustained in the steel cylinders the temperature is kept up between 100-1100c.
2.16 Long Chain Beaming:
The dyed ropes in the jars originating from the rope dyeing machines are changed over into pre shafts. The no. of closures (around 360) in a rope is equivalent to set in ball warping machine.
The rope are pulled back from the can by methods for a couple of drawing rollers as it ignores a guide and through a trumpet manual for participate in the pinch of drawing rollers .After this it enters the pressure stand, where it twists (normally 3) around the falling rollers on then goes with in various aides and around roller to enter the collector. The strain at the pressure stand is kept between 20-40psi,depending on the check of the yarn .At the collector the strain is commonly set 60-80psi and it is utilized to amass the length of rope that is turned around drying identification of any messed up end .it takes a shot at the rule of door type tensioning .one set strain .The way of yarn is to some degree distinctive in the plant made machine .There is no gatherer and along these lines an additional individual is utilized to pull the rope ,while the pillar is being switched to keep up the ideal pressure .After leaving the aggregator of the rope goes around the mixer bar on the strain stand. The weight move presses of 7-15psi on the bundle for example the pre bar. The imprinting is made simpler with the assistance of lease strings, which isolates the contiguous end in two levels .These lease strings are removed from the shed before the end crosses the scratch.
2.17 Sizing:
2.17.1. Objective of sizing:
To protect the yarn from abrasion
To improve the breaking strength of the yarn
To increase smoothness of yarn
To increase yarn elasticity
To decrease hairiness
To decrease the generation of static electricity
2.17.2.Types of Sizing:
Pure sizing: at the point when the size pick up % is around 3 – 10 % it is calledit is called pure sizing.
Light sizing: at the point when the size pick up % is around 3 – 10 % it is called11 -16% it is called light sizing.
Medium sizing: at the point when the size pick up % is around 3 – 10 % it is called17 – 40 % it is called medium sizing.
Heavy sizing: at the point when the size pick up % is above 40 % then it is called heavy sizing.
2.18 Weaving process of denim fabric:
Weaving is finished by interlacement of warp and weft threads, where warp yarns are indigo colored. In this framework warp thread is as sheet. What's more, weft thread is embedded between two layers of warp sheet by methods for an appropriate bearer, for example, shuttle, projectile, rapier, air jet, water jet and so on.
Weaving acts like a performer of this improvement. For ordinary stripe denim improvement weaving plays out its best to arrive at impeccable result. In weaving you need to attracting yarn to the reed and heald edge as indicated by weave structure you need to deliver. It's simple yet need exceptional consideration of weavers. You can change the arrangement and configuration in weaving yet additional yarn can face cross in size pillar. There are not many structure given for better understanding. It's additionally significant that don't go broken drawing plan. Simply keep up 1,2,3,4 or 1,2,3 or 1,2 and so forth.

2.18.1. Fabric structure:
You can weave with stretch or inflexible as you need. However, extend alternatives are increasingly elegant for pants. In the event that you need inflexible advancement, at that point it's significant of texture end use. As of late denim shirts created from 30/s or 40/s check which are great. You can utilize coarser tally to make coats or shorts. Utilizing cotton is progressively agreeable in this style.
From junior to Senior there are parcel of varieties of this indigo stripe use. Despite the fact that you can print like indigo stripe yet unique weave structure give you more differentiation look in design. Essentially women thin, Men's shirts, Jackets, Shorts, Kids by and large are principle attractions for stripe denim.
2.19 Finishing process of denim fabrics:
Final woven fabrics, which is twisted on a material roll that we get from weaving machine at specific interims and kept an eye on review machine. So any conceivable weaving issue can be recognized. At that point its experiences different completing procedure. For example, brushing, searing, washing, impregnation for dressing and drying. Brushing and scorching expel polluting influences and furriness of the denim fabric. After complete all completing procedure then it is sent to for piece of clothing producing.
2.20 Denim washing process:
The wash out effect is achieved by removing dyestuff from fabric to get popular abraded, worn out look during washing process.
Wash can be divided into two types. Such as-
Mechanical wash
Chemical wash
2.20.1. Mechanical wash:
Mechanical wash contains garment wash, stone wash, sandblasting etc.
2.20.2 Chemical wash:
Chemical wash contains acid wash, enzyme wash, bleaching wash etc.
2.21 Fabric Inspection Method:
Fabric is inspected to determine its acceptability from a quality view point.
There are various fabric inspection system such as-
10- point system
5- point system etc.
2.21.1. Four Point system
4 Point system for fabric inspection is broadly utilized in clothing industry for texture quality inspection. To utilize this framework you need to know following things.
Texture inspection strategy or readiness
Criteria of giving punishment focuses dependent on deformities and imperfection length.
Estimation technique for absolute punishment focuses for complete imperfections found in a texture roll or thān
A Check sheet or organization for account information
Information of various sorts of imperfections (how a deformity looks and its appearance)
2.21.2. Criteria for giving penalty points:
In the accompanying table the penalty assessment points has been given for various length of texture deformity and measurement of holes.
Calculation of total points per 100 yards:

Generally, acceptable degree of 'points per 100 linearyards' or 'points per 100 square yards' are diverse for various texture types. For instance:
For Cotton Twill/Denim: 28 points for each 100 square yards (23 points for every 100 square meters) for individual texture roll
For All engineered textures: 20 point for every 100 square yards (16 points for every 100 square meters) for individual texture roll.
2.21.3. 10 Point System:
The ten point framework for piece merchandise assessment was affirmed by the distributors institute and the National Federation of Textile, in 1955. The soonest inspection framework and is intended to recognize defects and to dole out each imperfection a worth dependent on seriousness of deformity. The framework allocates penalty points to each surrender contingent upon its length and whether it is in the twist (closures) or weft (fill) heading. While sounding basic, it can get very muddled in down to earth use. The accompanying table demonstrates the task of penalty points.
2.21.4. Defect classification; 10- point system:

The reviewing is done as a piece or move of texture is viewed as great if the all out penalty points, surveyed to that piece or roll, don't surpass the length of texture on it. In the event that the points surpass the length, at that point the move thought about seconds, and might be rejected.
For instance on the off chance that we had a move of 50 yards of texture and in the event that we discovered defects totaling to under 50 points, at that point the roll was viewed as great. On the off chance that there were in excess of 50 penalty points, at that point the piece was viewed as seconds. There have been a few inquiries raised about the decency of the framework dependent on the contention that this framework does not take into account the inspection of different widths. In the event that one will think about the framework intently, it very well may be seen that evident disparity of the framework is only that, obvious albeit stringent. This strategy is as yet utilized by certain producers.
Advantages:
Oldest and most utilized in woven completed texture.
In it length of texture is utilized and along the length of twist and weft defects are distinguished.
Disadvantages:
It has width confinement.
It is troublesome in reasonable use.
2.22 Major Defects:
Major woven fabric defects incorporate however are not constrained to slubs, holes, missing yarns, yarn variety, end out, dirtied yarns, and wrong yarn.
Major color or printing defects are out of register, color spots, machine stop, shading out, shading smear, or concealing.
2.22.1. Inspection Procedure:
Determine the sum to investigate 20%).
Select the moves to investigate.
Put the moves on the inspection machine or other review gadget.
Cut off a 6 inch piece over the width off the part of the arrangement. Imprint the privilege and left half of the strip. Stop the inspection procedure each 50 yards and utilize the strip to check for any concealing issues. Likewise make a point to check the part of the bargain. Inspect for visual defects with the light on at a speed moderate enough to discover the defects. (The texture must be checked at a moderate rate so as to viably discover imperfections). At times you may need to kill the light to perceive how a blemish will influence the presence of an article of clothing.
Check that the roll contains the right yardage as expressed by the piece products source.
Check for slanted, one-sided, and bowed texture.
Mark any defects to the side with hued tape so they can be effectively found and noted.
Record any defects. The weaving division works under the standards of the globally acclaimed American 4 point framework to diminish wastage and guarantee quality. Under this framework, texture inspection and evaluating is completed according to ASTM standard.
2.22.2. Defects Rules:
A constant of imperfection will be relegated four points for each direct meter or yard in which it happens.
Any piece having a running deformity through in excess of three consistent direct meters or yards will be rejected. In any case in point check.
Any piece with a full width deformity more than six crawls long will be rejected.
Any piece that contains in excess of three full width defects for each one hundred direct meters or yards will rejected.
No piece will be acknowledged that contains a full width imperfection in the first and last three meters or yards.
A gap or torn is viewed as a major imperfection and will be punished four
Texture development and weight, No resistance will be permitted.
The separation between major defects ought to be in excess of 20 meters.
All major and full width defects ought to be appeared to be a polyester string at the selvedge.
Waviness, snugness, swells, puckering in assortment of texture which would keep the texture from lying level when spread in an ordinary way isn't adequate.
2.22.3. Following defects are cut table and will be rejected:
Incessant wrinkles, hitches, slub, pollution, spots and so forth
Any nonstop imperfection
More than one meters broken end, twofold end, wrong draw reed mark
Holes torn and drift above ¼ "
Unpredictable selvedge, light weft bar, check variety, Lecco, conceal variety
Overwhelming weft bar over 6inch long
The most regularly utilized framework is the American 4 point framework.
The ASTM D5430 standard discloses how to dole out points to each abscond generally dependent on its size.
The general outcome comprises of two numbers (and they are on the whole most purchasers need to know with respect to defects):
The normal number of points (on a 100 meters premise) of all reviewed rolls,
The extent of moves above acknowledgment limit.
2.22.4. Major problems/faults/defects of weaving:
Warp streaks
Reediness
Weft bar
Weft crack
Thick and thin places
Weft loops
Box marks
High incidence of warp breaks
Weft breaks
Shuttle traps
Shuttle flying
Smashes
Bad selvedge
Broken picks
Bullet
Half pick
Broken end
Coarse end
Coarse pick
Slough off
Thick end and thick picks
Double end
End out
Fine end
Jerk-in
Knot
Loom bar
Loom barre
Misdraw (Colour)
Mispick
Reed mark
Reed streak
Set mark
Shade bar
Stop mark
Tight end
Pilling
Float
Pin marks
Contamination of fluff
All defects are described briefly:
Warp streaks: Warp streaks are restricted, barre and thick stripes running along the twist course. Primary reasons are the variety in thickness of neighboring gathering of twist finishes because of no uniform gouge separating, incorrectly attracting, or tally varieties. Likewise, the varieties in brilliance, reflectance of color get of neighboring gatherings emerging out of contrasts in crude materials, mix piece or yarn developments contribute for streaks.
Reediness: These are exceptionally fine splits or lines between gatherings of twist strings, caused because of over the top twist pressure, late shedding, utilization of coarse reed with increasingly number of finishes per scratch, bowed reed wires, inappropriate dispersing of reed wires, wrong drawing, and inadequate enduring of shed, for example strain contrast among top and base shed lines during beat up.
Weft bar: It is a band running weft-wise over the full width of the fabric. The typical reasons are the occasional medium to long haul anomaly in the weft yarn, include distinction in weft, unreasonable strain in the weft feed bundle, particularly in fibers, changeability in pick thickness and contrast in turn, shading or shade of nearby gathering of picks, distinction in mix piece or in the cottons utilized.
Weft break: It is a slim spot or missing weft over the body of the texture. The fundamental driver are inappropriate setting of against split movement, baggy of reed, free or destroyed wrench, destroyed wrench arm, destroyed wrench shaft direction, free belt, destroyed duck bills and mixers, weft fork not working appropriately, flawed take up, brake movement not acting immediately, transport striking on the weft fork because of feeble picking, swing rail exhausted, weaver not altering the fell of material appropriately at the season of beginning a loom, and gripper not holding the weft immovably.
Thick and thin places: These are like weft bar, yet not at all like weft bars, it rehashes at interims. They are essentially because of unpredictable let-off, wrong setting of holding and discharging pawls on the fastener wheel of take-up movement, apparatuses of take-up movement not coinciding appropriately, and rigging wheel teeth exhausted or broken.
Weft loops: Loops venture from the outside of fabric either on one or the two sides of a material on account of a little part of weft getting captured by the twist strings. The principle reasons are late shedding, low twist pressure and utilization of terrible sanctuaries.
Box marks: Box imprints are because of something wounding or recoloring the weft while it is in or close to the case. Primary driver are filthy boxes, transport riding over the weft, oil from transport tongue, grimy transports, weft flying about too unreservedly, oil sprinkles from free wrenches, sleek axles and cushions and messy picking stick for under pick. High occurrence of twist breaks. Excessive twist strain, gruff or free transport tip, harsh transports, excessively little or too huge shed arrangement, base shed line pummeling on kill race, jerky development of healds, too soon or past the point of no return shedding, race board severely exhausted, healds getting one another, sharp or unbending reed wires, twist size gathering on reed, pirns anticipating above or underneath transport, ill-advised measuring, ill-advised moistness in the loom shed, a more fragile twist yarn, a higher speed of loom, progressively number of finishes per inch for the check being utilized, less air space in reed are the fundamental driver for over the top twist breaks.
Weft breaks: High weft pressure, inappropriate form of pirn, ties at the nose or pursue of pirns, back fastens in cones encouraged as weft in shuttleless weaving machines, and harmed surface of pirns, transport tongue not in level, unpleasant places inside the bus, harmed nylon circles, sloughing off or approximately assembled weft bundle, transport eye chipped or broken, weft caught in the case, selvedge closures cutting the weft, weft fork too far through the mesh, harsh box fronts or transport guides, ill-advised arrangement of cone in weft feeder, lower curve in weft bringing about weft opening out in air-fly weaving machines, missing the picks, ill-advised tying of last parts, and unpleasant treatment of cones are the principle explanations behind higher weft breaks.
Shuttle traps: Entangled twist finishes because of lighten falling on the twist, broken twist end caught to adjoining end, tie with a long tail bringing about ensnarement, growls in yarn getting snared, an excess of furriness in yarns, powerless picking, defective transport checking, gear wheels slipping because of broken teeth, free stop bar finger, and uneven joint of level belt are the ordinary explanations behind transport trap.
Shuttle flying: Fibrous yarns, hitches with long last parts, slack twist, uneven race load up, little sheds, primary concern excessively high, worn pickers, swells offering turn to the bus as it leaves the case, early picking, late shedding, unequal transport, box shaft not set appropriately, box front not set appropriately and missing transport gatekeeper are the fundamental purposes behind transport flying.
Smashes: Daggers not working, frog spring incapable, terrible transport, inappropriate boxing of transport, destroyed picker, destroyed exchange hammer, harmed pirn and ensnarements are primary driver of crushes.
Bad selvedge: Improper transport wire strain, bowed transport jaw, transport break, increasingly pressure on selvedge yarns, late shedding bringing about scouring of transport to the selvedge and inappropriate determination of selvedge weave for the texture being woven are the principle explanations behind awful selvedge.
Broken picks: A filling yarn that is broken in the weaving of a texture shows up as a deformity. Inappropriate working of weft stop movement brings about broken picks undetected and going in to the texture.
Bullet: Bullets are low curved twofold yarn seen weft astute in textures. Those are commonly zero bent parallel yarns. Useful reasons for flaws are inappropriate working of pack movement,          off base yarn way through axle, free tensioners, case and spring working, inadequate yarn as bundle and bunch isn't connected subsequent to expelling pack yarn.
Half pick: If there should be an occurrence of sword looms, if the subsequent cutlass does not gather the weft, it will stop in the middle of, and we get half pick.
Broken end: A deformity in texture brought about by a twist yarn that was broken during weaving o wrapping up.
Coarse end: Warp yarn that has a distance across excessively huge, excessively unpredictable or that contains a lot of outside material to make an even, smooth texture.
Coarse pick: Filling yarn that is excessively huge and flawed to seem to advantage in the last material.
Bog off: Weft yarn has slipped from the pirn. Appropriate observing of solidarity and pursue in pirn winding can take care of this issue.
Thick end and thick pick: Higher breadth in yarn for a short separation can be because of ill-advised piecing s at turning preliminary or drop in weight on the drafting rollers for a brief timeframe. This likewise can occur due to not evacuating of spinners twofold, not piecing the end appropriately by expelling the lapped materials, collection of cushion in condensers, supports and in the necks of the top rollers.
Twofold end: Two finishes that weave as one. This happens in view of relocation of a messed up end to the adjoining reed space alongside the neighboring end.
End out: A twist yarn that was broken or missing during weaving.
Fine end: An imperfection in silk twist yarn comprising of flimsy places that happen when a portion of the fibers that ought to be in the twist yarn are missing, by and large brought about by inappropriate reeling. Twist part of the arrangement width, for example long flimsy spots of class I1 and I2 additionally is alluded as fine end.
Snap in: An additional bit of filling yarn jolted by the bus into the texture alongside an ordinary pick of filling.
Knot: Knot is characterized as a handle or protuberance shaped by entwining parts of at least one adaptable strands or an amount of yarn, or string, which fluctuates with the fiber; it comprises of a lot of loops. Control in pirn winding, the twisting to restricting loops proportion can take care of this issue.
Loom bar: An adjustment in shade over the width of a texture, coming about because of a development of pressure in the van before a filling change.
Loom barre: Repetitive selvedge-to-selvedge unevenness in woven texture for the most part credited to a mechanical imperfection in the let-off or the take-up movement.
Misdraw (Color): In woven textures the drawing of hued yarns through the loom outfit in opposition to the shading design and additionally configuration weave is named as misdraw. If there should arise an occurrence of twist sews misdraw is the drawing of hued yarns through the guide bars in opposition to the example structure.
Mispick: A deformity in woven texture brought about by an absent or out-of succession yarn.
Reed mark: A break between gatherings of twist closes, either nonstop or at interims, which can occur because of harmed reed or inappropriate dividing of gouges.
Reed streak: A twist shrewd imperfection owing to a terrible reed like uneven reed space, bowed reed wire, incline wire, harmed reed wire and so on.
Set mark: Defect in woven texture coming about because of delayed loom stoppage. Due to the damp climate and the fine residue present in the air, the material uncovered will get somewhat unique shading and furthermore some unwinding happens. A joined impact provides a line in weft guidance.
Shade bar: A particular shade change of brief span over the width of the texture. This is ordinarily because of a misunderstanding of weft with various property.
Stop mark: Narrow band of various weave thickness, over the width of a woven texture, brought about by ill-advised twist pressure change after a loom stop. An all around prepared weaver can diminish this kind of imperfections.
Tight end: Warp yarn in a woven texture that was under over the top strain during weaving or shrank more than the ordinary sum.
Pilling: Fiber fibers that break in yarn because of grinding leaving little bunches of free strands superficially
Float: Slack twist and Faulty Pattern Card are the primary purposes behind a buoy in a woven texture.
Pin marks / Stick marks: Poorly balanced sanctuary sticks or harmed pins can prompt stick marks. Tainting of lighten: Different filaments or outside materials get blended during turning, twisting or in weaving planning stage, causing visual protest in texture. The causes are ill-advised neatness, not appropriately cleaning the machines after each doff and parcel changes, ill-advised suction of drafting zones of gill boxes and meandering, inappropriate cleaning of scrapper and scrapper plate after each part change of doff, not utilizing of drapes for segment of machines running on various hues, overhead cleaners of handle winding and ring edges blowing dust on running axles or drums, material not secured to maintain a strategic distance from fly and cushion collection, utilization of compacted air for cleaning machines while in working or while nearby machine is working and utilization of basic return air conduits and running distinctive hued strands in the shed.
You may also like: Common Woven Fabric Defects with Pictures
EXPERIMENTAL DETAILS
3.1 Ball warping quality parameters:
3.1.2. Yarn used (warp) in denim production:
RS (Ring Slub): 7, 8, 9, 10, 12, 14, 16, 10 Count.
RS (Ring Slub)Siro: 7, 9, 10, 12, 14 Count.
RS (Ring Slub)Tencel Viscos: 9, 10, 12Count.
RC (Ring Carded): 8, 9, 10, 12, 14, 16, 20, 30Count.
RC (Ring Carded) Tencel: 10Count.
Siro: 10, 14, 20Count.
SiroSlub: 10Count.
RC (Ring Carded) Compact Siro: 20Count.
MC (Multi-count): 7, 9, 10, 11, 12Count.
RMC (Ring Multi-count): 10Count.
ACS (Acrylic Cotton Slub): 7, 8, 9, 10, 12, 14, 16Count.
AC (Acrylic Cotton): 6, 7, 8, 9, 10, 12, 14, 16, 20Count.
PCW (Post-Consumer Waste): 7, 9, 10, 12 Count.
3.1.1. Relation between yarn count, types and tension:
Yarn Count

| | |
| --- | --- |
| Count | Yarn |
| 6,7 | OE/MS/RS/RC |
| 8 | OE/MS/RS/RC |
| 9,10 | OE/MS/RS/RC |
| 12 | OE/MS/RS/RC |
| 14,16 | OE/MS/RS/RC |
| 20 | OE/MS/RS/RC/R.Combed |
| 24,26,28 | OE/MS/RS/RC/R.Combed |
| 30,32 | OE/MS/RS/RC/R.Combed |
| 34,40 | OE/MS/RS/RC/R.Combed |

Tension

| | | |
| --- | --- | --- |
| Jog | Front | Rear |
| 94% | 89% | 94% |
| 82% | 77% | 82% |
| 77% | 72% | 77% |
| 62% | 57% | 62% |
| 52% | 47% | 52% |
| 42% | 37% | 42% |
| 37% | 32% | 37% |
| 32% | 27% | 32% |
| 22% | 17% | 22% |
Table-01: Relation between yarn count, types and tension.
This Table indicates different kinds of yarn counts, their types and tension .Tension is classified as Jog, front and rear .For Higher no of count the tension of jog, front and rear are comparatively lower than the lower no. of count. Here we used 5 types of yarn such as OE (open ends) ,MS (Medium slub) , RS (Ring slub) ,RC( Rotor card) , R.combed (Rotor combed).Basically, jog and rear have same tension and front has different tension and its 5% lower than  jog and rear. As a example for 6,7 count in the table OE/MS/RS/RC Yarns are using and tension is applied in jog 94% ,in front 89% and in rear 94% where jog and rear tension is same. Its done for reducing yarn breakage. If the same tension is applied in 3 phases then it is highly possibility to increase yarn breakage.
3.1.2. Relation between yarn suppliers, yarn count, m/c speed, breakages:
| | | | | | |
| --- | --- | --- | --- | --- | --- |
| Sl No. | Yarn Supplier | Types of Yarn | Yarn Count (Ne) | Machine Speed (MPM) | Breakages (Per hour) |
| 01 | Envoy | OE, RS | 7, 8 | 350-360 | 6-8 |
| 02 | ACML | RS, OE,R.Combed | 8 | 330-350 | 7-8 |
| 03 | A.T&T | OE, RC | 8, 9 | 300-320 | 7-8 |
| 04 | NRG | MS,RC | 10, 12 | 300-320 | 8-10 |
| 05 | SQUARE | RS,OE | 10, 12 | 300-310 | 8-10 |
| 06 | BADSHA | OE,RS | 16 | 280-300 | 9-12 |
| 07 | PRSML | RC,MS | 16, 18 | 260-300 | 10-12 |
| 08 | NZ | OE,RS | 18, 20 | 250-280 | 10-12 |
| 09 | MATIN | MS,RS | 20, 22 | 230-250 | 12-14 |
| 10 | MAHMUD | RC,OE | 20, 22 | 230-250 | 13-15 |
Table-02: Relation between yarn suppliers, yarn count, m/c speed, breakages.
From this table, we know some information about different types of yarn supplier for denim production. We also know about different types of yarn and yarn count. Here, we can get some information about machine efficiency depending on yarn supplier, yarn types and yarn counts. We know that, machine efficiency also depends on machine speed and yarn breakage. Yarn breakage is the fundamental problem of warping. So if the warping quality is good then the further process will be easier. This table provides us the relation between yarn count, Yarn breakage, machine speed and also machine quality. This table also showed us, if the yarn is coarser then we can easily run machine at high speed and the number of yarn breakage is lower. But if we go for the finer yarn then we cannot run machine as high speed as like coarser yarn. We see in the table yarn open ends and ring slub yarn from the Envoy company as it count 7, 8 it show high speed ball warping where defect per hour only 7-8 times. After that we see for A.T & T group there also provide open ends and ring card yarn which count is 8-9 but the machine speed decrease and also yarn breakage increase. From this we learn that if the count is almost same and type of yarn is also same but depending on the quality of yarn and yarn supplier machine speed and also yarn breakage can vary. All the data of this table showed those things.
3.2 Dyeing quality parameters:
3.2.1 Various colors and shades of denim fabrics:
Shade
Shade Grading
Shade%
Black G/L
 

 

INDIGO

 

 

BOTTOMING

 

 

 

 

 

 

TOPPING

 

 

BLACK

 

 

 

 

 

 

ASH

 

Dark
Medium 1
Medium 2
Light

Powder 19 G/L
Diresul 40 G/L
Diresul 30 G/L
Diresul 15 G/L
Table-03: Parameters of shade, grading, shade% and black G/L.
This table is giving us the information about Dyeing shade, shade grading, shade %, and how much black shade is present in total GPL.In this table,5 types of shade is used by us. They are Indigo, Bottoming, Topping, Black, and Ash. Every shade is grading by dark, medium and light.
In Indigo the shade % is vary between 2.5 to 5% (Light to Dark) and here black GPL is not needed.
In Bottoming shade % is vary between 2.5 to 5% also (Light to Dark) and here black GPL is needed for dark shade is need 15G/Medium 10G/L,and light 5G/L.
In Topping shade % is vary between 1.80 to 4% (Light to Dark) and here black GPL is needed for dark shade is need 75G/L,Medium 60G/L,and light 45G/L.
In Black shade % is vary between 3.00 to 5.30%  (Light to Dark) and here black GPL is needed for dark shade is need 290 G/L,Medium 240 G/L,and light 210 G/L.
In Ash shade % there is no variation but the black GPL is varied. Here powder and diresul is used for different shade. Such as,for dark shade 19 G/L,for Medium-1diresul 40G/L, for medium-2 diresul 30 G/L, and for Light diresul 15 G/L is used .
3.2.2. Relation between Squeeze roller pressures, Dancing roller tension, Deeping time, Machine Speed:
| | | | | |
| --- | --- | --- | --- | --- |
| Dye Box No. | Squeeze roller pressure (PSI) | Dancing roller tension | Deeping time (Sec) | Machine Speed (Mpm) |
| 01 | 75 | 30-32 | 17-22 | 23 – 27 |
| 02 | 70-75 | 30-32 | 17-22 | 23 – 27 |
| 03, 04 | 70 | 30-32 | 17-22 | 23 – 27 |
| 05 | 75 | 30-32 | 17-22 | 23 – 27 |
| 06 | 70-75 | 30-32 | 17-22 | 23 – 27 |
Table-04: Relation between Squeeze roller pressures, Dancing roller tension, Deeping time, Machine Speed.
From this table we see rope dyeing machine's different parameter. In rope dyeing machine there are several dyes and chemical boxes are present. In this table we showed 6 dye box and there squeeze roller pressure, dancing roller tension, deeping time and machine speed. From these four parameters we showed the condition of dye bath. As rope dyeing is a continuous process so these parameters should be followed very carefully. Here we see different dye boxes pressure, dancing roller tension, depend time and machine speed.  Such as for number 1 dye box has 75psi squeeze roller pressure, to maintain proper tension of the rope it should follow 30-32 tension and for matching proper color shed deeping time should be 17-22 sec. Here whole machine output 23-27. As like other dye boxes are followed this parameters accordingly.
3.2.3. Relation between dyeing bath temperature squeeze roller pressures, dancing pressures:
Box Name
Temperature
Squeezing Roller Pressure (PSI)
Dancing Roller Pressure
Scouring Box
45-70 ⁰ C
60
30-32
Prewash Box
Hot 60 ⁰ C

Cold (Room temp)

70-75
30-32
Dye Box
Black  85 ⁰ C

Indigo  60 ⁰ C

Topping  80-85 ⁰ C

Bottoming  c

70-85
30-32
Post wash Box
Hot 45-60 ⁰ C

Cold (Room temp)

70
30-32
Table-05: Relation between dyeing bath temperature squeeze roller pressures, dancing pressures.
This table is given us the information about different parameters of Rope Dyeing machine of different Boxes such as Scouring box, pre wash box, Dye box, post wash box .
In Rope dyeing machine one Scouring box is present where the temperature is vary between 45-70 ⁰ C, the squeezing roller pressure is 60 psi,and the dancing roller pressure is vary between 30-32.
After completion the scouring its goes through pre wash box,here 2 types of wash is occurred such as hot and cold. Hot wash is occurred at 60 ⁰ C temperature and cold wash is occurred at room temperature.
Squeezing roller pressure is vary between 70-75 and the dancing roller pressure is 30-32.
Then it goes through the Dye boxes. There are 8 dye boxes in Rope dyeing machine. This boxes are used for different shade of dyeing. Different temperature is used for different shade such is For black shade 85 ⁰C temperature is used, for indigo 60 ⁰C temperature is used, For topping shade 80-85 ⁰ C temperature is, and for bottoming 80-85 ⁰C temperature is required for dyeing. And here the squeezing roller pressure is vary between 70-85 psi and the dancing roller pressure is vary between 30-32.
Then it goes through the post wash box. Basically, here acetic acid and fixing agent is used for neutralization and fixation the color or stable the color respectively, Here also hot and cold wash is required if it is hot then its temperature is vary between 45-60 ⁰C and if it is cold then there room temperature is used . The squeezing roller pressure is 70 psi and the dancing roller pressure is vary between 30-32.
3.2.4. Various chemical used in rope dyeing:
Indigo Powder (Dye)
Indigo Blue Liq (Dye)
Hydeo (Enhance color, Vatting agent)
Caustic Soda (Scouring agent)
Benquest C-80 F(Sequestering agent)
Dekol-1097 SP (Sequestering agent)
Benwett RD-999 (Wetting agent)
Benvadine MR-100 (Wetting agent)
Sulfotex Black (Dye)
Diresul Black (Dye)
MKS Devo Black (Dye)
Powder Black (Dye)
Massul Yellow Brown (Dye)
Reducing Agent
Sodium Sulphide (Bleaching agent)
Bensoft M-8610 (Softening agent)
Perifil 210D (Softening agent)
Euro Soft (Softening agent)
Aceitic Acid (Neutralizing agent)
Hydrozen Peroxide (Bleaching agent)
3.3 LCB Quality Parameters:
3.3.1. Relation between yarn count, tension and m/c speed:
| | | |
| --- | --- | --- |
| Count | Tension (g/e) | Speed (mpm) |
|                   7 |                70-75 |              480-500 |
|                   9 |                60-65 |              460-480 |
|                  10 |                55-60 |              440-450 |
|                  12 |                45-50 |              430-450 |
|                  16 |                30-35 |              420-440 |
|                  20 |                20-25 |              400-420 |
Table-06: Relation between yarn count, tension and m/c speed.
In LCB Section we use very little amount yarn tension. Generally LCB is used for rope dyeing process. Here yarn breakage in this very low. From this table we show relation depending on yarn count with yarn tension and machine speed. For coarser yarn tension and speed is higher and for the finer tensioner speed is lower. Such as for 7 count yarn tension will be 70-75 and machine speed will be 480-500. For 20 count yarn of finer yarn the tension will decrease to 20-25 g/e. Machine speed will be 400-420. In this way we followed and speed parameters in LCB section.
3.4 Sizing Quality Parameters:
3.4.1. A sample Recipe:
Water                1000 litre
K2000               17 Kg
B120                 39 Kg
E850                1.5 Kg
B60                  1.5 Kg
Initial volume was 1000 liter
Final volume 1200 liter
3.4.2. Some parameters of sizing:
| | | |
| --- | --- | --- |
| Name | Actual parameters | Calculated parameters |
| Cooking time | 30 min | 30 min |
| Water | 998 | 1000 Liter |
| Temperature | 83⁰ C | 83⁰ C |
Table-07: Some parameters of sizing.
Here we see some basic parameters of sizing. Here we see relation between actual settings with calculated settings.
3.5 Weaving Quality Parameters:
3.5.1. Relation between yarn counts, total ends and warp tension:
| | | |
| --- | --- | --- |
| Count | Total ends | Warp tension (KN) |
| 7 | 5300 | 2.85-3.25 |
| 9 | 6400 | 2.60-3.00 |
| 12 | 7500 | 2.50-2.85 |
Table-08: Relation between yarn counts, total ends and warp tension.
From these table we can know that the warp tension of yarn of different count of yarn in a beam where a no. of total ends is present. In the table, For 7 count the total ends is 5300 and the warp tension is varied between 2.85-3.25. For 9 count the total ends is 6400 and the warp tension is varied between 2.60-3.00 and For 12 count the total ends is 7500 and the warp tension is varied between 2.50-2.85 . That means if the count is increased then the warp tension is decreased.
3.5.2.Basic settings & parameters of weaving machine:
| | | | | | | | | |
| --- | --- | --- | --- | --- | --- | --- | --- | --- |
| Machine  no. | Total ends | EPI | Width (Inch) | Reed count (DM) | Back Rest Height (mm) | Back rest depth (mm) | Set angle (in degree) | Heald frame height (mm) |
| A1 | 7800 | 105 | 75 | 698/4 | +10 | 4 | 28 | 82 |
| A8 | 6460 | 91 | 72 | 1190/3 | +10 | 4 | 28 | 82 |
| A11 | 5148 | 75 | 69 | 739/4 | +12 | 4 | 30 | 75 |
| A12 | 5112 | 75 | 69 | 739/4 | +14 | 4 | 30 | 73 |
| B1 | 6100 | 91 | 69 | 1190/3 | +10 | 4 | 28 | 82 |
| C1 | 4824 | 71 | 69 | 931/3 | +12 | 4 | 30 | 75 |
| C5 | 4776 | 66 | 73 | 652/4 | +12 | 4 | 30 | 75 |
| C12 | 4776 | 66 | 72 | 652/4 | +12 | 4 | 30 | 75 |
| D6 | 5112 | 75 | 69 | 739/4 | +14 | 4 | 30 | 73 |
| D8 | 5148 | 75 | 69 | 739/4 | +12 | 4 | 30 | 75 |
| D9 | 6208 | 83 | 75 | 1085/3 | +12 | 4 | 30 | 75 |
| D10 | 6800 | 91 | 75 | 1190/3 | +12 | 4 | 30 | 75 |
| E1 | 6840 | 99 | 69 | 985/4 | +12 | 4 | 30 | 72 |
| E4 | 5300 | 71 | 75 | 698/4 | +12 | 4 | 30 | 75 |
| E6 | 6800 | 91 | 75 | 1190/3 | +12 | 4 | 30 | 75 |
| E8 | 4824 | 71 | 69 | 698/4 | +12 | 4 | 30 | 75 |
| F1 | 6800 | 91 | 75 | 1190/3 | +12 | 4 | 30 | 75 |
| F7 | 4824 | 71 | 69 | 931/3 | +14 | 4 | 30 | 74 |
| F8 | 5300 | 71 | 75 | 931/3 | +14 | 4 | 30 | 75 |
| F11 | 5300 | 71 | 75 | 698/4 | +12 | 4 | 30 | 75 |
Table-09: Basic settings & parameters of weaving machine.
From these table we come to know about different physical settings of Air-jet weaving machine. Here we also see relation between deferens parameters of weaving machine settings. As example relation between reed count with EPI. We can easily find out the reed count by using below formula.
EPI = (reed count x ends per dent)/39.36
This is the relation between read count with EPI.
3.5.3.Some usual fabric construction:
20RC X 16L70D / 91 X 60, 72"
(8OE + 9RS) X 12L40D / 75 X 53, 69"
10MC X 150L70D / 71 X 55, 75"
(9RS + 9OE) X 16L40D/66 x 48, 69"
(10RS + 10RC) X 16L40D / 66 X 48, 75"
(16RS + 16RC) X 150L70D / 75 X 53, 75"
16RC X 200L40D / 91 X 58, 71"
20RC X 16L70D / 91 X 60, 72"
(16RS + 16RC) X 150L70D / 91 X57, 75"
10RS X 16L40D / 71 X 50, 69"
3.6 Finishing Quality Parameters: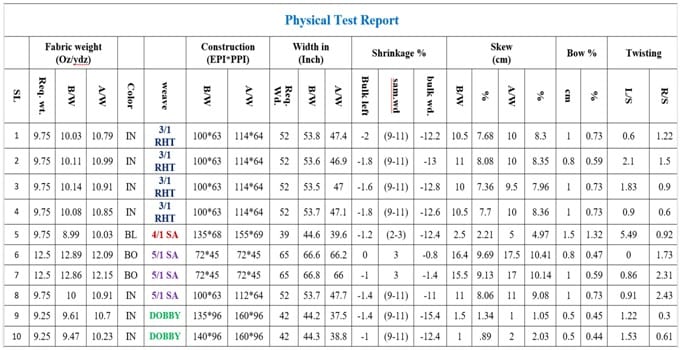 From these table we saw different physical test result after doing finishing process. Here we can understand some parameters showed by denim fabric depending on their weaving plan.
RESULT AND DISCUSSION
4.0 Result and Discussion:
From those work we have discovered a portion of the outcomes which were portrayed in our task paper. We have discovered the quality parameter from the factory and a portion of the investigations were finished without anyone else's input. The discoveries are talked about underneath.
4.1. Analysis of yarn:
Yarns are the primary component for weaving. So the nature of the yarn must be immaculate to sew a decent quality texture. From the table-1, 2 we can discover the variables that speak to the nature of the yarn. It is compulsory to utilize best quality yarn to have the best quality texture.
4.2 Machine setting analysis:
After yarns at that point comes the machine setting parameters. This is extremely obvious that if our nature of yarn is five star however the state of machine is poor then it will be difficult to get great quality texture. We had an investigation on a machine during creation that is in table-9. We read on that machine for four hours. We found that from the start the machine pursued in all respects easily yet some time there was an issue in the strain gadget. The pace of yarn breakage was expanded inside that hour. Along these lines additional time required hitching. This diminished the pace of generation a piece. This certainly demonstrates legitimate support of the machine is what amount required.
4.3 Fault analysis:
Evaluating a texture is another significant piece of value control of Denim. It is critical to discover and amending the shortcomings. The shortcomings are intended to be expelled from the texture for further forms. For reviewing the deficiencies we utilized the 4-point framework. This is the most regularly utilized framework in the ventures. The flaws are recognized on the texture assessment machine and they were given focuses as indicated by their measure of issues. Table-9 and Table-10 demonstrates the framework to review the fabrics.
CONCULSION
5.1Conclusion:
Presently quality turns into an extraordinary issue for creating products. Individuals are intrigued to pay more to get the quality items. Today purchasers are progressively worried about the quality of the products. In the market of rivalry, every one of the providers of the material are attempting to keep up quality in their item. So to be in the market it is important to keep up quality for delivering merchandise.
As we as a whole realize our nation is a denim maker. On the off chance that we neglect to meet the quality of the texture it will make us face various challenges. It could be the reason for dismissal. From a decent quality texture it is conceivable to make great quality texture.
In our nation the vast majority of the businesses keep up quality parameters however till now we are still behind utilizing the cutting edge innovation. A portion of the ventures actualized the tech yet the vast majority of them don't. The tech generally covers the region of the on-line quality control. Which lessens the time misfortune during the creation.
REFERENCES:
Denim: Manufacture, Finishing and Applications Edited by Roshan Paul

Sustainability in Denim Edited by Subramanian Senthilkannan Muthu

All information gathered from the manufacturing plant (Amber Denim Ltd.).
All enlightening data gather from the specialized individual.
Lecture sheet of DIU.
https://textilelearner.blogspot.com/2013/11/what-is-denim-different-types-of-denim.html
http://www.otdtextile.com,
Some Magazine like, Textile Today, Textile Learner.