Clothes make people. That is a truism. How you dress affects what others think about you. That clothes can think for themselves and even communicate with those who wear those sounds more like science fiction. It really does exist. They are called intelligent textiles and they could soon become part of every wardrobe. A "smart outfit" would then be much more than a fashion statement. In smart textiles phenomenal fibers so much important to rise in textile sector. Dressing, health, clean tech, furniture, geotextiles, agriculture are some of the sectors concerned. Tomorrow, your clothes will become a new interface.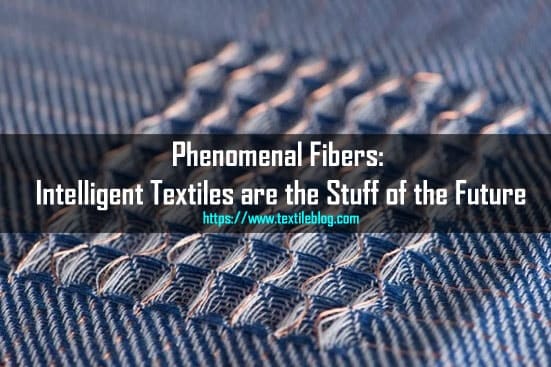 The obvious question that arises: a substance that thinks – how should that work? The answer is provided by a method in which man-made fibers are woven with nanotechnology and organic electronics. Using built-in sensors, these phenomenal fibers are able to detect changes in our body or other physical conditions and transmit the information so that the wearer of the clothing can react accordingly.
This spring, for example, socks are coming onto the market that warn people with diabetes in good time of an inflammation in the foot and thus indicate urgently needed treatment. In 2018, Canadian astronaut David Saint-Jacques will test a special shirt during his stay at the International Space Station. A software in the shirt will inform Saint-Jacques about his blood pressure, the oxygen content in the blood, the heart and breathing frequency as well as the skin temperature; she will also monitor his sleep quality and activity level.
Research on intelligent substances is still at the beginning. However, it is already clear today that they could be used in a variety of ways in sports, healthcare and the military. Appropriate clothing could increase safety and productivity,
Research on intelligent substances is still at the beginning. However, it is already clear today that they could be used in a variety of ways in sports, healthcare and the military. Appropriate clothing could increase safety and productivity, especially in professions where people work in extreme conditions. In any case, that is the conclusion that the Intelligent Textiles and Wearables: Markets, Applications and Technologies study comes to in September 2016.
The market potential is just as impressive as the innovation itself. Grand View Research, Inc. forecasts that the global smart textiles, phenomenal fibers and fabrics market will grow from $ 544.7 million in 2015 to $ 9.3 billion in 2024. That would be an increase of 1700 percent. The strongest growth should be expected in the areas of sports, fitness, military and defense. In all these areas, water and stain resistance, UV protection and antibacterial properties are in demand; all requirements that intelligent textiles can meet.
Made with Phenomenal fibers intelligent textiles can be divided into two different categories: aesthetic and performance-enhancing. Aesthetic examples are fabrics that shine and fabrics that can change color. Some of these substances collect energy from the environment through vibrations, sound or heat to harness the response to these inputs. The color change and lighting system can also work by embedding the fabric with electronics that supply them with electricity. Performance-enhancing intelligent textiles are for use in sports, extreme sports and military applications. The health and beauty industry is also taking advantage of these innovations, which range from drug delivery medial textiles to tissues with moisturizer, perfume, and anti-aging properties. Lots of smart clothes, Wearable technology and wearable computing.
Metallic materials are conductive, hydrophilic and have high electroactive surfaces. These properties make them ideal for electrochemical biosensor substrates that have been detected with the detection of DNA and proteins.
The production of the yarns for these extraordinary fabrics is based on the latest technology. Oerlikon builds plants for the production of man-made fibers and is therefore substantially involved in this development. Such systems form the foundation of a complex value chain and accompany the textile industry on the way to the market launch and commercialization of the new products. They also ensure the efficiency and productivity of the machines so that people can ultimately afford intelligent materials.
Companies like Oerlikon are therefore keeping a very close eye on how the textile markets are developing and what the customer's needs. Several connected textiles are already available on the market. If we reduce ourselves to the clothing sector, there is for example the connected jacket from Levi's and Google which allows you to control some applications on your smartphone by touching or tapping it. Spinali design already offers connected jeans and swimwear
In short: Intelligent textiles are the stuff of the future. And this future is closer than you would think.
Reference:
https://journals.sagepub.com/home/trj
https://www.metmuseum.org/exhibitions/listings/2019/mrinalini-mukherjee-phenomenal-nature
https://www.marketwatch.com/press-release/natural-fibers-and-nanocomposites-market-is-ready-to-grow-globally-with-phenomenal-trend-diversity-between-2020-to-2027-2020-03-16?mod=mw_quote_news
https://www.kurzweilai.net/new-carbon-nanotube-fiber-acts-like-textile-thread-conducts-electricity-and-heat-like-a-metal-wire
https://en.wikipedia.org/wiki/Optical_fiber
Author of this Article:
Md. Raisul Islam Rifat
Dept. of Textile Engineering
Daffodil International University, Dhaka
Email: ririfat750@gmail.com