Supply chain mentions to all inputs required to produce a product and fulfill a purchase. It comprises planning, sourcing of raw materials, manufacturing, transporting, warehousing, shipping etc. So, frequently supply chain is called back bone of any business. Therefore, a strong supply chain network could give an organization a leading position in all aspect.
Three fundamentals for effective control of the supply chain:
Procedures
Specifications
Critical path (timetable)
These three fundamentals work together and are interconnected; if one is missing or not working effectively, the other two become ineffective. Outsourcing companies as well as contract manufacturers have to be aware of everything that is going on and efficiently control what is happening. With the good use of planning systems, you can see where a problem might appear before it actually happens.
Supply Chain in Apparel Industry:
The supply chain is the system of organization involving the people, information, and resources to move a product from its original concept to the final destination: the customer. The critical path is the timetable needed to achieve this.
The supply chain is essentially a partnership between the buyer, manufacturer, and any third parties involved in various stages of production, and it maps out the responsibilities of all concerned.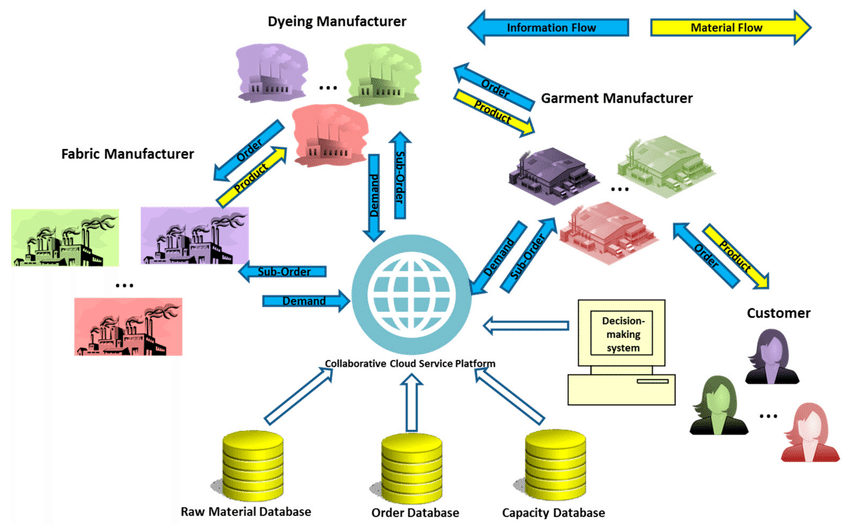 Below is an example of procedures required by an importer sent to their factories; its aim is to show how they both need to respond when inquiries are received from customers.
Company supplies all types of products, and have built a reputation for quick response on price, quality, and delivery times.
To continue the growth in business, have to drawn up a series of steps that our company and its manufactures must follow to work in partnership to create a successful supply chain.
1. Inquiry from customers.
2. Within 24 hours, company will send to its suppliers (by an email) a package containing the following:
Style details
Size chart
Fabric details
Photos of the garment (if possible)
Indication of quantity (if available)
Request best price and delivery date
We are competing with other suppliers for the business, so manufacturer should reply, if possible, within 24 hours with price and delivery date.
3. Customer's sample and/or fabric will be sent as soon as available.
4. Customer will accept price and delivery dates subject to a sample being approved.
5. Manufacturer must then send counter samples (2 samples of size 12, unless otherwise stated, plus the sample report, with all sections filled in: supplier's name, size, style reference, fabric composition, weight, and construction. The samples must be as close as possible to the original / specification.
If possible, in correct fabric and color or in correct fabric and nearest color. Nearest possible fabric. (Correct fabric and color must be approved before start of production.) Original sample must be returned with counter samples. Company should receive samples within 8 days maximum from the request being made. This includes 4 or 5 days for making and 3 days for courier service.
6. Customer approves samples. Size breakdown and quantities will be confirmed. Final approved size charts, label, and packaging instructions will be issued. If all aspects of samples are correct, the customer will request production samples. If the sample is approved subject to amendments, pre-production samples will be requested. Three samples should be made: one for the customer, one for the head office, and one to be returned to the manufacturer as your standard for production. If samples are not approved, new samples will be requested and orders could be delayed or cancelled.