Care Label:
A care label is a label or instructions that report how a product should be. Similarly, care instructions are a series of directions that describe practices that should refurbish a product without adverse effects and warn against any part of the directions that one could reasonably be expected to use that may harm the item. According to FTC, Care label means a permanent label or tag, containing regular care information and instruction, that is attached or affixed in some manner that will not become separated from the product and will remain legible during the useful life cycle of the product. Correct labelling & careful compliance with the information given on the care label help to ensure a long life for the textile goods.
Care labels are small solutions to big problems. Care instructions provide information on the temperature settings to be used for ironing. In certain cases, ironing is not recommended at all. Apparel & textiles are soiled during their normal use. From an economic point of view, these items must be cleaned and refurbished for reuse without substantially altering their functional & aesthetic properties. It is necessary that the various processes to which the garment is subjected to should maintain & restore the desirable & functional properties. This is a joint responsibility of the textile and apparel industry, the textile care industry & the consumers. Besides, care labeling standards applies to everyone who is a part of the manufacturing process such as suppliers, importers, distributors, retailers & producers of the products.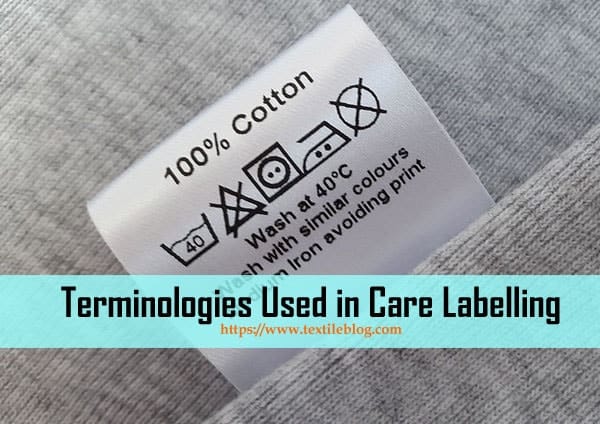 The care labels provide guidelines to sales personnel and consumers of the appropriate care & treatment of the textile and the other material used in its production. They also inform about apparel care, and the best cleaning procedures to be used for a particular combination of fabric, thread decoration and construction techniques.
Care labels help to prevent irreversible damage to the textile article during its care processes. The care labels generally contain the following information, although the statutory provisions may vary from country to country:
Care symbols
Fiber content (% of each fiber)
Size
Country of origin
Further information, such as eco labels, etc.
Essential Terminologies Used in Care Labelling:
Besides the above processes used for care labelling, various other terminologies related to care labelling that the consumers should understand thoroughly are described below.
Detergent: A cleaning agent containing one or more surfactants as the active ingredient(s). It is one of the most important cleaning agent in washing.
Soap: A cleaning agent usually consisting of sodium or potassium salts of fatty acids.
Bleach (in care of textiles): A product for brightening and aiding the removal of soils and stains from textile materials by oxidation that is inclusive of both chlorine and non-chlorine products.
Cleaning agent: A chemical compound or formulation of several compounds that loosens, disperses, dissolves, or emulsifies soil to facilitate removal by mechanical action.
Consumer care: Cleaning and maintenance procedures as customarily undertaken by the ultimate user.
Professional care: Cleaning and maintenance procedures requiring the services of a person specially trained or skilled in their use.
Refurbish: To brighten up or refresh and restore to wearability or use by cleaning such as dry cleaning, laundering or steam cleaning.
Stain removal: A cleaning procedure for localised areas with cleaning agents and mechanical action specific to the removal of foreign substances present.
Solvent relative humidity: The humidity of air over dry cleaning in equilibrium with the solvent & a small amount of water.
References:
Care and Maintenance of Textile Products Including Apparel and Protective Clothing by Rajkishore Nayak and Saminathan Ratnapandian
https://www.fibre2fashion.com
https://indiantextilejournal.com