Bangladesh has always known for artisans make a reputation within the garment industry from muslin to denim fabrics. Today Bangladesh ranked as the second largest denim garments producer and exporter after China. Bangladesh is exporting denim products approximately 200 million pieces per year. According to BTMA, Bangladesh has around 35 denim fabrics manufacturing mills, which produces over 435 million yards of fabrics per year.
Sometimes ago, Bangladesh was totally dependent on imported denim fabrics, but now Bangladesh produces about 50% demand of the country and also exporting to globally renowned brands.
Global trade will be boosted to the total denim exports to 7 Billion USD by 2021. Bangladesh can easily enjoy the advantage in terms of the back of competitive pricing, low labour cost and focus on product innovation. The future opportunities in the denim industry will appear brighter for Bangladesh's economy.
Current Scenario of Denim Market of Bangladesh
Bangladesh has around 35 factories, these denim factories with a capacity million yards per month, but the demand of country nearly 60 million yards. That number provides only 50% of the denim that Bangladesh clothing manufacturers use.
To fulfil the demand, the rest have to import 30- 35 million yards per month from countries like China, India, Vietnam, Pakistan which average value is 75 millionUSD.
The Bangladesh denim industry is currently the top producer of denim in the European Union and United State markets. The denim industry is slated to go past 64 Billion Dollar by 2020. By 2021, apparel manufacturers in Bangladesh will be exporting more than 7 Billion Dollar worth of denim to traditional and non-traditional markets combined.
Export Statics of Bangladesh Denim Industry
Bangladesh denim products beat EU and US markets by occupying a lion's share of denim.
Office of Textiles and Apparel (Otexa) of the US said that, in 2018 Bangladesh earned 419.21 Million USD which is 14.20% share of the market. But the industry exported 367.10 Million USD in the same period last year. According to the Otexa, Bangladesh is the largest exporter of denim goods to the EU, with 27% of the market share. Third largest to US market with 14% market share.
Statistics directorate of the European Commission (Eurostat) the latest data is Bangladesh earned 917.14 million Euro by exporting denim products to European Union Countries from January to August in 2018. Last year in the same period earned 879.84 million Euro, which is 4.23% higher compared with previous.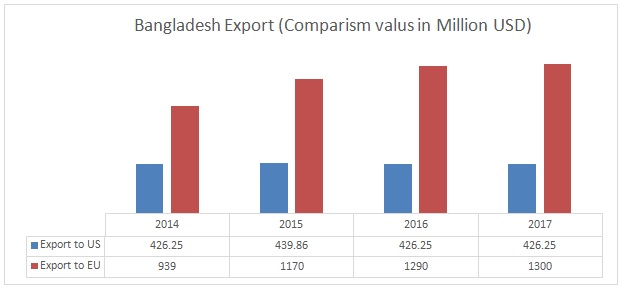 According to the latest figures in 2020, US Office of Textiles and Apparel (Otexa), the US imported 6.9 billion dollars' worth of denim from various countries between January-May. Of these, Bangladesh has exported the most denim which worth is 160 million dollar. Mexico's second-largest export was 150 million. Vietnam has exported denim worth 110 million dollar. China's exports amounted to just over 80 million dollars. Pakistan is in almost the same position in 2020.
Opportunities of Denim Industry in Bangladesh

Increasing the consumption of denim is created a new opportunity for Bangladesh.  Global Market consumption for Denim is forecast to reach 64.1 Billion USD by 2020.The total denim production of the world is approximate 7 billion meters. These 70% of denim fabric is produced in Asia.
Cotton Inc said that, almost 71% of people in EU wearing denim, followed by 70% in the USA, 58% in China, and 57% in Japan.USA is one of the top consumers of denim goods with the demand of 450 million pieces per year.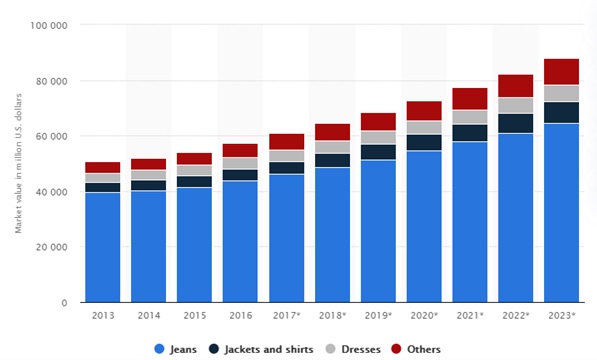 According to Technavio, a market research and advisory firm, the global denim industry net is worth about $60 billion. It is expected to grow at a CAGR (compound annual growth rate) of over 6.5% by 2020. APAC (Asia Pacific Countries) is expected Bangladesh will be hold the largest share in US and EU market.
US's top suppliers of denim include China, Bangladesh, Vietnam, Mexico, Pakistan, India, etc. Bangladesh apparel industry is now the second biggest just behind China. Bangladesh apparel manufacturers produces around 25% of denim products sold around the world.
Bangladesh and China are the two competitor Countries which have been leading the US& EU markets. But China is now struggling for US-China business trade war. Because of thiscovid-19 issues and US-China Trade war give extra benefit to Bangladesh and other manufacturer like Vietnam, India, Pakistan, etc.
You may also like: Quality Issues in Denim Production
According to the economist experts, the ongoing US-China trade war brought an opportunity for the developing economies in countries such as Bangladesh Vietnam, Cambodia, Pakistan and Mexico. Chinese apparel manufacturer industry is moving away from producing basic denim. This is giving way to the Bangladesh apparel industry can easily pick up the demand.
Challenges of Denim Industry in Bangladesh

Along with many opportunities, the denim industry has some challenges also. Many difficult challenges of denim industry in Bangladesh is discussed below:
Power crisis increases.
Global retailer lower price offer.
Competitors producing diversified trendier & fancy items.
Corruption lead foreigner to source any others.
Lack of automated weaving machines & sewing machines.
Workers mindset of staying traditional procedure.
Fear of taking short lead time order.
Lack of innovation in product.
Custom made product order not receiving.
Salary increments of garments worker.
Lack of international standard local experts.
Foreign buyer interest may reduce because of an adequate port facility
Still need to import 50% denim fabric.
Delay shipments.
Lack of leaser dyeing, wrinkle-free unit, modern grinding facilities.
Lack of efficiency in the product development and marketing.
Bangladeshi Taka BDT being strong against US dollar.
Increasing production price, vat & tax, no free access etc.
On the other hand, Denim industry is facing the heat of the covid-19 corona virus-led recession and will grow in the post-crisis period to reach a projected global market around the size of 87.3 billion USD by 2027. As a result, the manufacturers are forced to offer lower prices due to covid-19 pandemic.
Conclusion
In fine, Bangladesh has bright future in the denim industry. To meet the growing demand of denim in International market, factories in the country have to start acquiring the machinery and the technology to produce high value added and high-end denim apparel.
The denim sector needs more investment in research and innovation to meet the goal of leading global market. Moving towards value-added apparel products is another issue that needs more attention.
You may also like: History and Some Amazing Facts about Denim and Jeans
The advantage of low cost of production and the manufacturing sector's expertise in denim production, the country has gained a competitive opportunity in the product. The denim industry has great prospect to overcome the challenges and to become the leader in the global market. In this regard, Bangladesh government should prioritize denim indusry and provide all-out support to the entrepreneurs.
References:
http://www.bangladeshdenimexpo.com/bangladesh/bangladesh-denim
https://www.dhakatribune.com/opinion/special/2018/05/08/bangladesh-takes-global-denim-markets
https://tbsnews.net/economy/rmg/us-china-trade-war-hits-bangladeshi-denim-makers-21953
https://www.textiletoday.com.bd/challenges-opportunities-bangladesh-denim-industry
https://www.fiber2apparel.com/2019/03/denim-factory-list-bangladesh.html
https://www.academia.edu/14531239/Denim_Industries_in_Bangladesh
https://ordnur.com/jeans/current-scenario-denim-market-bangladesh/
https://www.linkedin.com/pulse/future-challenges-opportunities-bangladesh-denim-industry-ahamed/
https://thefinancialexpress.com.bd/public/views/stretching-the-future-of-denim-industry-1531063089
Author of this Article:
Md. Mahedi Hasan
B.Sc. in Textile Engineering
Textile Engineering College, Noakhali.
Email: mh18.bd@gmail.com