What is Defense Textile?
Defense textile or military textile offer invaluable properties for armed forces in particular, who are required to move, live, survive and fight in hostile environments. The military have to carry or wear all the necessities for comfort and survival and thus need the most lightweight, compact, durable, and high-performance personal clothing and equipment. The requirements for protecting individuals from both environmental and battlefield threats. The major nations of the world expend significant resources in developing and providing the most advanced defense textiles for military use.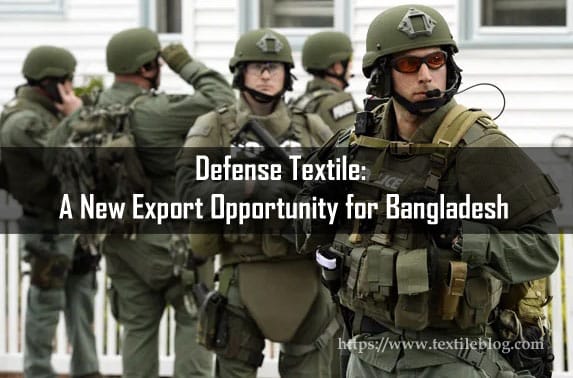 Types of Defense Textile Product:
Combat & flight uniforms (also in camouflage).
Military Boot.
Formal shoe.
Flak jackets.
Aircraft fuel cells.
Tents and shelters.
Blankets and hospital supplies.
Airplane panels.
Ammunition bags/pouches.
Fabric for bullet-proof vests
Ballistic helmets.
Chemical protective suits.
Communication lines (optical fiber glass).
Extreme weather protective fabrics.
Interfacing and lining in apparel and shoes.
Parachutes and parachute harnesses.
Personal flotation devices.
Pontoon bridges.
Ropes and cables.
Ship composites.
Stealth fighter plane graphite fibers.
Wet suites.
Densely woven cotton webbings and tapes.
Thermal acoustical blankets.
Soft-sided cases.
Safety harnesses.
Cotton covered elastic shock cord, etc.
Characteristics of Defense Textile:
Defence Forces requires very vast varieties of fabrics which are purchased by Army, Air Force, Navy, Special Force, Fire Service, Coastal Guards, and Marines etc. But, all the fundamental requirement for defence forces includes personal protective equipment's for military personnel required during non-combat, combat and emergency operations, critical survival situations, military uniforms such as Camouflage fabrics and specific performance requirements related to use in the better field, tanks, aircrafts, underwater including high hazards and extreme temperatures.
As a result, they must provide protection, durability and comfort in a wide range of hostile environments. The basic requirements of military textiles are damage resistance, comfort, sweat management, cold-weather conditions and the integration of high-tech materials into uniforms, etc.
The importance of these defense textiles have been widely recognized for boosting the performance of the fighters and saving their lives in the war. The latest armed forces uniforms are lightweight, moisture-absorbing, quick-drying, stain-resistant, and controls odor using the silver antimicrobial technology in the fabrics.
Main Fibers Used for Defense Textiles:
Teflon Fiber.
Polyester Fiber.
High Tenacity Polyester.
Nylon 6,6.
Aramid fiber.
Cotton
Nomex, etc.
Global Market Scenario of Defense Textile:
Defense textile is a part of technical textiles. The protection and military application of smart textiles are expected to remain the largest market segment. In developed countries, more than 40% of total textile manufacturing activity involves technical textiles as well as defense textiles.
As a recent study, Defense Forces worldwide are spending more than 1600 billion USD every year for their procurement programmes of textiles products.  This is a very huge amount which makes Defense Forces worldwide prime buyers of textile product.
In 2016, US Department of Defense were granted USD 75 million by the, for the development of smart textiles.
China has already devoted 20% of its textile production in this field.
Indian Army is the 2nd largest in the world, which requires 18.6 million modular bullet-proof jackets and is open for tenders for 10 years.
Govt. Defense Textile Industries in Bangladesh:
In Bangladesh, there are two Defence industrial companies.
1. BOF: Bangladesh Ordinance Factory
Bangladesh Ordinance Factory is a sister concern of Bangladesh Army. BOF produces mainly weapons along with some military textile products like Bullet Proof Jacket, Pursuit called BD-71, etc.
2. BMTF: Bangladesh Machine Tools Factory
Bangladesh Machine Tools Factory is one of the biggest military shoe manufacturing Footwear & Leather Factory plant in Bangladesh. These armed forces factory started its commercial operation in 2007. BMTF produces various types of armed forces uniform with camouflage, military bag-pack, Bullet Proof Jacket, military boot & formal shoe, military textile equipment's.
Defense Textile Companies in Bangladesh:
Le Mond Apparels & Textiles Ltd
Three Marketers Ltd
Le Mond Apparels & Textiles Ltd
Style Maker IMPEX (PVT.)
M/S Rasel Enterprise
Kent Fashion (PVT.) Ltd
Nafiza Enterprise
BRANDTEX Corporation Bangladesh
Amptex BD
Unifil Group
Three Marketers Ltd
Future Opportunity of Defense Textile in Bangladesh:
Bangladesh has about 0.3 million armed forces that served sovereignty along with UN Peace Keeping Mission also. As a result, it has a great opportunity to grow defense textile industries in Bangladesh.
Bangladesh's total exports of textile industries 40.53 Billion USD and Bangladesh defense textile sector exported $21.08 million in the fiscal year 2018-19.
Bangladeshi textile defense companies' exports uniforms, army jackets, rucksack, webbing, ammunition pouch, water containers, bayonet holders, pistol holsters and heavy tents etc.
Bangladesh especially makes uniforms for the British army along with Royal Air Force UK. These Bangladeshi companies also supply uniforms and other stuffs to some other European countries like France, The Netherlands, Belgium, Denmark, etc.
The BGMEA (Bangladesh Garment Manufacturers and Exporters Association) fixed a target to earn about 50 billion USD by 2021. And Bangladesh's defense textile sector targeting to export $25 million in FY 2019-20.
Conclusion:
There has been a substantial development and growth in the defense textile sector, which happened after World war II. The defense personnel is exposed to environmental, physical and unexpected threats on the battlefield. Therefore, the defense textiles used must strictly comply with their requirements. Bangladeshi defense textile producer companies complete the requirements of the buyer.
Any brand with 'Made in Bangladesh's, the tag is considered a high-value brand all over the world. That's why; Bangladesh is trying hard to grow its defense textile segment to earn from abroad.
References:
Handbook of Technical Textiles Edited by A R Horrocks and S C Anand
Advances in Military Textiles and Personal Equipment Edited by E. Sparks
Textile Today; https://www.textiletoday.com.bd/bangladesh-going-ahead-exporting-defense-textile/
Daily Star; https://www.thedailystar.net/news-detail-236339
Author of this Article:
Md. Mahedi Hasan
B.Sc. in Textile Engineering
Textile Engineering College, Noakhali.
Email: mh18.bd@gmail.com