Reuse of products at the end of use is crucial to becoming circular and can be done by extending the life of a product or recycling it. Extending the life of a product includes repair, reuse, resale, and re-manufacturing and is preferable to recycling from an environmental perspective. In worldwide textile needs to be sustainable recycling for the environment. So there are lots of challenges in sustainable textile recycling.
How to find out about the current state of sustainable textile recycling?
Recycling including dismantling of the main or original part smashing and then regenerate into new wire. Which required a high level of integration through the value chain also it is based on technology developments. Textile recycling is increasingly necessary to address problems related to textile waste and declining natural resources.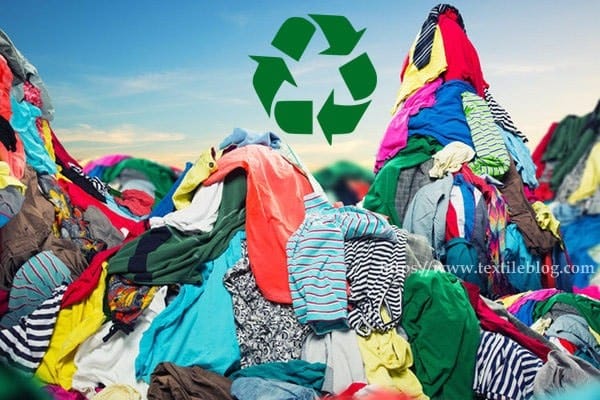 However, it is still in its infancy, so establishing a support system is vital to making recycling financially, technically and logistically feasible.
Recycling of textile material
In textile manufacturing oriented countries, there needs to be an even clearer regulation that requires textile companies to establish data on the collection of their waste. The countries have the ability work for sustainable textile recycling of textile materials. This could prevent these items from ending up in unauthorized warehouses. In addition, the traceability of the fabric is lost, since any information about it is eliminated and there is no option for its possible reuse.
With more adequate regulation and institutional support, it is possible to encourage the recycling of this waste.
All participants in this industry, from producers to waste managers to administration, must be involved in this textile waste reduction process. They must join efforts to achieve a recycling system that develops a circular cycle based on effective regulations according to sustainable parameters and responsible management.
Through other actions, recycling can also be promoted, for example by promoting traditional trades such as shoemaker or dressmaker, to encourage repairs in footwear and clothing and to extend its useful life. Support measures such as the opening of stores dedicated to selling clothes, in this case, second-hand, can also help recycling.
Another initiative that can be carried out and that would contribute to the recycling of textile material is to increase the number of cleaning points and specific containers. These will complement the collection carried out by non-profit entities, parishes and non-governmental organizations.
Likewise, monitoring reports on the collected, reused and recycled material should be created, with the data provided by these institutions together with the information obtained from the municipal points. With this documentation, reliable and objective data can be obtained from the work being carried out to reduce the environmental impact that textile waste causes and which will increase if there is no control over them.
To include research projects, eco-design in recycling there must be promoted to create innovative techniques to manufacture recyclable fabrics that can be sustainable. They should seek alternatives to chemicals that contain some of the tissue and should be phased out for a planet friendly production.
The final objective of the recycling of fabrics should be to obtain a circularity in the process, reduce waste and obtain recycled textile products in order to close the cycle and that this industry can be sustained while minimizing costs for the environment.
Types of textile waste
Textile waste can be of three types, classified in this way according to their role in the production cycle:
A post-industrial waste is that material resulting from the manipulation of the tissues, after the cut, etc.
A pre-consumer waste (pre-consumer) is defined as the garment that does not reach the market, for example, be defective or to be a discarding of the manufacturer. The final consumer does not get to use it and this waste is diverted from the production process. In most cases, it is incinerated.
A post-consumer waste (post-consumer) is generated after being used, having exhausted its useful life.
There is also a classification of the products manufactured from these wastes that is prepared according to the material used, if it has been a residue before or after consumption:
A post-consumer product is one that is made from waste that comes from recycling once discarded by a consumer.
A pre-consumer product has been produced with the waste generated during the manufacturing process, that is, the so-called post-industrial and pre-consumer ones. It is based on the recovery of materials and the reduction of garbage.
It is necessary, in order to correctly monitor the traceability of the fabric, that the products are properly labeled so that the consumer is aware of the type of textile that they are going to acquire and thus collaborates with a responsible purchasing decision.
Recycling practices
The successful recovery of materials requires chemical or mechanical recycling, with the application of different recycling processes according to the different materials. Today, many garments are made from a combination of synthetic and natural materials, which requires different recycling methods and this constitutes a real technical challenge.
Chemical recycling involves materials that go through a certain chemical process to produce new filaments that will be transformed into new threads and fabrics ready for the production. For fulfill the challenges of sustainable textile recycling manufactures need to practices with the materials.
Recycling steps
Collection of used clothes.
Classification based on material, color, structure.
Disassembly, crushing, dissolution.
Reprocessing, quality restoration, regeneration.
Integration into the future supply chain.
Challenges facing the sustainable textile recycling
Every work there have must facing big challenges. Like that sustainable textile recycling is a big challenge for all over world. Because the "Fast Fashion" business model, after more and more inferior clothes are produced, leads to a decreasing useful life of the clothes. For making 100% green material sustainable textile recycling is important because that will not harm our environment. More and more clothing is being produced and is quickly ending up in the collections. But the industry, which primarily reuses wearable clothing as second-hand goods and no longer carries wearable parts to down cycling, can hardly absorb the enormous quantities. The association warns of existential consequences for the entire used textile industry in Germany.
The Malteser Hilfsdienst eV, one of several organizations dealing with the topic in Cologne, confirms the problems. The sustainable textile recycling have so far a best functioning system for us, but with the changing consumer behaves and decreasing quality of clothing, it is increasingly in danger. Reports press spokeswoman Daniela Egger. With the in-house used clothing collections, the amount of clothing as a whole, and in particular of inferior quality, is increasing. An increasing amount of clothing has to be fed into down cycling.
The Diakonie Michaelshoven, which operates the "Herzkammer" in Rodenkirchen, for example, cannot identify the trend: "We receive a lot of donations, but we mostly get good, high-quality clothing here," says Michaela Krawinkel, who only refers to the collection point in Rodenkirchen.
The administration, which they works according to the guidelines of the Cologne Waste Management Concept (AWK) and the Closed Substance Cycle Management Act, is reluctant to comment on the declining quality of the old clothes delivered, but confirms the trend mentioned. In 2018, the amount of used clothing collected from urban containers was around 3,700 tons. We know that challenges are big for sustainable textile recycling but have to find eco-friendly resources that drives sustainable textiles.
The value is day by day increasing past years and till now. In contrast to previous years, the collections in the shops change significantly faster, which affects the quantity but also the quality of the material. In principle, all textiles would be transported by the AWB to a certified sorting system, where they would be sorted by hand into different fractions.
From there, clothing that is no longer wearable goes to material recycling, where it is processed into insulation wool for the automotive industry or industrial cleaning rags, for example, the spokeswoman continued. The city promotes the supply of used clothing, so there are over 500 municipal used clothing containers across the entire city area. For over the world sustainable textile recycling it is a big challenge. But it is possible with co-ordinate.
References:
Sustainable Technologies for Fashion and Textiles Edited by Rajkishore Nayak
https://www.fibre2fashion.com/industry-article/7254/textile-recycling–a-step-towards-sustainability
https://www.purewastetextiles.com/
https://www.emerald.com/insight/content/doi/10.1108/JFMM-08-2017-0079/full/html
https://thedailytexan.com/2019/04/10/textiles-and-apparel-recycling-campaign-seeks-to-improve-textile-sustainability-on-campus
https://en.wikipedia.org/wiki/Textile_recycling
http://www.homesciencejournal.com/archives/2018/vol4issue1/PartC/4-1-32-981.pdf
Author of this Article:
Md. Raisul Islam Rifat
Dept. of Textile Engineering
Daffodil International University, Dhaka
Email: ririfat750@gmail.com