Apparel Supply Chain:
Fashion retailers offer a great variety of fashion products to consumers. They change very frequently the product styles and colors in order to meet the dynamic consumer preferences. However, it is a big business challenges to offer a large product variety creates as costs are higher & the respective operations are more difficult. In addition, time becomes an important key factor. All above factors related to apparel supply chain. Supply chain management working as a key success factor for the apparel industry. Supply chain efficiency increases by minimizing inventory, while responsiveness is about increased customer service.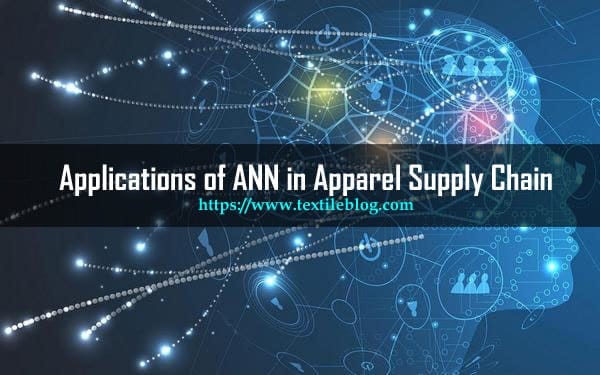 The main aim of apparel supply chain is to provide the right fashion products to satisfy the market needs, with the lowest possible cost, the fastest speed & the maximized profit, simultaneously. Apparel product as the final outcome of the apparel supply chain system & the customers' preference & demographical information are the inputs into the system.
The major steps involved in the apparel supply chain systems include:
Product design and development,
Demand forecasting,
Ordering and replenishment,
Price negotiation,
Quality control, and
Information sharing,
Decision making process, information gathering, and alternatives evaluations are all very tedious and complicated. It is not easy to work out in a short period of time. In the fashion industry, consumer demands are very changeable and the fashion designers may fail to deliver fashion items which meet the customers' preference in terms of style, color, & size. Facing these limitations, apparel supply chain members attempt to use advanced information technologies, such as artificial neural networks (ANNs), for improving the decision quality, and achieving an accurate response to the market.
Artificial neural networks are an emerging artificial intelligence (AI) technology, which is put forward based on the modern biology research achievements of human brain tissue. The function of ANN in simpler words is to give an output pattern when presented with an input pattern. In this article I will discuss what specific decision process is being made in the apparel supply chain and the possible application of artificial neural networks (ANN) to improve the respective decision making in the apparel supply chain.
Applications of Artificial Neural Network in Apparel Supply Chain:
Applications of ANN in apparel supply chain systems are discussed below:
1. Data mining of customer's buying preference
In fashion retailing, fashion retailers have to collect a large amount of sales related transactions data and the customer shopping history. These data sets can help the fashion retailer to identify the customer behaviors and discover customer shopping patterns and trends to improve the quality of customer service. It helps to achieve better customer retention and satisfaction. The problem faced by many fashion retailers is that much information on specific customers is missing and the amount of such relevant data and information is huge. It is difficult for fashion retailers to understand the purchase behaviors of individual customers in good detail & to track changes in purchases as affected by the environmental variables, such as economy changes and fashion trend changes. Thus, data mining is one of the approaches that can help identify the buying preference of potential customers and allow the fashion marketing team to target them for better customer service and retention.
Data mining mainly contains data analysis and discovery algorithms to produce significantly important patterns and/or rules over a large amount of data. Artificial neural networks (ANN) is one of the popularly applied data-mining tools that can be used to find the hidden patterns from the given data.
2. Sales forecasting
The fashion industry is a very fascinating sector for the sales forecasting. Like other retailing businesses, it is well known that sales forecasting is a very difficult task in fashion retailing because fashion product demand is basically "crazy" & rather unpredictable. It also fluctuates with the ever changing preference of consumers and the fashion product's life cycle is very short. In addition, the sales of fashion products are strongly affected by seasonal factors, fashion trend factors, and many other variables, such as weather, pricing, marketing strategy, item features, and macroeconomic trends. So, fashion retailers may need to keep a large amount of stock to meet their customers' demands. So, sales forecasting is very complex process in apparel supply chain. ANN model is used for conducting fashion retail sales forecasting. In the computational result, it is found that the ANN performs best compared with various other statistical forecasting models. It is thus proven that the ANN is an effective tool in fashion sales forecasting, especially when there are a large number of sales data for the ANN's learning.
3. Prediction of stock level
We know that, fashion products have a short life cycle. It is difficult to spot the fashion trend quickly and to decide the right inventory level. In addition, making a timely decision is critical yet not easy. It is known that poor inventory decisions lead to serious over stocking or under stocking problems. ANN helps to predict of stock level.
4. Optimization of marker planning in apparel production
In the apparel supply chain management, apparel production is very important for transforming the fashion design concept into the physical fashion product. Apparel production here includes fabric cutting, sewing, and finishing processes. Before the cutting process, the entire fashion design would be perverted into various pieces of garment parts with block patterns which will be placed on the marker. After receiving the needed production information, such as sizes, colors, styles and order quantities, marker maker will need to calculate the required quantities of "fabric lays" to prepare the optimized marker (the best arrangement of block patterns onto "fabric lays" so as to minimize the fabric wastage) for cutting. In the calculation of the required quantities of fabric lays, some factors, such as the fabric type, size distribution and characteristic, the cutting system's knife length, the number of fabric layers, and the spreading table's length would be considered, & they all affect the productivity of apparel production. Such data patterns are usually nonlinear & complex in nature & thus the ANN is one of the important tools to ensure optimization of marker planning.
Conclusion:
Without above four sectors in apparel supply chain ANN is also used in many areas with effectively.  However, there are still some important problems in using the ANN models for decision making in apparel supply chain systems. Training time required for personnels. Besides ANNs requires the members to equip themselves with state of the art high power computing devices. Either ANN can give negative result.
References:
Information Systems for the Fashion and Apparel Industry by Tsan-Ming Jason Choi
Engineering Cotton Yarns with Artificial Neural Networking (ANN) by Sweety A. Agrawal and Tasnim N. Shaikh
International Conference on Automation, Mechanical Control and Computational Engineering (AMCCE 2015);
Forecasting Model of Supply Chain Management Based on Neural Network by HongJing Liu