Today, building and construction are an integral part of the development of civilization. Both of them are involved with proper planning, design, building, operation and maintenance of infrastructure. Venturing off the technical textiles in building and construction sector has provided a great impetus to the quality of infrastructure. Now time to discuss about the application of textiles in building and construction.
History of Textiles in Building and Construction:
From the dawn of history, humankind has made shelters from textile materials. Early civilization nomads used tent structures made of textiles, furs, and fabrics. As more permanent human settlements emerged, more durable building materials including textile elements and mythologies were introduced.
Fiber-reinforced composites were introduced before 1500 BCE. Early Egyptians and Mesopotamians civilization were used straw‐reinforced mud to create strong and durable buildings and constructions. The application of fibrous materials as insulation dates back to ancient civilizations. Over 1000 years, the application of textile materials in building and construction turned human 'shelters' from caves to today's 'smart' homes.
Application of Textiles in Building and Construction:
Today's era, people are more focused in building and construction design have more sunlight, greener, high performance, cost saving and eco sustainable structure. To fulfil these requirements textiles, play a vital role. Textile used in Build-tech, Geotextile, Architectural, Construction textiles, Eco textile, Green roofs, Agro textile, new development of 3D printer and so many applications for building and constructions.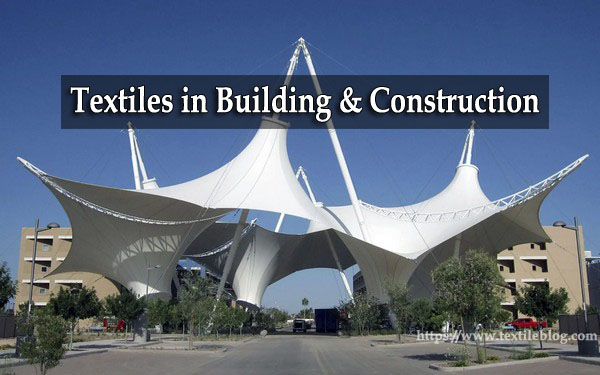 Textile used in building and construction application may be divided in two construction Categories:
Buildtech
Geotextile
a. Buildtech:
Textile used in buildings and Construction are known as Buildtech or Buildtex. Textile material are used in indoor and outdoor for surface as well as hidden applications. Traditionally textiles were used in houses carpets and curtains. But now textiles are used in acoustic & thermal insulation, protection of building against sun, wind, fire, water.
Application of buildtech:
Textile fibers are used with concrete to enrich its properties, protection against UV and electromagnetic radiations, lowering the cost, eco-friendly and so on. Textile integrated LED and others electroluminescent material applications are increased due to green energy concept.
Today, Textile reinforced concrete or, TRC composite material with performances similar to steel reinforced concrete. TRC gives lightweight structures with high durability and quality surfaces in a cost-effective way.
TRC and other textile composite materials are used in the construction of buildings, dams, bridges, and roads and collectively comprise the "Buildtex" sector. They provide mechanical properties such as lightness, strength, and resilience. They are also resistant to many factors such as creep, degradation by chemicals and pollutants as well as the effects of rain, sunlight, acid, and base, etc. In this way, buildtex plays a vital role in the modernization of infrastructure.
b. Geotextile:
The word Geotextile is the combination of two words. 'Geo' derived from the Greek word meaning 'Earth', and textile. Geotextiles are widely used in roads, rail ballast, non-permanent roads, bridge, culvert, embankment, reinforced wall, steep slide slops, drain construction, and so on sector. It's main purposes to reinforce, separator, filtration, and resist erosion control of roads, pavements, reinforced, dams, filtration, drainage, railroads, and others infrastructure.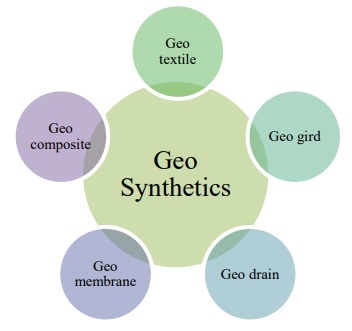 Application of geotextile:
| | |
| --- | --- |
| Application | Function |
|          i. Roads | Reinforcement, Separation, Filtration |
|        ii. Railways | Reinforcement, Separation, Filtration |
|       iii. Foundations | Reinforcement, Separation, Filtration |
|      iv. Drainage system | Separation & Filtration |
|        v. Erosion Control | Reinforcement, Separation, Filtration |
|      vi. Dams | Reinforcement, Separation, Filtration, Protection |
|     vii. Canals | Reinforcement, Separation, Filtration, Protection |
|   viii. Tunnels & underground work | Protection |
|      ix. Solid waste | Reinforcement, Separation, Filtration, Protection |
|        x. Liquid waste | Reinforcement, Protection, Filtration |
New Era of Textiles in Building and Construction
1. Green Roofs or Living Roofs:
Green Roofs is widely used in buildings and constructions. It is also known as 'Living roofs' due to its attractiveness of better environment. It has excellent features of vegetation, waterproofing membranes, water retention, drainage, and irrigation systems. Living roofs increase the green area ratio in building and construction sites. It allows the green design of commercial sites and recreational roof gardens and terrace areas.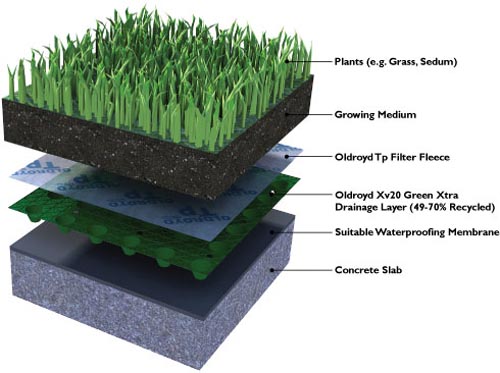 Application of green roofs:
| | |
| --- | --- |
| Application Area | Advantages |
| 1. Reduced Maintenance: | Green roofs and geotextile materials helps to protection against UV radiations, snow and storm situations |
| 2. Water Retention: | Maintained a continuous supply of water to the root zone in the absence of irrigation. Rainwater is retained and supply through geotextile capillary media. |
| 3. Superior Environment: | With green roofs Planted area increased. These plants absorb pollutants and reduce the greenhouse gas effect. |
| 4. Reduced Energy Costs: | Green roofs provide insulation properties. It reduces the radiation which maintains the building is cooler in the summer and warmer in winter. |
| 5. Better Sound Protection: | Green roofs help to reduce noise transfer. |
| 6. Drainage: | Drainage properties of a building could be increased via green roofs. |
2. Nano-tex:
In buildtech and geotextiles, nanotechnology plays an important role in a different way. It improves existing textile properties and offered additional functional performance by increasing chemical, photochemical, biological, and mechanical properties.
Nanotechnology make possible to the arrangement of different functions in the same textile properties. Nanofibers and nanotubes are used to made lighter, stronger, acoustic insulation, thermal insulation, controlled light transmission, efficient energy management, cost effective concrete materials in buildtech. That's are more sustainable, run longer and more capable to resist strong shocks generated by earthquakes.
Application of nanotextile in building:
Self-healing concrete,
Reinforcement of critical walls,
Localized crack repair,
Wrapping of existing columns,
Explosive incidents and protection purposes
Protection against earthquake or hurricanes, etc.
3. Architectural Textile:
Architectural textiles indicate to fabrics or fabric-reinforced membranes used in buildings and constructions of relatively static enclosed environments. It may be used either as load-bearing structural members or as membranes separating the enclosed environment from the outdoors. In the earliest civilization architecture textile used fabrics to make portable, temporary structures were often made by nomads.
Textiles were not widely used as 'engineered' architectural applications until the mid‐20th century. But today, manufactured fibres and fabric treatments were developed to improve the physical, mechanical, and chemical properties of fabrics.
Application of architectural textile:
Fabrics are used in building and construction causes it much lighter than conventional building materials. It's allowed to maintain significantly larger span lengths. Fibrous materials can be transported easily. On account of mass packing volume. Architectural textile is ideal for tactical structures. Low mass of fibrous materials poses little risk. That's why it uses in the maximum skyscraper.
Architectural material such as fabric could be designed with the desired level of translucency with UV‐blocking agents specific to a regions' climate. In this system allows natural light to enter the structure which reduces the need for artificial lighting, as well as lowering energy costs. "Mermet", solar protection fabrics are perfect application to maintain thermal insulation in house.
Seismic forces are proportional to a structure's mass. Consequently, heavy steel and concrete structures experience large forces in the earthquake. On the contrary, architectural textile materials have high strength‐to‐weight ratios. Therefore, properly designed fabric-based structures perform well during seismic activity. Most of the Japanese house is the perfect example of architectural textile.
3D printing technology are providing to made things in a new way. Main advantages of the 3D technology are built houses with cost Saving, environmentally friendly, time saving and very fast way. Different textile material including TRC, used to made durable construction at low cost.
Textile is no more used only for interior applications. Today architectural textiles used in civil engineering for temporary and permanent structures. Day by day new textile materials & methods are invented to make most durable textile applications in buildings and contractions.
Advantages of Textile in Building and Construction:
Viable tools for many civil and environmental engineering applications
Increased system performance & life
Value engineering
Reduce carbon footprint
Flexibility in design & selection methodologies
Specification based upon functional design intent
Make profitable in products for durability, cost, strength to weight ratio and environmental aspect as well.
Conclusion & Future Scope:
Textile industry changes rapidly. The future of textile in building and construction in buildtex and geotex is very bright. Besides, textile reinforced concrete will bring greater choice and flexibility in the design and manufacture of supporting components of structures. The global market for buildtex and geotextiles projected to reach 8,632.83 million USD in 2019. It indicates the future of application of textiles in building and construction. But the methodology's of today, are not sufficient to meet the problems of tomorrows. So new talents are needed to fill the ranks of textile technologists in technical textile areas to explore new era.
References:
High Performance Technical Textiles by Roshan Paul
Textile in House Building and Civil Engineering by Ali Hassnain Farrukh
Building and Construction Textiles by Jordan Tabor and Tushar Ghosh
http://bch.in/construction-textiles.html
Textile in Architecture GRADUATION REPORT – VIRPI HEYBROEK
https://www.fibre2fashion.com/industry-article/72m60/textile-for-architecture
Author of this Article:
Md. Mahedi Hasan
B.Sc. in Textile Engineering
Textile Engineering College, Noakhali.
Email: mh18.bd@gmail.com