Robotics is no longer a restricted field, it is a universal subject!  As a result, the application of robotics in the industrial world as well as the textile industry has resulted in significant benefits. Application of robotics in textile industry is directed at minimizing human efforts in labor-intensive processes.
The tremendous advancements achieved in the field of modern technology in the past few decades. It have made possible to completely eliminate human intervention from many areas in the textile manufacturing industry. As a result, much-qualified textile production has been possible. Technological developments in recent years, in the fields of Robotics and AI have allowed the textile industry to progressively adopt automation in the textile manufacturing processes.
History of Robotics in Textile Industry:
Application of robotics and automation in the textile industry had begun over two centuries ago when John Kay's invented the flying shuttle. The flying shuttle machine was not only enabled an increase in production but also brought down the number of people required to operate the weaving loom, from two to one.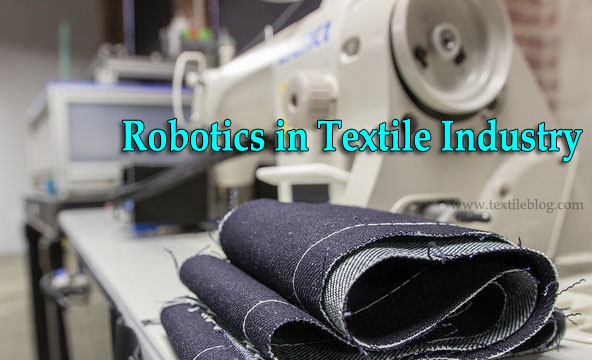 The geographical distribution in the textile industry has seen a dramatic shift in the past 50 years. Textile manufacturers have moved a proportion of their textile production facilities from manual to automation. In the recent years, the application of robotics has increased, coupled with the rapidly rising wages in Asia, has seen some manufacturer's made interested in the robotics production-based business model. It's clear that textile manufacturers are shifting priorities to automation to increase productivity and boost efficiency.
To achieve this, textile industry need to adopt robotics automation, manipulation systems needs to some artificial intelligence (AI). Automation and robotics are two closely similar technologies. Basically, robotics is a form of industrial automation.
This article will describe a wide range of automation in textile process by using robots which is ultimately increasing the both basic requirement of textile industry both: productivity and efficiency.
Application of Robotics in Textile:
1. Robotics in handling of bales in blow room: Samples of the bales are sent to a grading laboratory for observation. After it has been received, verify the quality of the shipment immediately. Then passing, each bale is moved by the conveyor to a loading station. Where it'll be picked by a robot and brought to storage. All the bales in blow room will be stored randomly in racks and position of bale with relevance bale number, weight and fibre characteristics. When bale is being selected for processing it'll be removed from the warehouse by a robot on a "first in, first out" basis.
2. Robotics in carding: Robot could be programmed to pickup cams from each card place them on to a truck and transport them to a production area for drawing frame for conventional operation. This can provide excellent cross blending and it'll be an easy matter for an operator to clear the cans from the touch into a drawing frame.
3. Robotics in the splicing in auto-coners and other winders: Each time there'll be an end break or bobbin change. This join the yarn ends with a splice that's virtually similar to the yarn. The strength and elongation values of the spliced joint are nearly always comparable, which is quite 90%, with those of the yarn itself. Latest automatic splicer arm is act sort of a robot. It offers even better opening of the yarn ends and a more favourable overlap in splicing zone.
4. Robotics in cleaning of textile industry: Recently, application of robotics in cleaning of textile industry has been started with a mobile robot. A robot named MRP Nomad 200 can clean and polish of floor surfaces in textile industry.
5. Robotics in fabric handling: Fabric handling tasks require various tools and sensors in textile industry. To accommodate these tasks, ATI Industrial Automation Gamma 30/1 00 FIT sensor is mounted at the robot arm. A tool changer is also mounted on the FT sensor. The custom-built tool rack provides space for a standard pneumatic gripper and other special end effectors for fabric manipulation in the textile industry.
6. Robotics simulator in fabric handling: The robot simulator allows to running the robot control programs in simulation mode, without accessing hardware. This is very effective for debugging robot programs without the risk of damaging the robot during fabric handling. The operator can easily navigate by using the mouse, selecting and defining custom viewpoints.
7. Robotics in textile machines welding: In textile industry, always some machine got damage and breakage of machine parts. Manual repairing of these parts is very difficult. That's why; robots welding are used in textile machines.
Robotics in Garment Manufacturing:
In garment manufacturing industry, the uses of robot is for automation in production line, gives a good quality as well as maximum productivity. Some application of robotics in garment manufacturing is:
3D sewing (the joining head).
The grasping and handling of near 2D parts.
Use of robot for reconfigurable mannequin.
Use of robotic in ironing or finishing garment.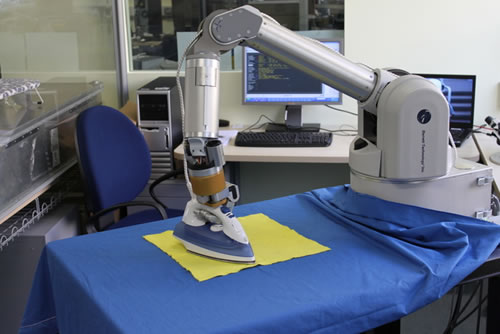 Robotics in Airbag Manufacturing:
In automotive industry, realistic manipulation processes involve interaction of fabric parts with other objects such as: work surfaces, robot manipulators, and other fabrics. That's why; the ability to model contact had been implemented.
Robotics in Laser Cutting:
Laser cutting is really helpful to fabric cutting. Among the various types cutting technologies computer-controlled lasers cutting system are suitable for multi-ply cutting of heavy textile materials. It has been most widely adopted to increase the mass production in textile industry.
Robotics in Folding and Packing:
The products folding and packing can carry out by the robots. They can take the garment, fold it and then pack it properly. It can be automatic or semi automatic system.
Robotics in nonwovens:
The production of nonwoven and 3D structures for protective apparels by using robotics is under development by the researchers. Particularly, the combination of robotics and a small-scale melt blowing unit is additionally possible.
Advantages of Robotics in Textile Industry:
Can work in very critical situation i.e. in hazardous environment.
Much more accurate than human.
Work consistently, tirelessly.
Speed of operation is fast.
Increase in productivity.
Increased inventory turnover.
Improvement in quality.
Reduction of variability among products and product batches.
Performing jobs beyond human capability.
Robot will not ignore the work
Replacement of repetitive and monotonous work
No needs environmental comfort such as lighting, air conditioning etc.
Reduction of direct human labor costs, etc.
Disadvantages of Robotics in Textile:
High initial cost of installation.
Robots are more costly.
High cost of maintenance
High cost of research and development.
Experts required maintaining them.
Threat to employment
Security threats and so on.
Conclusion:
Today, robotics and automation are widely being used in textile industry. Substantial robotics developments are already being made in textile sector. But, mass production is not operated in textile manufacturing industries. Studies on robotics and automation for textile manufacturing applications tend to be less. As a result, applications of robots in textile industry have not varied much from conventional handling, assembly, welding, cutting, and so on the process. Therefore our textile industrialist has to invest and take some necessary step to more and more research in the application of robotics in the textile industry.
References:
Application of Robotics in Textiles By: Prof. Tanveer Malik & Prof. Shivendra Parmar, Faculty, Dept. of Textile Technology, Shri Vaishnav Institute of Science and Technology
https://www.fibre2fashion.com/industry-article/1635/robotics-in-textile-industry-a-global-scenario
https://www.roboticstomorrow.com/story/2019/11/sewbots-transforming-the-textile-industry/14380/
https://www.textileworld.com/textile-world/features/2020/02/how-will-robots-transform-the-u-s-textiles-industry/
https://indiantextilejournal.com/articles/FAdetails.asp?id=1933
Author of this Article:
Md. Mahedi Hasan.
B.Sc. in Textile Engineering
Textile Engineering College, Noakhali.
Email: mh18.bd@gmail.com