What is Fabric Whitening Treatment?
Whitening is a chemical treatment, which is applied on fibers, yarns or fabrics to make white at a desired level by bleaching and OBA treatment. Whitening is done by removing irregular natural color of fibers, yarns or fabrics.
Factors Influencing for Fabric Whitening Process:
The factors influencing whitening process are as follows :
pH of the bath
Temperature of the bath, and
Time required for the process.
Process Requirements for Fabric Whitening:
Equipment Used:
Three types of Thies machines are used for whitening process. These are:
Mini-soft
Eco-soft
Luft-roto
Accessories Used in Whittening:
Key accessories used in whitening process are:
Mixing tank
Machine Tank
Bohme meter
pH meter
Eye protecting glass
Hand gloves
Hand lifter for carrying the batch, and
Gum boot.
Materials / Chemicals Used:
Following materials/chemicals are used in the whitening process:
Water
Steam
Compressed Air
Wetting agent
Detergent
Sequestering agent
Acid
Anti-creasing agent
Optical Brightener for Cotton & Polyester
Caustic Soda,
Hydrogen per Oxide, and
Stabilizer, etc.
Operation Procedure:
Whitening process for 100% cotton:
Steps of whitening process for 100% cotton:
The sequence for whitening process for 100% cotton fabric is as follows:
Take water in bath at required level
Add Detergent, Sequestering Agent, Anti-creasing Agent, Stabilizer
Circulate the fabric for 5 minutes at 50ºC
Add Caustic Soda and circulate for 5 minutes at 50ºC
Add Hydrogen per Oxide and circulate for 5 minutes at 50ºC
Add Optical Brightener agent and raise the temperature at 100ºC
Continue circulating the fabric for 50 minutes at constant temperature (100ºC)
Circulate the fabric and decrease the temperature at 60ºC
Check the shade with approved shade
Rinse and Drain
Add Acetic acid and circulate for 10 minutes at 50ºC
Drain
Unload
Graphical representation of whitening process of 100% cotton:
The whitening process for 100% Cotton can be graphically presented as below: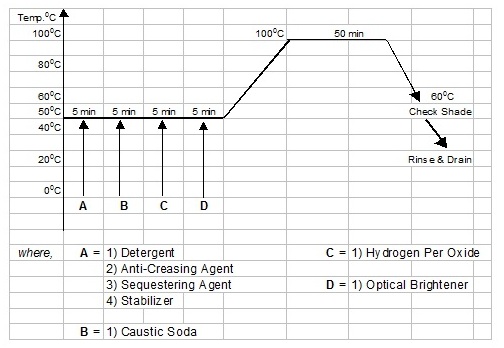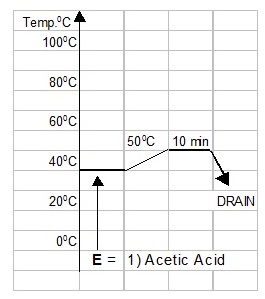 Whitening process for polyester cotton (PC) blended fabric:
Steps of whitening process for polyester cotton blended fabric:
The sequence of whitening process for polyester-cotton blended fabric is as follows:
Take water in bath at required level
Add Detergent, Sequestering Agent, Anti-creasing Agent, Stabilizer
Circulate the fabric for 5 minutes at 50ºC
Add Caustic Soda and circulate for 5 minutes at 50ºC
Add Hydrogen per Oxide and circulate for 5 minutes at 50ºC
Add Optical Brightening Agents and raise the temperature at 110ºC
Continue circulating the fabric for 30 minutes at constant temperature (110ºC)
Circulate the fabric and decrease the temperature at 60ºC
Check the shade with approved shade
Rinse and Drain
Circulate the fabric for 10 minutes at 80ºC
Drain
Add Acetic acid and circulate for 10 minutes at 50ºC
Drain
Unload
Graphical representation of whitening process for polyester cotton blended fabric:
The whitening process for polyester-cotton blended fabric can be graphically presented as below: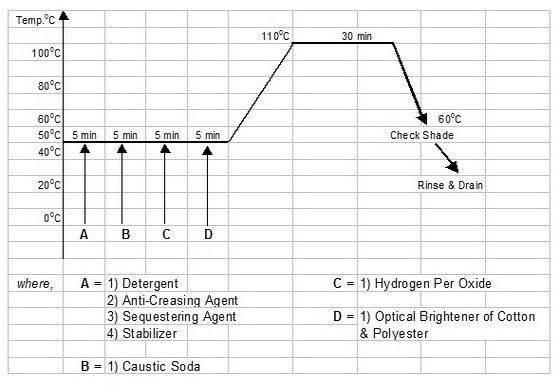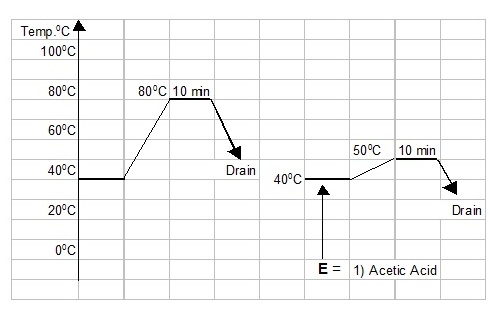 You may also like: Different Types of Chemicals Used in Garment Washing Plant