Zippers:
A zipper is a popular device for temporarily joining two edges of fabric or other flexible material, as on a garment or a bag. It is formerly known as a clasp locker. It is used in clothing (e.g., jackets and jeans), luggage, and other bags, sporting goods, camping gear (e.g., tents and sleeping bags), and other daily use items.
Classification of Zipper:
The zipper is probably the most used of all fastenings. There are many types available, in a variety of lengths, colors, and materials. Basically zipper can be classified in two types; based on construction and based on material. And then each types can be classified into various categories, which are summarized in this article.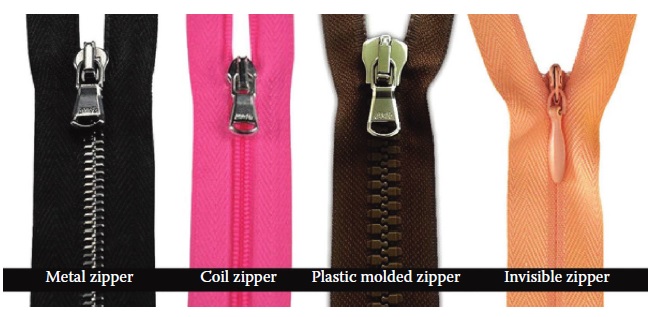 Types of Zippers Based on Construction:
The different kinds of zippers based on the construction are shown in Figure-1.
1. Coil zippers: This is the most frequently used type of zipper. It runs on two zipper coils on two sides of the fabric tape. The two kinds of coils zippers are spiral coil zipper, with a cable reinforced inside the coil, and a ladder zipper known as 'Ruhrmann type'. Coil zippers are made of polyester coil and are thus also termed polyester zippers. Nylon was formerly used, and though only polyester is used now, the type is still also termed a nylon zipper.
2. Invisible zippers: It has teeth at the rear side of the tape and the color of the teeth normally matches with the garment color. The slider gives an invisible appearance. These zippers are normally coil zippers and are mainly utilized in skirts and dresses. They are also seeing increased use by the military and emergency services because the appearance of a button-down shirt can be maintained, while providing a quick and easy fastening system.
3. Metallic zippers: These zippers are generally made of stainless steel, zinc, brass, nickel or aluminium alloy and are mostly found in jeans. The metal pieces are shaped into the form of teeth and are positioned in a zipper tape at uniform intervals. The metal zippers could be colored in a variety of colors to match the color of the garment. All these zippers are basically made from flat wire. A special type of metal zipper is made from preformed wire, usually of brass but sometimes other metals.
4. Plastic moulded zippers: It is like metal zippers excluding the fact that it is made of plastic material. These types of zippers can be manufactured in a range of colors to match the garment color. Plastic zippers mostly use polyacetal resin, though other thermoplastic polymers are used as well, such as polyethylene.
5. Open-ended zippers: These zippers are generally found in jackets and have a 'box and pin' type mechanism to interconnect the two sides of the zipper. It could be coil, metallic, invisible or plastic zippers. In open-end zippers, both ends are separated from each other as shown in Figure-2.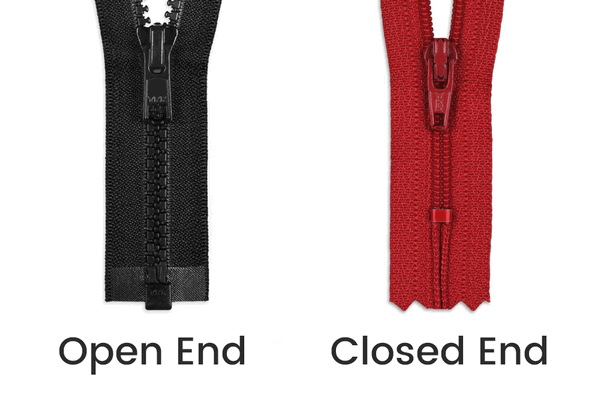 6. Closed-ended zippers: This kind of zipper is used regularly in baggage and is closed at both ends. The close-ended zippers are nonseparating and are usually opened and closed by means of a slider as shown in Figure-2. These zippers are used on trousers, jeans, jacket or shirt pockets, etc.
Types of Zippers Based on Material:
The kinds of zippers based on material are given below.
1. Polyester Zippers: Polyester zippers are classified as
CFC – coil filler cord type
CH – coil without cord type
LFC – ladder type coil, used on trousers
Invisible – concealed coil, used for ladies garments
2. Moulded Zippers: The teeth of these zippers are produced by injection moulding using high-grade engineering plastic materials.
3. Metal Zippers: The teeth of the zippers are stamped out of metal strips such as brass, bronze, aluminium or nickel alloys. .
3. Innovative Zippers: Due to the specific performances of textile and clothing, requirement of specialty zippers are also necessary to meet the functional performance of the garments. As a result, innovations were made to produce novel types of zippers such as flame-resistant zippers, airtight and watertight zippers, chemical-resistant zippers, zippers having electrical conducive yarn, zipper tape printed with ink-jet, environmentally conscious zippers, etc.
4. Magnetic zippers: These allow for one-handed closure and are used in sportswear.
References:
Apparel Manufacturing Technology by T. Karthik, P. Ganesan, D. Gopalakrishnan
Garment Manufacturing Technology Edited by Rajkishore Nayak and Rajiv Padhye

Dressmaking: Step by Step By Alison Smith